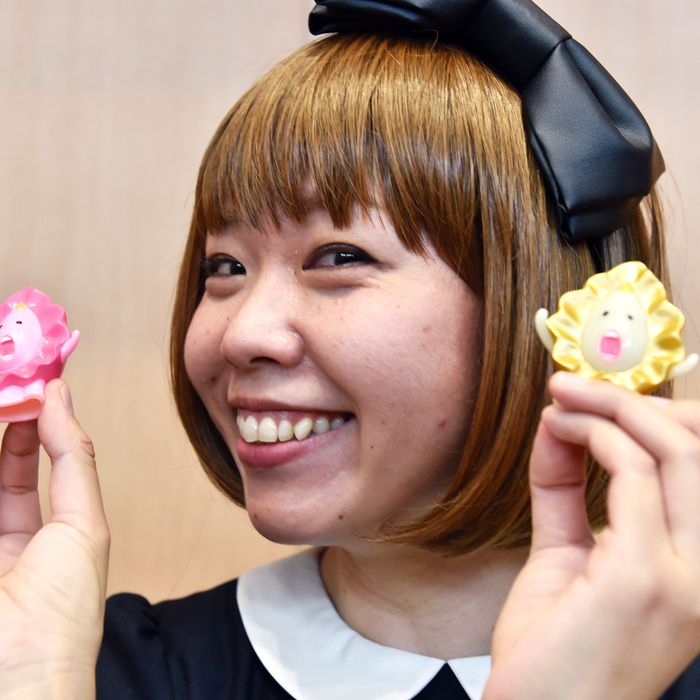 Rokudenashiko.
Photo: YOSHIKAZU TSUNO/Getty Images
Earlier this month, Japanese artist Megumi Igarashi (who goes by the name Rokudenashiko, which means, loosely, "good-for-nothing girl") was found not guilty of most obscenity charges by a Tokyo court. Her playful, fun figurines of vaginas — decorated with glitter and fur and often sporting tiny arms — were determined to be pop art. However, the court said 3-D data the artist created from a scan of her own vagina was equivalent to "distributing digital data of obscene material," earning Rokudenashiko a $3,700 fine.
She is happy to avoid jail time, but she doesn't believe she did anything wrong by creating her whimsical manko art. "I actually think that I'm owed damages, if anything," she told me in the café of the New Museum in New York on Sunday afternoon. "I'm sure the police will attempt to arrest me again and this trial will go on indefinitely." Her legal team immediately appealed the count on which she was found guilty: "I'm not going to back down," she said.
The artist has been in New York this week to celebrate the English translation of her manga memoir, What Is Obscenity? The Story of a Good for Nothing Artist and Her Pussy, an opportunity she was unsure she'd get when the court was deliberating on her fate earlier this month. We were originally supposed to meet at the Museum of Sex to talk pussy, obscenity, and the boundaries of art, but she requested we change locations so as not to give her lawyers an obstacle in fighting her case. "They get really nervous when I introduce sex to my case, because the point that they're trying to make is that my work is not obscene," she explained at our new location. "Even though I believe there is nothing wrong with so-called obscene works, they get nervous when I affiliate myself with sexual media or sexualized media because it kind of defeats the argument they're making."
So what is obscenity to a woman who has been arrested and gone to jail twice for the charge and is now expected to fork over a not-insignificant sum of money for releasing 3-D data of her own manko to the internet? "My main positioning for all of my art was this fundamental question, 'Why are women not allowed to say the word manko out loud?'" This simple principle, even in art that Rokudenashiko describes as "more lighthearted and fun than anything," has shaken many people — particularly in Japan, where penises are celebrated but women's anatomy is not. "According to the Japanese court system, obscenity is anything that titillates you, so a woman seeing anything and going 'Oh my God' or just having this uncontrollable reaction, that's considered obscene. Why is that obscene, to feel sexually titillated, excited?" she asked. "It truly reminds me of prewar fascist Japan. It really is kind of headed in that direction, when the courts tried to regulate sexual expression and private desire."
Courts and the defenders of traditional Japanese attitudes aren't the only ones who have tried to undermine Rokudenashiko's work. The art world and the feminist world have come for her, too. Rokudenashiko's trials have been covered all over the international press — from the Daily Show to a great documentary in Vice's women's vertical, Broadly, to a number of outlets in the mainstream media — but critics have largely scoffed at her work. "Frankly, I think that the arts Establishment is upset that this uneducated, no-credentialed woman has actually come out of nowhere and gotten so much artistic credibility from the international community just from getting arrested. In Japan, you're only an artist if you've gotten the correct credentials from the right prestigious universities. It's a very highfalutin ascription, and I don't have that."
Rokudenashiko says she's gotten her fair share of criticism from authorities in the feminist sphere, too. "A lot of the more academic feminists have said, 'You know, you don't understand the whole history of feminism and feminist art, or that there is a tradition of vagina art that goes way back. Therefore, you aren't a real feminist artist and you don't actually know what that means,'" she said. "I find that ludicrous, because the main tenet of feminism is that everybody should have equal access to all rights, and we should fight for equality."
Now Rokudenashiko is planning even more manko art, potentially including more 3-D scans with the help of the Lady Tech Guild. She has a unshakeable conviction that her projects have value. "There is a lot of really great feminist art that brings true complaints to the floor and addresses real issues, and it's really great that they're taking things really seriously," she said. "But anger is such an exhausting emotion. Laughter is so important because I think it's a way that people can communicate, especially people who might not know as much." The little "Ms. Manko" figure that peppers Rokudenashiko's memoir is designed to spark joy.
And, lucky for her, the police and media continue to give Rokudenashiko a platform on which to promote her art. "I mean it when I say I am grateful to the police," she said. Without them, she knows not nearly as many people would have seen her work. "Kind of ironically, they had to take all of these pictures of my art for their case. The prosecution had like a $90,000 camera to take these really specific pictures of my work from every imaginable angle, 16 slides per piece. I wouldn't have ever been able to pay for any of that on my own, so now I have these amazing gelatin prints of my work. They've performed an act of art themselves."