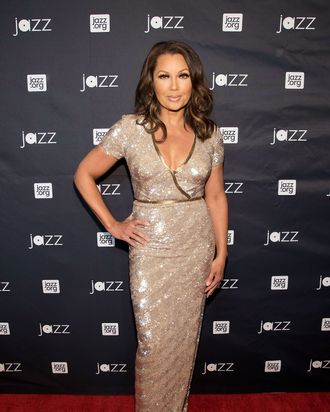 Vanessa Williams
Photo: Mike Pont/Getty Images
What isn't Vanessa Williams known for? At age 20 she became the first black woman to win the Miss America title; four years later she was a fixture on the Billboard 100 chart. Roles on television and in film quickly followed. Somewhere in between playing the formidable Wilhelmina Slater on Ugly Betty and guest-starring on Broad City, her cerulean eyes earned her a spot as a Clear Eyes spokeswoman. At the Clear Eyes' preservative-free eye drops launch, the Cut caught up with Williams, who waxed poetic about learning to play tennis, Chipotle tortilla chips, and the wonder of keratin hair treatments.
How I start my day: At 6 a.m. I wake up my daughter. And then I make a cup of tea, some toast. I'll probably make some oatmeal, grab a banana, and then get her off to school. After I drop her off, I go to my kickboxing class. I have a heavy-bag class that I do — you do cardio, and then you're doing MMA on the bag. Then I'll come home, try to have lunch, though that normally doesn't happen, and then take care of business, whether that's faxing papers that need to be done or getting on the computer. It's busy. I also like to grab the paper and do the crossword puzzles. I can do the Times' up to Thursday, and then Friday and Saturday is ridiculous. I like to spend the whole day doing the Sunday one.
If I have to come into the city, I'll drive straight in after dropping my daughter off at school. I'm building a clothing line, so I might come in and meet with my design team for three hours and then go home and pick up my daughter. It all revolves around my daughter's schedule. And taking care of my two Great Danes. My husband fits in there somewhere as well.
How I like to sweat: I train with Sal Gaglia. It's usually full-body and weights. We do lunges, squats, rear delts, triceps, lots of ab work on the ball, rockers, where you're on a ball on the floor and rock back and forth. It works your core. They're not my favorite, but they're effective. I take tennis on Sundays. Saturdays I usually take a class. I just started playing tennis in September. Sasha's school just started a new tennis team, and the coach was offering lessons for the families. It's an hour that we get a chance to actually have fun together, learn a new skill, and it's a good "mommy and me" time.
What wellness means to me: It's mind and body. For me, at 52, it's feeling the best that you can at your age and not giving up. I remember reaching 40 and working out as hard as I was before and nothing was moving. I would be doing the same routine and eating the same thing, and the wine wasn't leaving or the dessert wasn't falling off the way it should. You get to 40 and say: "Oh, this is how my body is supposed to be at 40, I give up," or you say: "I want to make sure I can be the best that I can be at this age. Maybe we all get love handles here." 
My wellness shortcut is: friendship. Friends, and also eating better. When you eat better, you feel better. You can't stress about the things you can't change. You need to accept where you are in life and make the best of it. That's where my mind-set is. And every day is new. I'm always astounded by what life has to bring. When you think, Oh, this year I'm going to do this, but then the phone rings and it changes everything. Always be thankful for what life has to offer.
How I like to eat when I'm alone: I'm a cereal girl. I'll do a bowl of cereal anytime, but late at night for sure. If I have a Broadway show where I do eight shows a week, I just want something cold and crunchy. Not too sweet, like ice cream, but cereal. I also love chips. I'm a Chipotle chick, I will pull over at any Chipotle and get the bag of chips.
How I take care of my hair: I've done keratin for almost two years now and it's done wonders. I haven't relaxed my hair in about two years now. My growth right now is about five inches and it's stronger. When I get washes I can see my natural texture now, which is nice. I'm like, "Oh, my hair is actually wavy!" I've been relaxing my hair since middle school, so I just assumed my hair was a certain texture, but now I can see what it's really like. I've also been doing clip-ins since the late '80s. They're great, you can have it for the effect, and then take it out at the end of the day. Luckily I only have a few strands of gray — the gray has not taken over yet.
This interview has been edited and condensed.