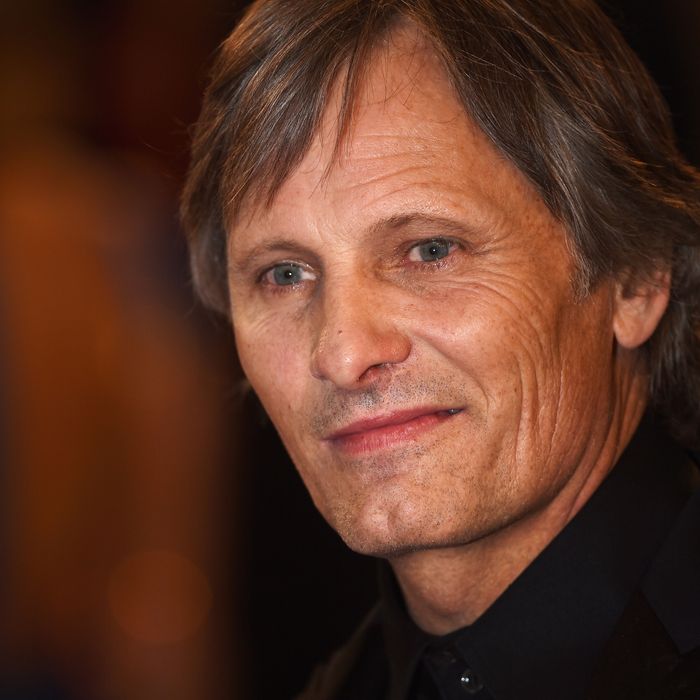 Noted hot person Viggo Mortensen
Photo: Ian Gavan/Getty Images
Okay, let's just get into it: Viggo Mortensen is hot. He has impeccably chiseled features, and he has received just enough commercial success that we know who he is, but we don't know enough about him to ruin his artistic appeal. Oh, and he has a chin dimple that would make Tom Brady weep.
I've thought Mortensen was hot since he played Aragorn in Lord of the Rings; I was an awkward preteen and watching him onscreen was the first time I realized that I was a sexual being. (Gross!) Many years later, he's on the cover of Esquire's June-July issue and I'm pleased to report to the masses that, yes, he's still hot.
Beyond Mortensen's physical appeal, the opening of Lisa DePaulo's profile, which involves the actor picking her up in a Ford Fusion (!), is so inherently sexy, it may as well be Viggo Mortensen fan fiction (a genre with which I am keenly familiar). But no, Viggo Mortensen in the flesh and fan-fiction Viggo Mortensen have finally become one:
Viggo Mortensen has come bearing pancake mix. We are curbside at the tiny airport in Syracuse, New York, on a truly dreary day (even by Syracuse standards), and within seconds of hopping into his rented Ford Fusion, I learn two things about him: He's the kind of guy who picks you up at the airport, and he's the kind of guy who brings presents. Pancake mix is a delicacy in upstate New York. "Do you like maple syrup?" Because he brought me some of that, too. He's prepared a gift bag.

"You can smoke in the car," Mortensen says, gesturing with his own smoldering American Spirit. "There's an ashtray." It's a cardboard cup from the airport Best Western, where he got his coffee this morning, that he has filled with an inch of water. For us.

Is he always this chivalrous?

He smiles. "I try."
NSFW!