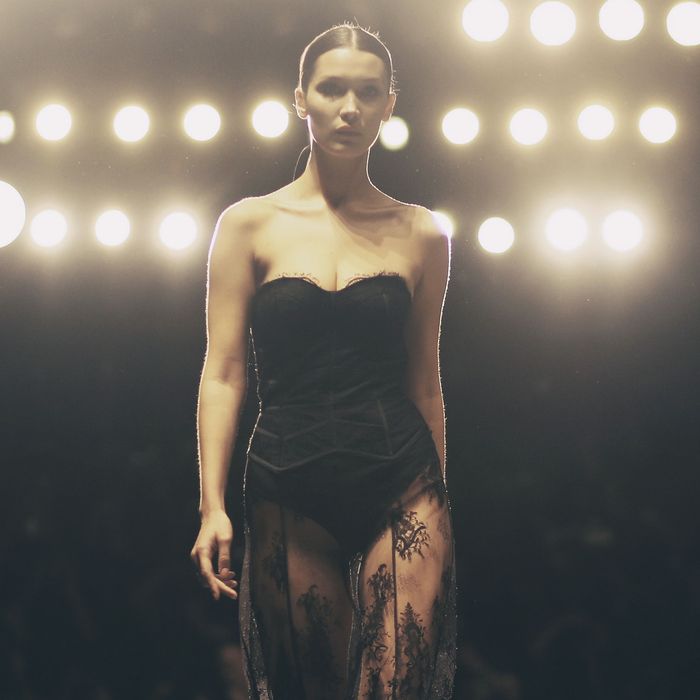 Photo: Ryan Pierse/Getty Images
If Sydney Fashion Week has a Godot, it is definitely 19-year-old model Bella Hadid. She winged it all the way here — 20 hours in the air — to walk in today's Misha Collection show, carrying with her the promise that her 4.3 million Instagram followers will now know about a small Australia-based label. (Needless to say, there's synergy involved here: Her agency, IMG, is the organizer of the week.) The shows here are full of stunning models, many of them homegrown, but the excitement around Hadid's imprimatur on the event has been enough to set the city spinning. Just ask the adoring teens camping outside the hotel where she's staying. Or the older male paparazzo standing near them, who screamed in my general direction, "Don't Instagram me!" (I respected his wishes and Snapchatted him.)
It feels like Hadid is everywhere — in spirit, at least. She comes up in every conversation at Fashion Week; her coordinates are constantly discussed. But she has proved to be my white whale. When I made the trek to Bondi Beach to take in views of the continent's most planar abdomens, I missed her by minutes. Her Instagram suggests we took in the same touristy sights, hours apart. And today I saw her stride into Carriageworks, the former train station that has become MBFWA's home base, in a pair of slouchy boots, immediately before Instagramming a backstage selfie captioned "Tired puppy."
Would I be able to get time with her? And if so, what would I ask her? I attempted to cut through a fog of combined jet lag and Hadid ignorance to come up with ideas. She's probably fielded infinite questions about her model sister, Gigi, and about how to take the perfect selfie. Well, what about election 2016? What about her horses, who she supposedly pictures while she's modeling? If I only had two questions to ask Bella Hadid, what would they be? Should one of them be: Did I really get a college education for this?
You'd be forgiven for letting her halo obscure the first 24 hours of Fashion Week here, which opened with Toni Maticevski's dramatic show at Barangaroo Reserve on the city's harbor, backgrounded by dramatic sandstone cliffs. The designer stuck to his traditional evening silhouettes, but he bound his models' wrists with silvery ribbon for a "prisoners of fashion" effect, or stuffed their mouths with bejeweled orthodontia — think Hood by Air's crazy mouth guards reimagined for evening. It was shocking enough in this milieu that the Sydney Morning Herald dubbed it "Fifty Shades of Toni Maticevksi."
Since that arresting opening, the shows have vacillated between two archetypes of the Sydney girl — a cheery, beachy aesthetic exemplified by Ginger & Smart, a sister duo, and party-babe looks from Georgia Alice, whose sweet disco nothings were lit up by strobe lights. Zhivago, designed by Lydia Tsvetnenko and Lara Kovacevich, fell in the latter camp. The two chose to show their bandage- and cutout-heavy offerings accompanied by an opening song-and-dance number questioning the values of a selfie-centric culture, but the clothes functioned less as a critique than as a wardrobe for those same front-facing-camera enthusiasts.
Speaking of selfies: As for Hadid, I didn't even get to ask her one question. My sole vision of her was on the Misha runway, clad in transparent black lace and a blush-toned corset dress, leading a runway charge of the light brigade to the tune of Beyoncé's "Formation." The girl next to me nearly decapitated me in her attempt to get the perfect Bella shot. Me, I was only able to snap a flash of bright, indeterminate light that I will now have to tell people is really Bella Hadid. I guess I'll never get the answers to those questions.