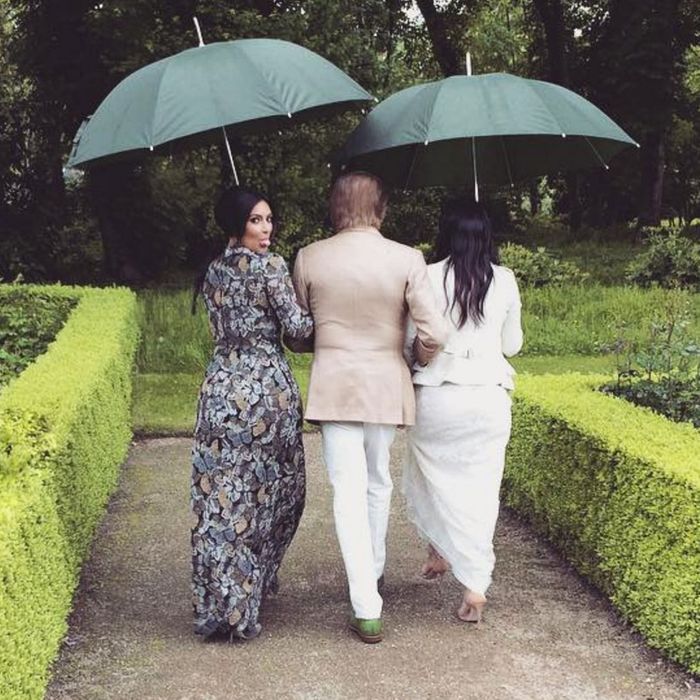 Is that Mr. Darcy?
Photo: Kim Kardashian/Instagram
In a photo posted to Instagram on Thursday, Kim Kardashian took a turn on some verdant, well-manicured lawn, arm-in-arm with a mysterious man and another woman dressed for tea. Holding a very 19th-century umbrella, she stuck out her tongue as if anticipating a necessary slew of questions: Did Kim K just inhabit a Jane Austen novel? Is that Mr. Darcy? Colonel Brandon? Henry Tilney of Northanger Abbey?
It is, in fact, designer Valentino Garavani, who turned 84 yesterday. "Happy Birthday to the last Emperor Valentino!" she captioned another snap. "We can't wait to celebrate with you next week!!!! We love you!"
The photos were taken two years ago on the eve of Kimye's wedding, when Valentino hosted a lavish brunch for the couple and an elite crowd (including Jonathan Cheban, Simon Huck, André Leon Talley) at his French château. The next day, Kimye married at Forte di Belvedere in Florence, which housed the Medici family's treasures in the 16th century. Lots of throwbacks here, n'est-ce pas?