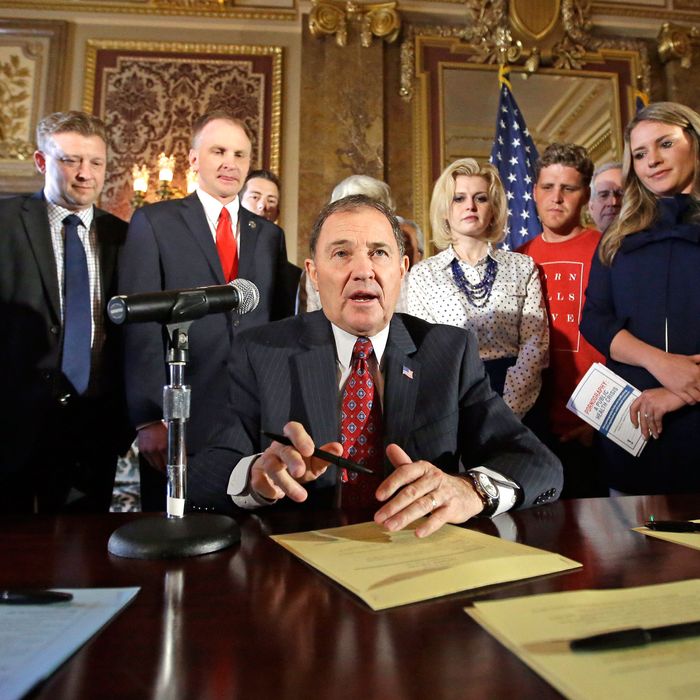 Utah Gov. Gary Herbert looks up during a ceremonial signing of a state resolution declaring pornography a public health crisis, Tuesday, April 19, 2016, in Salt Lake City.
Photo: Rick Bowmer/AP Photo
Last month, Science of Us wrote about Utah's misguided concerns over a pornography-fueled "public-health" crisis, which gave rise to a bill passed last month that, while largely symbolic (text here), does a fair bit of scaremongering by blaming porn for all sorts of societal problems.
As Mireille Miller-Young, an associate professor of feminist studies at the University of California, Santa Barbara, whose academic focus is pornography, wrote in the Washington Post yesterday, Utah's porn war is only ramping up: State Senator Todd Weiler, the driving force behind Salt Lake City's recent anti-porn focus, "is now planning to defy interstate commerce law, the First Amendment and principles of net neutrality by introducing legislation that will force Internet service providers to filter porn so consumers must opt-in to view it."
Miller-Young offers an interesting account of what she believes is going on here. Basically, she thinks that the anti-porn movement — or part of it, at least — is really just a thinly disguised "sex panic" that stems from all sorts of other cultural insecurities about sex. Porn isn't some evil, corrupting entity that victimizes women by objectifying them and men by reducing their interest in real women, she explains, but rather a rich form of art that reflects and subverts various aspects of the complicated, endlessly fraught subject of human sexuality:
Creating a space to examine sexual taboo and to take pleasure in sometimes radical sexual ideas is what pornography has historically been all about. Scholars of porn studies have illuminated porn's role as at once a countercultural force against gendered norms and sexual respectability, and at the same time a reflection of our darker, social anxieties rooted in sexist, racist and classist bias and inequality. And this is precisely what makes it so political: Porn is not actually a thing. It's an idea and an argument.

…

Anti-porn logic never gets to the important questions about how sexual media dynamically reflects and shapes our lives and how we think about and use porn in complex ways. Instead of continuing to allow anti-porn activists to prescribe the discourse and policy about porn, proper sex and sexual danger, we might actually turn our attention to the deeper and more complicated problems of gendered sexual exploitation and violence, and our abysmal record on youth sex education in this country. Porn is a scapegoat, and scapegoats never make us more free or

 

safe.
I'm guessing State Senator Todd Weiler and his fellow anti-porn crusaders would beg to differ.