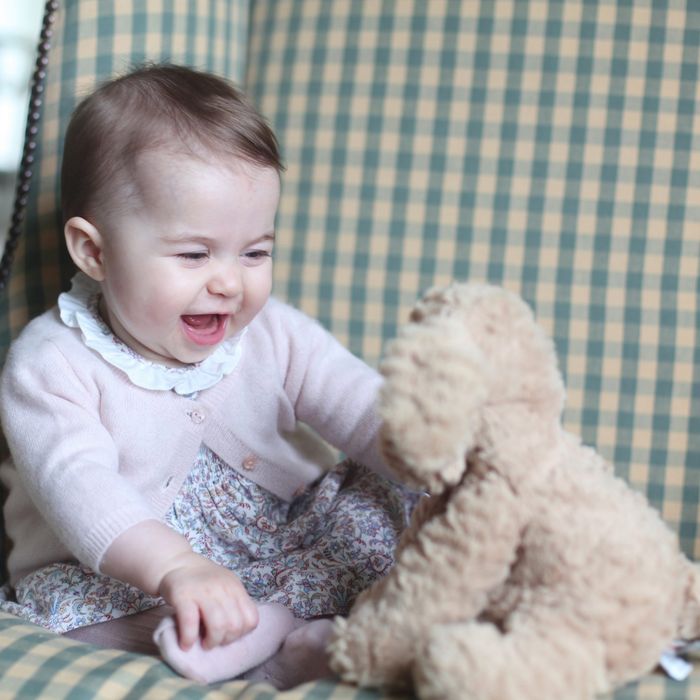 The Royal Baby
Photo: The Duchess of Cambridge/Handout
Princess Charlotte, who is both a baby and a princess, turns 1 on May 2. Kensington Palace released a list of the gifts that she's received during her first year on this Earth — because what's the point of being a very fancy baby if you're not going to brag about it? — and she's done pretty well for herself. Here's what she's raked in so far:
• President Barack and First Lady Michelle Obama left her a jigsaw puzzle and a stuffed-animal version of their dog, Bo, during their visit last month.
• A book of Hans Christian Andersen's fairy tales from Prime Minister David Cameron, which, to be perfectly honest, is a very basic baby gift.
• Former Canadian prime minister Stephen Harper gave Charlotte a snowsuit and a book, and also donated $100,000 in her name to the nonprofit Immunize Canada while he was in office. No word yet as to what Prime Minister Justin Trudeau will do to top him.
• Silk figurines based on Dream of the Red Chamber from Chinese President Xi Jinping.
• The Australian government and the prime minister of New Zealand went head-to-head in the wool-goods department. The former sent a Tasmanian wool cot blanket, while the latter sent "a selection" of Stansborough wool teddy bears, baby blankets, and booties. Sorry, Australia, try harder next time.
• Charlotte has been gifted more rattles than one baby could possibly know what to do with. Prince Charles, her grandfather, gave her a handwoven willow rattle from Ireland. She also has a silver rattle that was gifted to her from the president of Mexico and his wife. But the most ostentatious of all is an 18-karat white-gold rattle from the Natural Sapphire Company that's decorated with diamonds, rubies, and sapphires. It's estimated to be worth around $45,000, or more than your current salary.
• Aunt Pippa Middleton gave her biodegradable natural diapers "valued around $6." Oh, hmmmm. That does seem like the sort of thing Pippa would do, doesn't it?
Happy Birthday, Princess Charlotte! You're well on your way to KonMari-ing by age 4.