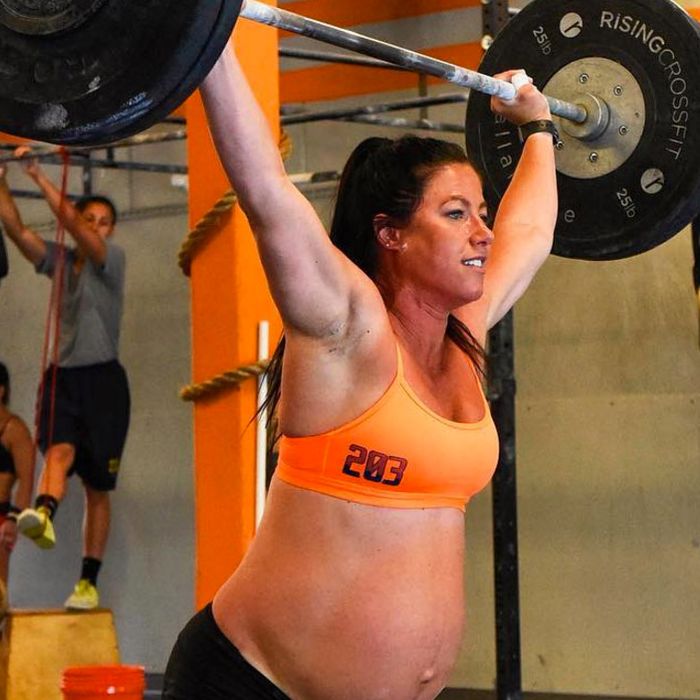 Fit Moms Chontel Duncan and Emily Breeze.
Photo: chontelduncan/Instagram, emilybreeze/Instagram
Over Memorial Day weekend, People published the following story: "Fit Mom Sia Cooper Has Flat Tummy – and Abs – Just Days After Giving Birth." Who is Sia Cooper? A Fit Mom. What's a Fit Mom? Put simply, it's a new class of Instagram celebrity made up of expecting and new mothers who work out a lot. There are so many Instagram-famous Fit Moms, and People, our nation's tabloid of record, reports on them all.
Cooper, or @diaryofafitmommyofficial, is a 27-year-old certified personal trainer with a toddler, a new baby, and 138,000 Instagram followers. She posts photos of her workouts, her Paleo-inspired meals, and of course, her body. "The day I went into labor, I actually did incline training for an hour along with dumbbell curls and barbell squats," she told People this past weekend. "I got a great last workout in before my daughter decided to make her grand appearance!"
This type of behavior — working out through pregnancy right up until labor — defines the Fit Mom community. Fit Moms are both revered and shamed for their determination to stay lean and muscled throughout gestation, making them the perfect tabloid subjects for the internet age. They stoke the outrage cycle.
So who are these women? Here's a handy guide so you can follow all the drama in People and on Instagram.
Maria Kang
Instagram followers: 59,000
Why she's a Fit Mom: Kang is the original. In 2013, she posted that notorious "What's Your Excuse?" photo online, which went viral. Since then, the former pageant queen has launched a diet book and appeared on the Fox reality show American Grit.
Choice People headline: "'No Excuse Mom' on Her New Diet Book – and That Infamous Photo"
Chontel Duncan
Instagram followers: 563,000
Why she's a Fit Mom: Duncan is famous for having a relatively small belly during pregnancy. She also caught heat recently for posting a photo of her new baby (commenters claimed she was holding him wrong).
Choice People headline: "Fit Mom Chontel Duncan Responds to Her Critics: 'I'm Not Going to Be Nice About Your Belittling Attempts to Educate Me'"
Emily Breeze
Instagram followers: 38,000
Why she's a Fit Mom: Breeze is known for lifting weights, CrossFit-style, right up until her due date.
Choice People headline: "This Fit Mom-to-Be Is Three Days Overdue and Still Weight Lifting Over 100 Lbs."
Sophie Guidolin
Instagram followers: 292,000
Why she's a Fit Mom: Guidolin, an Australian fitness model, gained a relatively small amount of weight while carrying twins.
Choice People headline: "Why This Fit Mom Gained Less Weight During Her Third Pregnancy - with Twins!"
Sarah Stage
Instagram followers: 2 million
Why she's a Fit Mom: Stage had a "six pack" while she was pregnant.
Choice People headline: "Model Sarah Stage Who Shocked World with Tiny Baby Bump Defends Herself Against Haters: 'I'm Not Sure Why People Attack Me'"
Stacie Venagro
Instagram followers: 13,000
Why she's a Fit Mom: The bodybuilder also had a "six pack" during pregnancy.
Choice People headline: "Forget Sarah Stage – This Super-Fit Mom-to-Be Has Abs of Steel Over Her Pregnant Belly"
Hannah Polites
Instagram followers: 1.3 million
Why she's a Fit Mom: Polites, who is a midwife and lifestyle blogger, has a relatively small baby bump.
Choice People headline: "Fit Mom-to-Be Hannah Polites Ignores Negative Comments About Her Pregnancy: 'I Know I Am Making Informed Decisions'"
Who's the next Fit Mom? That remains to be seen. To stand out in a crowded field, aspiring Fit Moms may want to try using their own children as dumbbells — People published a story about that trend this morning. ("These Fit Moms Inspire Thousands on Instagram with Their Kid-Friendly Workout Routines.")