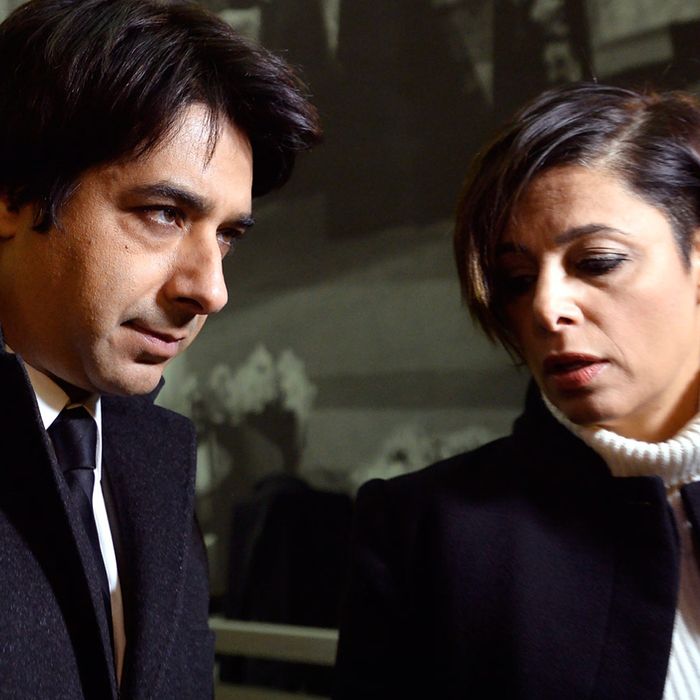 Jian Ghomeshi with his lawyer, as protesters picketed the courthouse.
Photo: AP Photo; Getty Images
For those of us who care about justice for survivors of sexual violence, this was a depressing week. Kristen Stewart, who walked the red carpet with Woody Allen at Cannes to promote his new film, in which she stars, explained that she had considered the abuse allegations against Allen but ultimately decided it would be "fruitful" to work with him. Then a judge in California put a lawsuit brought by former supermodel Janice Dickinson against Bill Cosby on hold. And then the final criminal counts against former Canadian radio host Jian Ghomeshi were withdrawn in court. As part of the deal, he had to issue an apologetic statement to a former co-worker who had accused him of assaulting her in the CBC offices.
To some, this looks like justice at work: If you can't prove guilt in court, the accused is not guilty. But to the rest of us, it looks like a predictable pattern. It's notoriously hard for victims of sexual violence to find justice in a court of law (and in the court of public opinion), so these results are predictable. They are a potent reminder of how we fail most survivors of assault and abuse. No wonder many do not come forward. When they do, we're great at the initial outrage part, and not so good at securing justice.
It's not just that the court let Ghomeshi off after a rather shocking display of ignorance in March by a judge who clearly has no idea how abuse functions. It's not just that major celebrities have continued to work with Allen. Just as bad is that our collective outrage meter has barely registered the legal system's shortcomings, especially when compared to the initial reaction to the accusations against these men. It's becoming apparent how little public outcry is really worth when it comes to securing justice for victims.
"We are witnessing a sea change in how we talk about sexual assault and abuse," writes Ronan Farrow in an op-ed this week about celebrities supporting Allen's new movie. "But there is more work to do to build a culture where women like my sister are no longer treated as if they are invisible. It's time to ask some hard questions." So what are those hard questions?

They probably start with this one: What does justice even look like? We usually assume that it means prosecuting and convicting people who perpetrate sexual violence. Since the passage of the Violence Against Women Act in 1994, America has funded efforts to train police and judges about the issue. That's resulted in some positive changes, yet it hasn't completely changed the fact that, for many women, cops and courts are threats, not safe havens. And that many observers don't see the remote possibility of jail time as a real deterrent for would-be abusers.
Then there's the pain that survivors must go through in order to subject themselves to the legal process. Ghomeshi's accuser Kathryn Borel told reporters that "a trial would have maintained his lie, the lie that he was not guilty, and it would have further subjected me to the very same pattern of abuse that I'm currently trying to stop." She chose to settle for an apology. I wonder if that really felt like justice to her, or if it felt like the best of a bad set of options.
All too often, our collective outrage at sexual assault is only tenuously connected to justice for survivors. Some of this has to do with the passage of time and the whims of the news cycle. But at a more fundamental level, perhaps the brokenness of the criminal-justice system is a core reason that it's so hard to maintain our anger as accusations morph into charges and lawsuits. The system is so consistently frustrating that it's easier for observers to focus on supporting survivors who have come forward with new accusations, rather than see old cases through to their inevitably disappointing end.
And speaking of hard questions, it's rare that we stop and ask survivors what justice looks like to them. We usually assume that the answer is a criminal conviction, even in decades-old cases where the statute of limitations has long passed. But that's not every survivor's desire, especially when pursuing a conviction involves the kind of insulting comments like those made by the judge in the Ghomeshi case. We can't let our collective outrage eclipse individual survivors' definition of justice.