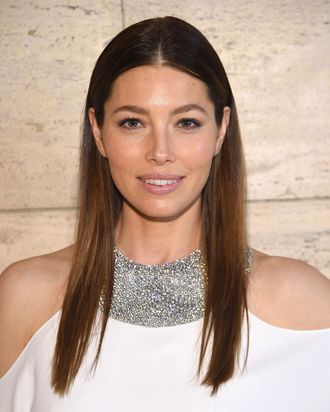 Au Fudge proprietor Jessica Biel.
Photo: Jamie McCarthy/Getty Images
Au Fudge, Jessica Biel's "what now?" concept restaurant for kids, opened this past February to confused, mildly tipsy reviews. What goes on at this place? According to those who have darkened its doors, the high-priced eatery has a day-care center, strong cocktails, and I'm not sure where it is. 
Though Au Fudge technically sits on Melrose Avenue in West Hollywood, California, a recent profile of Biel and her business partners suggests otherwise. Here are the various ways the author of the C magazine story described Au Fudge's vibe and location:
• It's a "new West Hollywood restaurant …"
• … that looks like your "Europhile friend's home."
• With a "British countryside gastropub vibe"
• … though it serves "California-French comfort food."
Also: Au Fudge is "stocked with the owners' personal favorite [items], including Rococo Chocolates from England and Vittoria Coffee from Australia."
"I have big dreams [for Au Fudge]," co-owner Monica Saunders-Weinberg told the magazine. "I'd love for it to be everywhere."
Maybe it is?
Biel, for her part, identified Au Fudge's ideal customer: someone incapable of expressing where he is or where he'd like to be. When asked whether her son, Silas, likes the restaurant, she offered this rave review: "Silas doesn't really talk yet. He says some words, but he hasn't given me any real feedback. But he eats the food."
If you know the exact setting of Au Fudge by Jessica Biel, feel free to comment below.