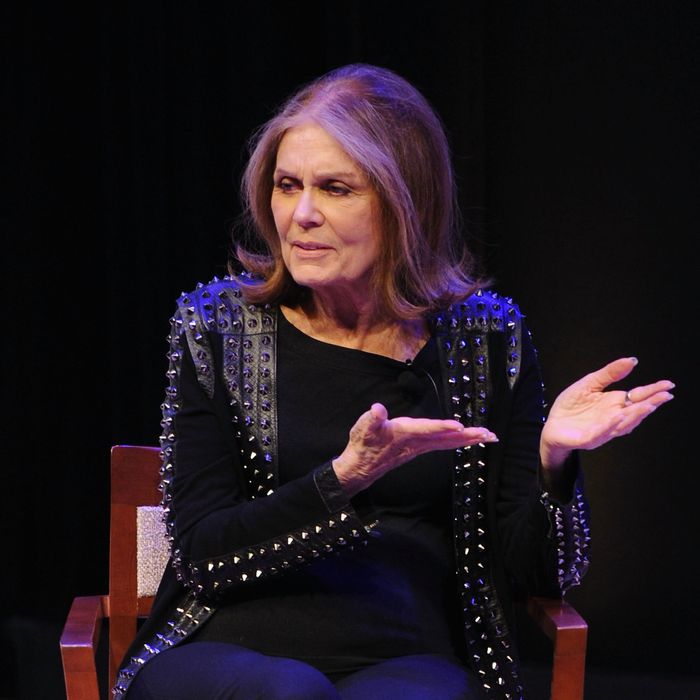 Photo: Craig Barritt/Getty Images
For half a century, Gloria Steinem has crisscrossed the globe, writing, speaking, and advocating for feminist causes. And where, in 2016, does a roving, peripatetic activist-journalist go to make her voice heard? To the house that Shane Smith built.
"We're putting the v in Vice!" joked Steinem on Wednesday night, addressing a crowd that included Jennifer Lawrence, Mariska Hargitay, and Meryl Streep – the kind of feminist star-power that topples empires. She was speaking at the Ford Foundation's premiere of Woman, Viceland's unscripted, eight-episode docuseries chronicling various forms of gender-based violence around the world. The series is introduced and produced by Steinem, made by a predominantly female team, and hosted by a series of young female journalists. Topics include child marriage in Zambia, mothers in prison in the United States, and – in the episode screened on Wednesday – an upsetting look at the rape epidemic in DRC. Each episode begins with an introduction from Steinem, declaring that "the greatest indicator of the world's stability, wealth, and safety is the status of women."
At first glance, it might seem a little odd to see Steinem's name in the Viceland lineup — which also includes Balls Deep, Weediquette, and a show in which Action Bronson eats delicious things. And yet, in another way, it makes sense. Steinem is a heroine of the second wave, but had she been born in the '90s, one could easily imagine her flourishing in the age of social-media feminism: She's always been savvy about self-presentation and using her image and persona strategically. With Ms. magazine (which started as an offshoot of New York), she worked to create a mainstream feminist publication — which meant navigating the challenges of running a business. And while I'm hesitant to draw too many parallels between the hallowed halls of Ms. magazine and the open-plan loft spaces of the Vice empire, Steinem's own wide-ranging journalistic career isn't necessarily so far afield from Vice's preferred eyewitness style. I'm thinking particularly of the piece that made her famous, "A Bunny's Tale," an expose of the world of Playboy bunnies that involved Steinem herself donning a cottontail and going undercover to expose the mistreatment of Playboy Club workers. You can imagine Shane Smith green-lighting Bunny's Tale, the docuseries, in a heartbeat.
For its part, Vice has lately sought to grow away from its hipster-bro origins, launching a women's-interest channel called Broadly and diversifying its video offerings with the rapidly growing Viceland TV network. Vice founder Shane Smith met Steinem at a Google conference back in 2014, and was moved hearing her speak about the plight of women around the world. He also saw it as an opportunity.
Steinem has long found ways to blend journalism and activism, and she's traveled extensively, speaking to women and sharing their stories, experiences she documented in last year's My Life on the Road. "Hooking up with you' you're the most extraordinary producer, because you have great stories, you have connections in the countries," Smith told Steinem onstage. "There's a veracity there."
Like Vice's other shows, Woman strives for a sense of grit and authenticity, and the first episode shows reporter Isobel Yeung traveling on muddy roads, getting turned away from an interview at a Congolese prison, and reacting in a natural way to the horrors she sees, occasionally with tears in her eyes. While we meet lots of people during the episode — survivors of sexual assault, militia members, a Nobel Peace prize–winning doctor — Isobel is often the camera's focus, and the viewers are encouraged to identify with her.
"This way of doing it is the closest thing I know to actually being there yourself, and being a witness," said Steinem of Woman. "I discovered that as much as I loved the printed page and books, and I do, it is not the same as being in a room together. Next best are images and sounds and sights. The more we can empathize, the more we can understand."
That multimedia approach partly explained her choice to team with Viceland on the project. But, perhaps most important: "Vice said yes. And I think that's profound."