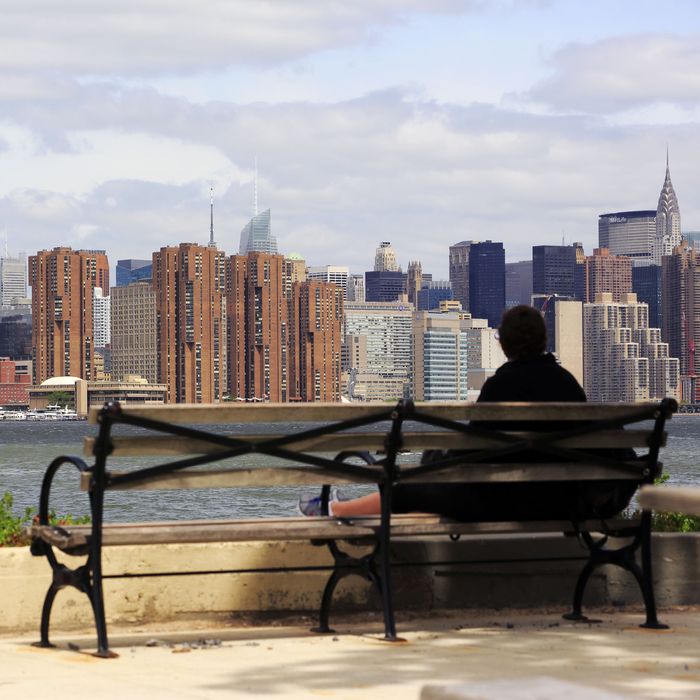 Photo: Bruce Yuanyue Bi/Getty Images
The first online date I went on was in 2002, and I'm fairly certain that the guy and I met without seeing pictures of each other. Neither of us had a scanner.
"You're not really blonde," he said, on the date. My hair, I'd thought, could pass for dirty-blonde, but when I got home, I changed my hair-color setting to brown. We went on two more dates. He took me to the not-yet-revitalized Williamsburg waterfront and told me that he was a freelance graphic designer.
"What does freelance mean?" I said.
"It means my mommy still pays for my health insurance."
My last internet date also took me to the Williamsburg waterfront. This was one week ago. There's a nice park there now. This man was seven years younger than me. The man on the first date had been seven years older than me. This means that the two of them were the same age. This needs to end, I thought. I can no longer listen to 29-year-olds who don't have full-time jobs make self-deprecating remarks.
In between the two freelancers, I went on hundreds of dates. I was on Nerve, then OkCupid, then Tinder, then briefly on Hinge, then even more briefly on a very poorly designed app for men with beards and the women who love them. I never tried Match, JDate, LavaLife, eHarmony, Bumble, or Coffee Meets Bagel. I can't eat bagels. I am Celiac, a fact that I have explained on hundreds of dates.
"It's the real thing, not part of the gluten-free fad," I say. "I get sick from gluten." This doesn't put them off, at least not at first. At first, they want to sleep with you no matter what. Over time, my particular tics — my inability to wait in line without switching lines, my aggressive insomnia — begin to wear them out.
"How am I going to live with your insomnia for the rest of my life?" asked an SAT tutor. We had been dating for two months. I told him he'd hurt my feelings by not inviting me to his Halloween party, a party he'd excitedly planned in my presence.
"I need to take things slow. I have an Oscar party every March, and I don't want to worry about inviting you to that, either."
"It's November," I said.
I left him, took my insomnia with me. Then I met a boyfriend, my first and last boyfriend from the internet. We dated for a year. We met each other's immediate families, booked rooms in B&Bs that served gluten-free breakfast. I'm done, I thought. No more freelancers. But I hadn't deleted my dating profile, only disabled it. When we broke up, I went back online the next day, looking again, updating my pictures (he'd taken some great ones). Things had gotten more swipey. I swiped left, right, left. I didn't like anybody. I missed my boyfriend.
Even after I stopped missing my ex, every blind date I went on seemed emotionally exhausting in a way that I hadn't remembered. This man had three cats. That man had an alcoholic mother. A lot of fathers had walked out, or died. My father had died. Both members of a date having dead parents used to end in making out, but now I couldn't even have empathy sex. I kissed men on my corner, felt nothing, and excused myself to go home.
"What happened?" they'd text. "You seemed pretty nonplussed back there."
What happened was that I had stopped being able to fake it, to push my way through to intimacy with strangers. Or maybe I had stopped drinking as much. I felt tired. I had gray hairs. If there were still boxes for hair color, would I check "gray"? Had I aged out of the game? I could always go out with cranky men in their 40s, men who would only go to bars on Tuesdays. We could be cranky together, console each other that we still looked young. I could meet their kids from first marriages. Would I be a good stepmom? Or I could keep dating 29-year-olds, hope to snag a mature one. Instead, after a tepid kiss by the East River with the most recent 29-year-old, I deleted every dating app from my phone. One week in, I've learned that I really enjoy not hearing from strangers.
Rebecca Schiff's new book, The Bed Moved, is out now.