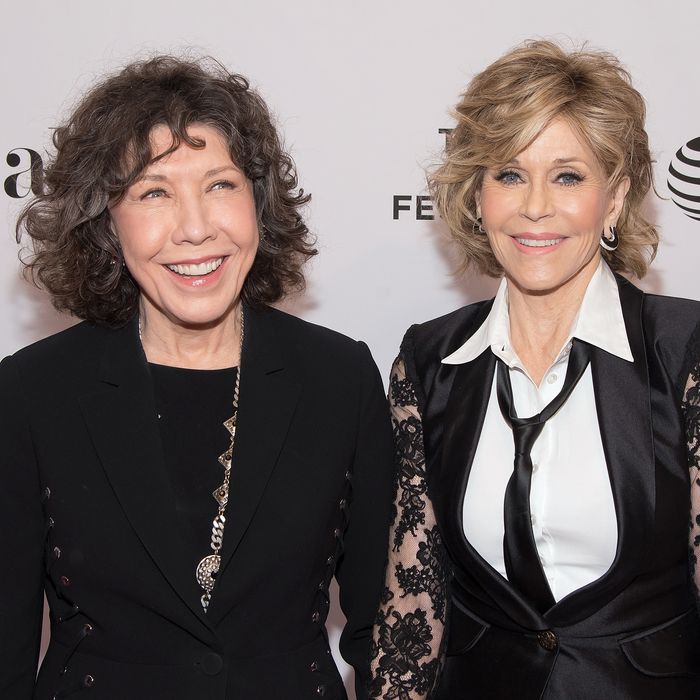 Jane Fonda and Lily Tomlin.
Photo: Mike Pont/Getty Images
I watched season one of Grace and Frankie on the fire escape of my first New York City apartment one year ago. I spent a lot of time sitting on that ledge in the balmy spring weather; I was just about to move to my next apartment uptown, never having bothered to unpack boxes or get a bed frame at this place. I liked this spot, overlooking Delancey Street on the Lower East Side. I could sit in a state of suspension and not feel guilty about having no set plans for the future. It was a stop along the way, a place of impermanence that fit my uncertain post-graduate life at age 23.
And here were Jane Fonda and Lily Tomlin, two celebrated actors in their 70s, playing characters whose husbands had fallen in love with each other and whose lives had also suddenly become a blank slate. As I watched all 13 episodes in the span of two days, I felt like I had found new allies within my own period of transition. Sure, these were two women on an opposite end of life; they were sitting in their Nancy Meyers too-good-to-be-true Southern California beach house, while I was a 20-something, perched on what was essentially a rusted window ledge. But our lives had unmistakable parallels, and I needed Jane and Lily. I needed Grace and Frankie.
Before she began shooting season two of the series, Fonda posted on her blog that she was surprised at the feedback she'd received from across generations — especially from younger women, who didn't have the problem of divorce, or the worry of grown but dependent children. I wanted to write to her then, to tell her that the real reason women my age like her show is because we need to see friendships beat adversity. We need to see vibrant older women taking charge of their bodies, refusing to be cast aside and invisible — and leaning on each other along the way. Women my age often don't get the chance to see beyond the first challenges of life — "millennial angst," as many of my friends call it, becomes all-prevailing. But there's something incredibly consoling about seeing two women facing speed bumps long after their stumbling early 20s. And there is an overwhelming sense of security in Grace and Frankie's unlikely friendship; they've found an invaluable connection at a crucial point in life, when they are both unmoored for the first time. Watching the two of them is like watching two college freshmen become unexpected, co-dependent lifelong friends. It's so reassuring that it can happen 50 years into adulthood too.
Season two of the series achieves a developed dynamic that the first season, which barely skimmed serious themes, never did. The organized, practical, vodka-swilling, pantsuit-wearing extraordinaire Grace and free-spirited, rasta-hat-wearing, yam-lube-making Frankie are the two unlikeliest grandma types. They've settled into a life akin to that of a (tamer) Girls character – starting new relationships, striking up old love, going on a daylong mini-bender.
But Grace and Frankie are also dealing with issues that most women my age have never thought about. This season of the show tackles the tricky territory of assisted suicide — something Golden Girls also dealt with in the '80s in an episode titled, "Not Another Monday." What was treated as a lonely, isolated, and depressing event in that series is seen as a difficult choice made with celebrated agency in this one, in an episode called "The Party": A woman ends her life on her terms, with the help of the women friends who love her.
And as awkward as it might seem to tune in to your grandma's sex life, this show does romance in a way that gets me pumped to be a 70-year-old on the dating market. It doesn't shy away from sex scenes or open discussion about bodies (count the references to vagina — or for that matter, vagina paintings). It says, frankly, that there is no reason to be embarrassed about an elderly body. When my peers, who've had to fight for years to silence their body shame, see women in their later years who are proud of what they look like, we see hope for a future where sex is always an empowering act.
In a Ted conversation last year with Pat Mitchell, Fonda said she didn't know where she would be without her women friends — including Tomlin, who has been her close friend since they filmed 9 to 5 together nearly 40 years ago. "They make me stronger, they make me smarter, they make me braver. They tap me on the shoulder when I'm in need of course-correcting." It's a theme Grace and Frankie returns to again and again, taking on the issues of alcoholism, dementia, and infidelity as challenges of life not to shy away from, but to face with a partner. These women's confidence springs from each other. When one shows up with a wrist injury obtained from getting off (bet you didn't see that coming), the other helps her try to figure out better angles to get the job done. In an awesome bad-ass-grandma move, they decide to go into business making vibrators for women their age — thus, my future dream job realized.
"How do I explain to my children that their grandma makes sex toys for other grandmas?" Grace's daughter asks her. "I'll tell you what you can tell them, honey," Grace responds. "We're making things for people like us. Because we are sick and tired of being dismissed by people like you." Cue a mic-drop exit complete with "In It to Win It." This response goes to the heart of the show — a claim for space and visibility, a refusal to be ignored, and an assertion of ownership over constantly changing lives. This determined hold on life gives a younger generation of women something to look forward to: a mutual, continued rediscovery of self.
Since the show first premiered, I've moved twice and am now settled in a place that boasts both a bed frame and a dresser. But part of me is still holding on to that rickety-fire-escape moment of life, where nothing is ever totally settled. Because as it turns out, there's always somebody else right there with you.