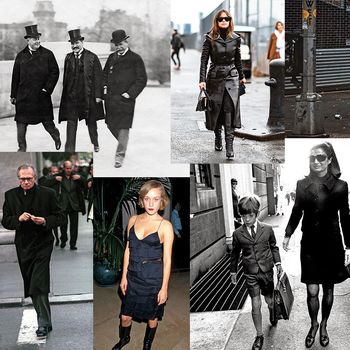 Clockwise from top left: New Yorkers wearing black in 1903, 2016, 1981, 2016, 1968, 2000, and 2000.
In Funny Face, Kay Thompson (doing her Diana Vreeland imitation) rides the elevator to her high-up Manhattan office. "Think pink, think pink!" she announces. "Now, I wouldn't presume to tell a woman what a woman ought to think, but tell her: If she's gotta think, think pink!" When will you start wearing pink? she is asked. "Me?" she says. "I wouldn't be caught dead."
And that's how it is. In New York, we make culture and then we export it. We are too knowing to endlessly buy in, and so we wear black, a neat backdrop that keeps us from getting distracted (and allows us to navigate the fact that so many of us do not have easy access to a washing machine and the place where we live is dirty and grimy and gray). If you have moved to New York City and you'd like to signal that fact to your friends back home, you can do this very easily and simply by wearing black. Lou Reed used to wear only black, and Laurie Anderson still does. If you look at the front row of a fashion show, you'll notice that Grace Coddington wears only black, and at the end of a fashion show, you'll notice that the designer — Michael Kors, Alexander Wang — takes a bow wearing all black, too.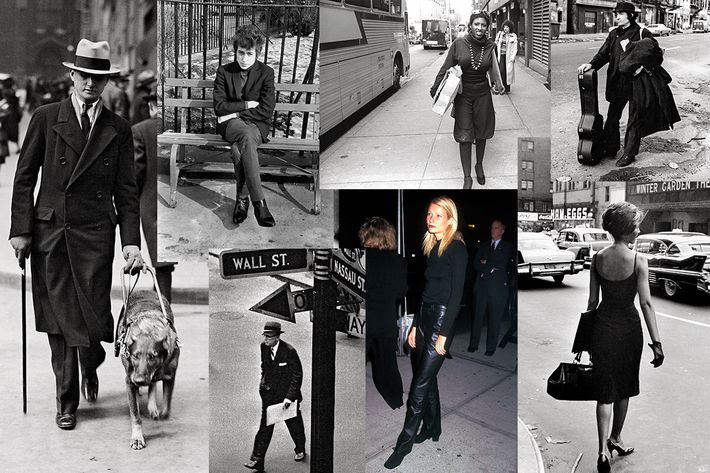 We wear black because it's slimming in a city that overvalues slimness. And because it confers a no-nonsense power, and we're certainly interested in that. We wear black because it's sexy — possibly the legacy of lingerie. We wear black because we're not tourists here to see a show; because we are, in a sense, with the band. The band is New York, and the color is black.
How did this happen? If you ask Jessica Regan, a curator at the Costume Institute at the Met, you will learn that the duke of Burgundy was, in the 15th century, the first to wear black after the end of a mourning period; the color afterward became a symbol of power, elegance, and luxury (at the time, black dye was incredibly costly). By the 19th century, black was more affordable, and available, and not just for mourning: Dyed-black glossy fabrics like velvet and satin were considered ideal for a portrait session because of the clean lines and strong silhouettes. In 1926, American Vogue published an illustration of a calf-length straight black dress and called it "Chanel's Ford," suggesting that it would become the standard-bearer "for all women of taste."
Which means that while New York might own black, we didn't invent it. No surprise: This city has always looked across the ocean for inspiration. There, the message was clear. Christian Dior is much-quoted as calling black "the most slimming of all colors. It is the most flattering. You can wear black at any time. You can wear it at any age. You can wear it for almost any occasion. I could write a book about black."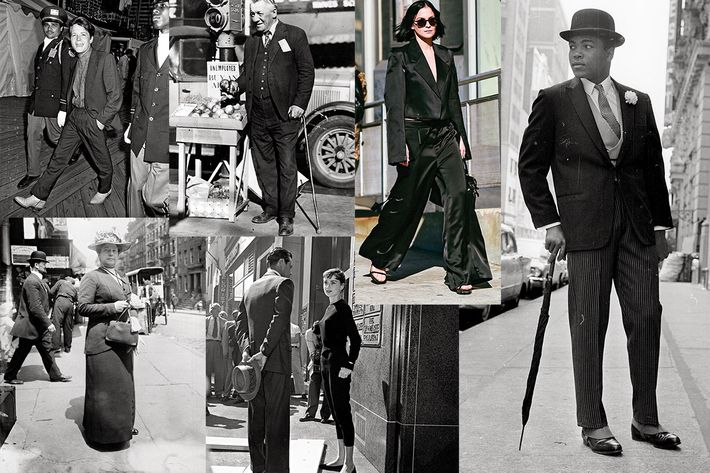 By midcentury, the color had become the thing to wear in New York if you were knowing, creative, or powerful. Also, notably, masculine. Jackson Pollock exemplified the supremely macho artist, and he exemplified this while wearing black jeans and a black T-shirt. Black was the uniform of the jazz musician, then the downtown beatnik, then the punk. The kid with the Mohawk panhandling on St. Marks wears black, which makes it all the more remarkable that the Park Avenue hostess does too, knowing she could never go wrong if she just wore it with pearls. She'd be taking her cue from Audrey Hepburn in Breakfast at Tiffany's, who, never mind that she was a hooker, was the picture of refinement when dressed by Hubert de Givenchy. "Black is modest and arrogant at the same time," the Japanese designer Yohji Yamamoto has said. "But above all, black says this: 'I don't bother you, you don't bother me.' " Was he in fact writing a manifesto for this city?
*This article appears in the May 16, 2016 issue of New York Magazine.