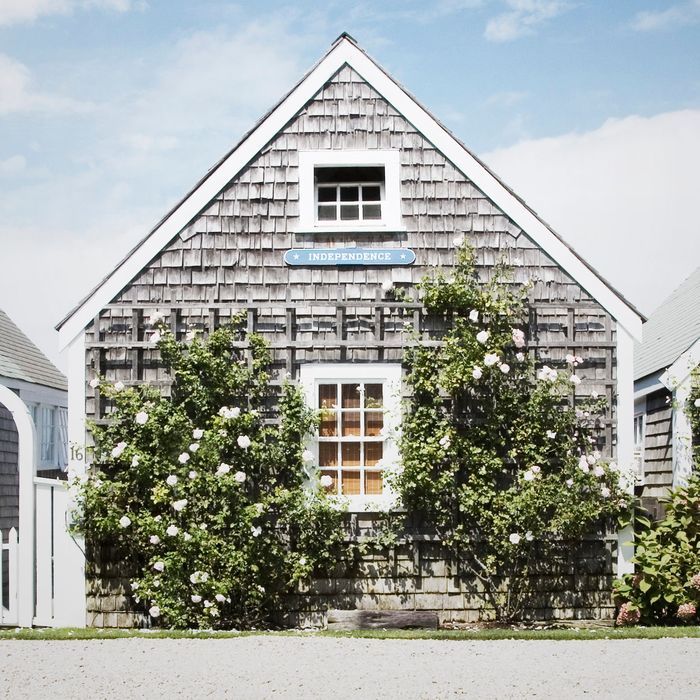 New York's "Sex Diaries" series asks anonymous city dwellers to record a week in their sex lives, with comic, tragic, often sexy, and always revealing results. This week: a 42-year-old woman — straight, engaged, lives in Cobble Hill — whose fiancé cheated on her and sleeps in his own bedroom.
DAY ONE
7:01 a.m. My fiancé, Tad, wakes me up with kisses. He sleeps in another bedroom.  I'll explain: He owns a big fancy apartment because he's a big fancy banker; there are three bedrooms, I sleep in one, he sleeps in another, and the third we use as a den. So anyway, he wakes me up with kisses. His breath smells like mouthwash. My breath smells like morning breath. I assume his cancels mine out. We kiss like we're madly in love – and I think we are?!
7:04 a.m. Tad gets in bed with me and feels me up. I am flat as an ironing board. It feels wonderful to have his body close. His dick is rock hard. It is also herculean. Tad is not tall nor beefy in any way (hello, his name is Tad), yet he lugs around this cock that is basically the size of his entire body.
7:07 a.m. Tad's big schlong is inside me. Everyone says this, but it "fills me up so good."
7:10 a.m. Tad comes. I fake it. Not because it doesn't feel amazing but because I know that if I'm not in the shower by 7:12 a.m., I will be late for my meeting at the office. I run a furniture company that is based in Europe, and we have an 8 a.m. meeting every day of the week. I hate my job.
11:20 a.m. I call Tad and tell him I don't want any of Natalie's friends there — Natalie is the woman Tad cheated on me with a year ago. He says it was a stupid, wasted mistake in Nantucket, that it meant nothing. He actually swears that he can't even remember what exactly happened. I found out about it in the worst, weirdest way: Their other friend posted an Instagram of some outrageous cocktail, and in the background I noticed a sliver of Tad's leg with a woman's hand on his thigh. It made me feel sick. I managed to say nothing until he came home a day later. Hardest 24 hours of my life. When I confronted him, he was so caught off-guard that he had to fess up. He says he isn't sure if they fucked. I'm sure they fucked. I made him get tested (clean) and then I forgave him. I am 42 years old, I've waited a long time for love, I genuinely love him. The end. -Ish.
11:25 a.m. He assures me no one on our guest list knows Natalie. He's probably telling the truth. All the people from the Nantucket weekend were bad news, and he stopped hanging out with them after the whole mess.
1:00 p.m. Lunch with my very pregnant sister. She is 45 and having her fourth child. This gives me hope — good Irish genes. I would like kids with Tad, and he would like kids with me. But after he cheated on me, I put it all on hold. Our wedding is only recently back on track after he didn't fuck up on me for one year. Pregnant sister is not a Tad fan. She thinks the whole boning-a-preppy-girl-while-drunk-as-a-skunk-in-Nantucket thing is pretty fucking foul. Sister tends to be wise.
3:00 p.m. Lunch came and went. We talked about her kids, not the wedding. Better that way.
7:00 p.m. Tad and I are both home from work. We decide to order from Mile End on Seamless. It takes forever, and the food is soggy. Ah, well. We put on the news and relax.
9:00 p.m. I take a shower every night before bed.
9:20 p.m. Tad goes down on me quite often. I don't actually love it, but it's not a habit I want him to break. He's not so, so skilled in the pussy-eating department — but I was with a woman before him, so I'm spoiled. (I consider myself straight; the woman was a total butch and basically doubled as the hottest guy ever. Plus it was in Paris. So, c'est la vie.) I come when he finally sticks two fingers inside me while licking the clit like a feral beast.
9:45 p.m. We say goodnight and Tad goes to his room. I know. Everyone thinks the sep bedroom shit is weird. It's not weird. I like it!
DAY TWO
7:00 a.m. I am awake. Tad is at the gym. His laptop is up on the kitchen table. I peruse it — since Nataliegate, I feel I've earned the right to snoop. I don't even cover up for it anymore. The fact is, Tad is scary-brilliant and would disguise anything shady anyway. I look at his calendar. He has group therapy tonight. How charming.
Noon Work still sucks. I've never found work I enjoyed, but I've always worked hard. I bought my first apartment 17 years ago and managed to do quite well flipping it, buying another, then flipping that. I'm telling you this because I don't want to hear accusations that I'm in it for Tad's money. I have money — hard-earned, self-made money.
2:00 p.m. I have this horrible habit of stalking Natalie's social-media pages. So I do that for an hour. She goes to a tanning salon and also smokes. She lives in Boston. Where else?
6:00 p.m. I take a SoulCycle class. There's a farter near me — not for the first time. These women must just eat steamed cauliflower all day. Gross.
8:30 p.m. I tell Tad that I'm over SoulCycle. He offers to get me a personal trainer before our wedding. This is both exciting and insulting. I try to ask him about group, but what happens in group stays in group.
9:30 p.m. We make a late Seamless order from some sushi place and get situated in front of the TV. Before the sushi comes, we start fooling around on the couch. I whip out his cock, spit on it, and rub the spit all around it. Then I spit on it again. Then rub. It's not quite a hand job, but he's loving it. I lick it up and down. It is impossible to take all of Tad in my mouth, so I have to blow him piecemeal. He flips me over and fucks me from behind. It feels reallllllllllly good. I come. He blows his load just as the deliveryman arrives. I say, "Give him a big tip." Witty me.
DAY THREE
11 a.m. Tad and I have a coffee date with our mutual friend, Marshall, who is officiating our wedding (it's in five months, BTW). Marshall knows about the Natalie fuckfest. He has a notebook out, and he asks about how we met — he already knows the story but wants to hear how we describe it. I say that three years ago, Tad stalked me at a book party at Powerhouse. Tad says I flirted my ass off, not at all paying attention to the author Q&A and being quite rude, until he asked me out. We sound adorable. And we are. I confess out loud that I still feel a little bit anxious about the Natalie thing. This pains Tad to hear point-blank. As it fucking should.
1 p.m. I'm a little on edge from the Marshall sesh, and I decide to go to ABC Cocina for a margarita. I have two. I look at Natalie's Instagram from my phone. Tad's college friend Phil just "liked" a photo of her making a face with her tongue out like she's Steven Tyler. Little does Phil know he's just committed wedding-list suicide. I text Tad that Phil can't come to the wedding. Tad knows better than to engage with me when I get like this. I see him typing a response then not sending it. I want to fight. Bring it, Tad, bring it. He types again … it's coming … and then he doesn't send anything. I am dying to fight with him. I write: "Tell Phil he is disinvited and bcc me. I'm serious." After ten minutes, Tad writes back, "If it means that much to you, I will do it. But can we please talk about it tonight?" Jesus Christ. Group therapy is working on him. I put the phone in my bag, pay the bill, and go back to work.
8:00 p.m. I'm over the Phil thing. I was drunk. I tell Tad I'll leave it to him. Whatever he wants to do — seriously.
DAY FOUR
6:45 a.m. Tad crawls into bed with me. He is extra yummy this morning. We fuck with me on top, cuddle, and actually fall back asleep in each other's arms. This is our typical post-Natalie-hiccup relationship repairing.
9:00 a.m. I'm late for work. Tad and I share a bank account (and keep separate ones too). He is extremely trusting and generous with money. The general plan is, after we get married, and if I get pregnant, I will stop working. It would be a high-risk pregnancy because of my age and my job means nothing to me, so it's the logical thing to do. I'm so ready to turn the page …
12:30 p.m. I forgot to mention something: Tad was married in his 20s. He had an ugly divorce and lost a ton of money and friends over it. I'm only remembering now because his ex-wife is in my afternoon spin class. We exchange hellos. She's been divorced two more times since Tad, so I am yesterday's news to her. It's fine. She's definitely one of the farters.
8:oo p.m. Tad has a dinner with clients. He texts pictures of the steak and sides to verify that he's really at a dinner with a bunch of bankers. I hate that it's even a thing, but I appreciate the effort. Nice creamed spinach.
9:00 p.m. Work on wedding stuff. Why do I feel anxious?
DAY FIVE
7:00 a.m. Morning crawl-in-my-bed-and-fuck-me-awake. It's a good ritual!
8:00 a.m. Read an email that the Europe office shut down for some electrical issue, which means I'm playing hooky. The first thing I do is go to breakfast alone with my wedding to-do list.
11:20 a.m. I walk in to a Japanese haircut place and get a haircut — a short bob. I text Tad from the chair. He says he loves it! I hate that I'm sitting here thinking about this, but I know that Natalie has long hideous extensions (of course), and I'm so Parisian with my short bob. Why is she part of my otherwise fabulous free day? Why does my mind go there?
1:00 p.m. Tad suggests I come to the city and meet him for a coffee to see my hair. Very sweet. We have a coffee and hold hands. I kiss him on the lips and send him back to work. He looks so handsome in his suit. And luggin' that big D around to boot.
2:30 p.m. I am home alone, so obviously I masturbate. I imagine Tad when I masturbate. Truth. It's not some wacky scenario either. I close my eyes and imagine us making love. It takes about 90 seconds and I come, then nap.
6:00 p.m. We have a friend's wedding tonight. I'm still loving my hair. I get dressed and wait for Tad to come home and quickly get himself together. I drink Champagne while waiting, feeling very elegant.
7:00 p.m. We are out the door and off to the wedding at a fancy restaurant. I'm buzzed and feeling extra good already. Tad tells me I'm talking too loud in the Uber and shushes me. This derails me. Fuck him for insinuating that I'm crass when he's the one who banged someone else. Lord help me — there it is again.
Midnight I can't go through it all, but bottom line is, I got very drunk and we had a big fight. We didn't make a scene, but the whole night was bad and awkward. I am scared I'll never get over him cheating on me. I go to bed with so much regret.
DAY SIX
9:00 a.m. Tad has not woken me this morning. I behaved like a psycho last night. He is pissed. I know it.
11:30 a.m. We go to brunch. We are both hung-over and not feeling great. He tells me I have to either let it go (Natalie) or leave him. He can't keep living on thin ice. I am so attracted to him and I feel so much chemistry that it's hard for me to focus on the deeper issues. This is what always happens. I choose my lust for him over my love for him, even though the love part needs help. I need help.
5:00 p.m. I've napped the greater part of the day away. When I wake up, Tad is on his computer listening to a podcast. We decide to walk and grab a pizza. We don't really talk about anything. I'm not repressed; I just don't know what to say anymore.
8:30 p.m. I watch a movie on my iPad in bed. Who knows what he does.
DAY SEVEN
8:30 a.m. It is a hangover-free Sunday and woo-hoooo, Tad is there purring to crawl in. We gave great sex … twice … and cuddle a bit. Then we decide on where to grab brunch. I feel rested today and prepare myself to talk in a real way with him once there's coffee in my system.
10:30 a.m. We are fresh-eyed and holding hands over eggs. I tell him everything is okay on my end; I just need to work harder on the Natalie thing. I'm willing to go to therapy. He is kind and gentle regarding all my feelings. We also talk about me wanting to quit work. Again, he is kind and gentle. Whatever makes me happy …
4:00 p.m. I come to the conclusion that I always come to: He is a good man who made one horrible mistake. People make mistakes.  Beautiful, exceptional, wonderful husbands-to-be make mistakes. I have to let it go. I have to let it go. I have to let it go…
Want to submit a sex diary? Email sexdiaries@nymag.com and tell us a little about yourself.
The Woman Whose Fiancé Cheated in Nantucket
Things you buy through our links may earn Vox Media a commission