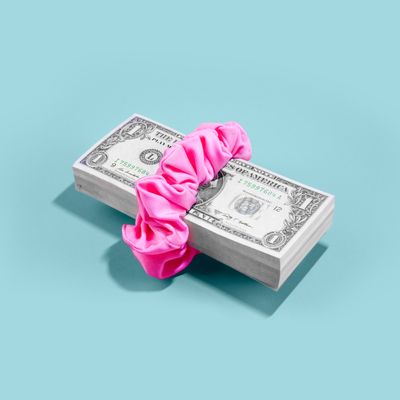 On talking cash with other women.
Photo: Leta Sobierajski
On Thursday night, in a beautiful downtown apartment found on the booking service Splacer, a longtime illustrator rested back in her chair as she proclaimed, "I'm a woman and I make a lot of money." The crowd around her — a hundred or so women in creative industries who had come to the space to participate in a town-hall meeting on the subject of women and money — cheered her on. "[It's about] saying that out loud and being okay with that and telling people. I make a lot of money." [More applause.] "You want guidance? You want to know how much I charge? I'll tell you. You wanna know how much I make? I'll tell you. It's not something that we have to hide or be embarrassed about. You learn. I'm not scared." In a plastic case on a wall, above the heads of the eight women moderating the event, a signed bag formerly owned by John Lennon hung a little ominously.
Claire Wasserman, director of marketing for Working Not Working, an invite-only service that connects designers and "creatives" to work, said she had been inspired to use this town-hall format after keeping tabs on the upcoming election. After all, a town hall panel where a few women could kick off their thoughts on an idea as the audience jumped in to contribute at any time was the perfect format for something as "taboo" as money. Low stakes, no pressure. And since money replaced sex as the thing women allegedly never talk about, a private room in which to air our grievances and do the perennial "getting real" that women are always supposed to be doing seemed long overdue. Women talking about money? Oh no, my virgin ears! We don't make money! We don't poop!
Among the many discussions of women in the workplace in the post–Lean In era, salary transparency, negotiating, and talking frankly about what women are making have become some of the most heated talking points. While full salary transparency at companies has still seen its share of growing pains, the logic prevails that the more women talk about their pay — with each other and with men — the closer we'll get to a level playing field. "What is wrong that we have to have this kind of event?" Wasserman asked the crowd at the town hall's start. Why are so many women hungry to talk about money in an open and honest space? Leta Sobierajski, one of the designers who had pushed Wasserman to put the event on, explained that it's in not talking about it that we really get fucked.
"A year ago, I was getting drinks with a male friend of mine and I told him my day rate and he was like, 'What?!'" she paused for emphasis. "'I get like three times that.' We're the same age, in the same field, we're doing very different things but I had no idea. I remember I had one conversation with a girl who was like, 'Fuck, I totally low-balled myself and now I've been here for six months and I'm making this really low day rate,' and so I asked her what it was, and she said, 'I'd rather not say.' I wonder why this is such an issue, why are we filtering these things?" Sobierajski posed to the crowd. "If you're having all of these issues with talking about this, this is just the exact example of why we're here. You shouldn't be fearing what you're making, you should be going out and charging more."
The group nodded along with this call to action. When only 14.6 percent of American women are in executive positions, decisions about whom to hire, how to pay them, and whether or not to give them raises often fall in the hands of men. (Still, Sobierajski emphasized, we weren't there to bash the other gender.) One woman in the crowd told a story about applying for a management position, a process that took over four months. At the end, she wasn't offered the position — she eventually learned, though, that while the people doing the hiring had told her that there was a cap on the salary they could offer, the man they eventually hired received $30,000 more than that. This anecdote sent ripples through the crowd.
So what were the solutions to overcoming undervaluing ourselves, not asking for enough money, having to fight for equal pay? Agatha Kulaga, founder of Brooklyn-based bakery Ovenly said, "It's not easy. I make mistakes all the time. I have friends that have gone into fundraising and been like, 'I'm fucking awesome. This is my business. Give me the money.' And they get the money … If you don't ask for it, you're not going to get it, so why not just ask for us as much as you can and they'll come back with a little less?" Maybe, even, they would come back with more.
If you're lucky, graphic designer Lotta Nieminen pointed out, women will be the ones who have your back from the start.
"On a daily basis, I was watching women slay," she said, of starting out in her industry. "That's how it should be done. It's not just about the money. It's a much broader conversation." It was a matter of seeing more women in the field, so that younger women would have role models to look up to. "I speak at some conferences and some of them are really, really depressing. I was at a tech conference with 30 men and there were only three women. Two were actually employed by the company that organized the event."
Margaritas were sipped, cookies were pocketed, and the conversation remained lively for well over an hour. The one moment where the night's discussion grew fraught was when a woman in the audience brought up the question of privilege, one that hadn't gotten the attention it deserved all night. After all, a room full of women who live, work, and play in New York City in creative fields like design have several fairly common denominators: mostly white, well-tailored clothing, a taste for nice wines. Was even this group representative of a level playing field among women?
"Some of us have been through the recession, have lost money, have no savings, don't have the luxury to say, 'Oh no, I'm not going to take this job because you're offering me 30 grand less than you're offering him," the woman in the crowd pointed out. "What can we do about that?" The responses to the question were focused on side-hustles and getting a leg up, alongside a few well-meaning mumbles and a small argument over competing grievances. This tense point in the night underscored the larger problem with the wage gap: The choice to demand more money (or even talk about money openly) is a privilege and a luxury, one that many women do not have. The many financial challenges we'd covered that night, and the ones we hadn't, could not be vanquished in under two hours behind closed doors. Before we were able to make progress in tackling the privilege question, Wasserman took the mic. Unfortunately, we'd run out of time for the night and it'd have to wait until the next town hall.