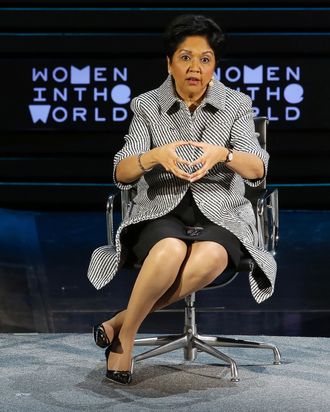 Indra Nooyi, CEO of PepsiCo.
Photo: Jemal Countess/Getty Images
Think for a second about the way your organization is structured. You've got your colleagues, your bosses, their bosses, their bosses' bosses, and the people at the top who are in charge of how the money gets moved and the sausage gets made. How many women are higher up the ladder? As you get closer to the top, are there fewer women at every rung? Are there any women at all?
It's pretty well-established that there are too few women in leadership positions in every industry. There are only 21 women in charge of Fortune 500 companies and only 20 of them in the Senate. In a new survey by the Global Strategy Group and the Rockefeller Foundation, one in four of the 1,011 people surveyed said there are no women in leadership positions at their current workplaces. Why is this such a big deal? Besides the fact that representation matters — women who see other women in powerful positions are more likely to believe they can achieve the same thing — having women in leadership greatly affects the way women feel about their lives more generally. A Pew Research study found that 40 percent of women say that having women in leadership positions "would have at least some positive impact on all women's lives."
The Rockefeller Foundation survey found that 74 percent of people believe that having more women in senior management helps companies attract a more diverse workforce, and 76 percent of women say that it makes them more likely to want to work at that company. But a huge swath of them have a pretty grim outlook on the chances of progress: one in four Americans believe that we are more likely to colonize Mars than have women occupy half of Fortune 500 CEO jobs.
Dr. Judith Rodin, the president of the Rockefeller Foundation, wants to change the bleak forecast. A new initiative, called 100x25, has set a goal of 100 women leading Fortune 500 companies by 2025. "The 100x25 campaign is about raising awareness — awareness of why it is so important to have women in leadership positions and the difference it makes — and engaging business leaders to start a conversation about what they can do to address the issue," Rodin says. "Moving forward, we plan to collaborate with leaders in corporate America, including CEOs and board members, to identify impactful solutions to bring more women into the C-suite — not just for business, not just for corporations, but for moving toward a more inclusive economy."
So get onboard. Think about your company. Are you promoting women?