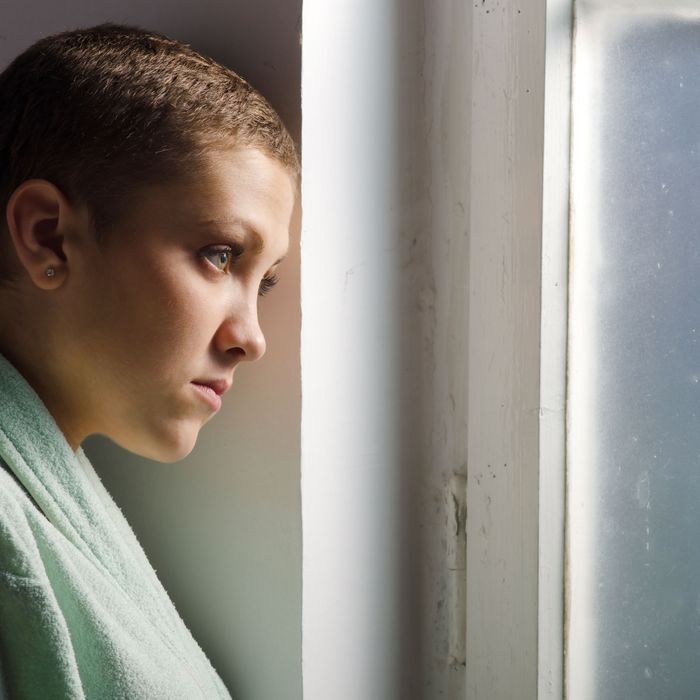 While cancer treatments like chemotherapy and radiation can be life-extending or life-saving, they also suck. Not only are they grueling, but they can affect people's ability to have children. Now, a new survey suggests that many young women who've survived cancer wish they'd gotten more information about fertility preservation options.
For a study in the journal Cancer, researchers from Northwell Health (formerly North Shore-LIJ Health System) and Memorial Sloan-Kettering Cancer Center surveyed about 350 women, ages 18 to 35, who were treated for cancer an average of five years earlier, about fertility information they received following treatment.
A little more than 100 of these women were told they wouldn't be able to get pregnant or carry a baby to term because of their cancer treatment, and 21 had opted for fertility preservation like egg- or embryo-freezing beforehand. There were 179 women with "uncertain" fertility status who either definitely wanted kids or were unsure but didn't undergo fertility treatments either before or after addressing their cancer.
Why wouldn't all women freeze eggs or embryos first, you might ask? Some may not be able to delay chemo or radiation long enough to stimulate and retrieve eggs for freezing, and/or their insurance doesn't cover cancer-related fertility treatments so cost can be a huge barrier. Still, fertility preservation after cancer treatment is a viable option for women whose eggs and uterus weren't damaged; some might have full reproductive function but are at risk for early menopause. The authors wanted to figure out why more women didn't have fertility treatments afterward.
It seems like it's because their options weren't well-explained to them. About 60 percent of the women unsure about their fertility status (that group of 179) said they did not receive enough information about the risks of infertility or early menopause, and 51 percent said they weren't told enough about ways to preserve their fertility. Two-thirds were worried about their ability to have kids and 41 percent said it was stressful to think about getting pregnant. Only 13 percent of women surveyed believed they were informed about fertility preservation options available after treatment.
The authors say most patients don't opt for fertility preservation before treatment, so post-treatment care should include reproductive-health counseling. Resolve: The National Infertility Association recommends that women of childbearing age who receive a cancer diagnosis talk to a fertility specialist (a.k.a. a reproductive endocrinologist) to weigh their options. Ideally, this conversation would happen before any kind of treatment so women can choose an approach that works for them, whether that's acting now, acting later, or doing nothing.