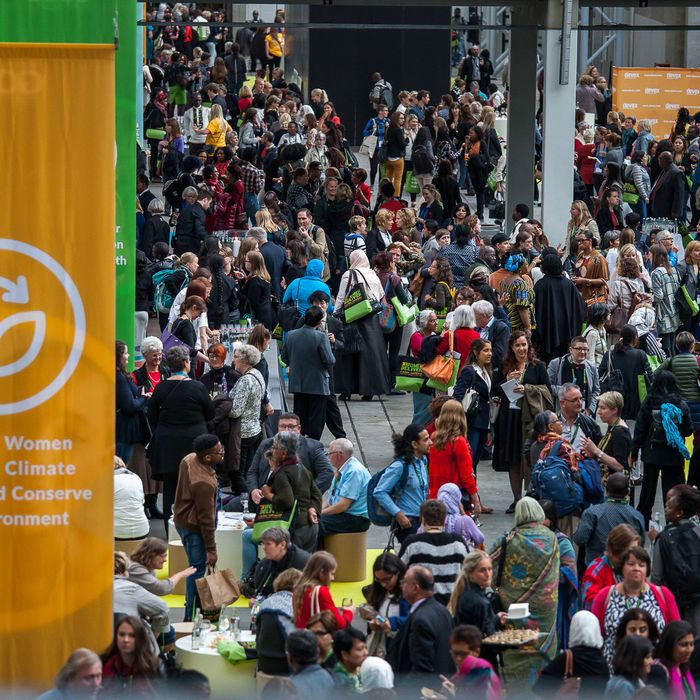 Women Deliver.
Photo: Women Deliver
The world's largest and most comprehensive conference on women's global equality is happening this week in Copenhagen, Denmark. Women Deliver, which opened its fourth edition on Monday, is the largest meeting of advocates for women and girls in the world since its last occurrence in 2013. The conference is held every three years (the previous one took place in Malaysia), and it's no coincidence that this year it found its home in Denmark, which was recently voted the best place in the world to be a woman. Must be nice.

I'm here as a fellow on behalf of the U.N. Foundation and an eager consumer of the panels, meetings, cultural events, and strategic sessions that focus on the empowerment and enlightenment of women across the globe. Each day, in addition to stories that come out of the meetings, the Cut will share a handful of details, sound bites, and pieces of valuable information that come to light during the course of the conference's events. Here is a dispatch from day two. For yesterday's dispatch, see here.
Finally, a pledge to get good data on women's lives. At the opening of the conference on Tuesday, Melinda Gates announced that the Bill & Melinda Gates Foundation would be pledging $80 million over three years to finding good statistical data and information on the way women lead their lives in the developing world. "We need to know where and when women are born. How many hours they work every day — and not just formal work, but informal work. That invisible labor. We need to know whether they get paid. How, when, and where they die." The Gates' commitment to sound information hopes to get to the bottom of all these questions and more, in order to know where to invest money and efforts in the future.

Sports matter. (No, really.) One of the more unexpected conversations going on at the Women Deliver conference centers on the need for women's sports in order to empower women in leadership positions. At two sessions yesterday, sports were used as a tool of agency for women, especially young women who get their first taste of what equality feels like on the field. Sunita Kumari — a young Indian woman who is an advocate for Yuwa, which promotes women's sports in rural India — talked about how soccer made her who she is. "In my village, people think if they spend money on girls, that it is a waste," she said. "People think that girls do not wear shorts. My friends and I don't care what people think." Moya Dodd, an Australian former soccer player who is now on FIFA's executive committee, said women must participate in sports because it's "a massive global industry. It's powerful, it's influential, it's pervasive. My game, football, is the most ubiquitous game on Earth."

The all-male panel is dead. Long live the all-male panel. Unsurprisingly, most panels here are made up almost entirely of women, with one or two men thrown in for good measure. Even then, I've found that those men tend to wait until the women spoke their part to add input. Marion Karamagi, the program manager of Commat Health Initiatives in Uganda, said we don't always need to put more women in powerful roles — most of the time, they're already doing them, just without credit. Talking about a coffee farm in rural Uganda, Karamagi explained that "the men don't show up." "The women came to work," she said. "The women came to work with their babies. We need to tell their stories." "The glass roof is an illusion," Ulrika Karlsson, a Swedish parliamentarian, said of women's empowerment. If women wanted to achieve something, they just had to keep working at it. Jonathan Monis, a senior health program officer at the Department of Health in the Philippines and the only man on the panel, sat silently nodding.
Education, education, education. One of Michelle Obama's favorite statistics — that 62 million girls worldwide are out of school — has been referenced frequently throughout the conference to make the point that women cannot access many of their basic needs without education. Reproductive health, leadership, nutrition, climate change, knowing how to combat gender violence: These things all require knowledge. Julia Gillard, the former prime minister of Australia, put this conundrum into perspective: "Why have we struggled to attract the resources we need? Education is a patient investment, and we live in a pretty impatient world." Vivian Onano, a Kenyan youth adviser to U.N. Women, said, "I'm here today because of my education. It has empowered me, given me a voice, and informed me. We need more young people given access to these basic human rights." Speaking on the theme of representation, she added, "If you can't see it, you can't be it."
It's not all doom and gloom. It can be exhausting to sit through panel after panel about the precarious state of women in the world. Sometimes we need five minutes to pretend everything is fine: While walking through the main hall on Tuesday, I spotted a woman wearing a black satin boxer's robe, embroidered with gender symbols "interpreting new ways to welcome diversity." Cecile Nørgaard, a gender sociologist, told me that the jacket is intended to draw attention — the 5 emblazoned on the back represents the fifth goal in the U.N.'s newly developed Sustainable Development Goals: "Achieve gender equality and empower all women and girls." Nørgaard, who is showing her film on an elderly transgender woman on Thursday, designed the robe with her husband, Mads, who runs an eponymous fashion line in Denmark. The robe is called "the champ."