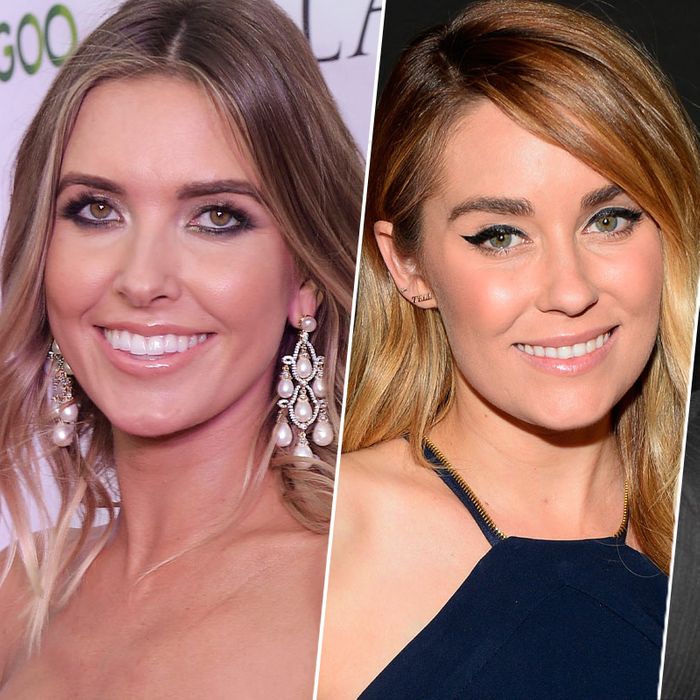 Audrina, LC, JB.
Photo: Getty Images
The MTV reality show The Hills: It's basically, like, The Hills of our generation. All of the drama, fights, LC, Audrina, Heidi, "You know what you did!" etc. Did you ever wonder what happened after it all ended in 2010?
Some of it you know. LC ventured into fashion; Heidi ventured into Santa Barbara; Audrina ventured into this outfit. But in a Hills anniversary Q&A on her website Thursday, Audrina revealed even more information about what went down after the show, and it is chilling.
Perhaps you recall the particularly moving 2008 episode in which Audrina viciously accused Lauren of hooking up with her on-again, off-again boyfriend Justin Bobby. In a tense nightclub confrontation, LC denied it, screaming, "I would rather kill myself than hook up with him!" and that was pretty much that.
But now there is more to the story, and Audrina revealed as much on her site:
Q: Did you really believe Lauren messed with Justin or was that just for the show?

A: That was actually a real rumor. A mutual friend of ours called me and told me that he was there and didn't want to tell me but knew he wouldn't be able to look me in the eye if he didn't come clean. I was devastated and couldn't believe it at first. Then, neither of them would call me back or respond to my texts and the producers, of course, wanted me to talk about it on camera, which took some pushing. That friend has since passed and I really don't care about what happened anymore. I'm happy where I am now and the past is the past!
That friend has since passed. 
So … the person who started the rumor about LC hooking up with Justin Bobby … died? 
There's a lesson there for all of us, probably.