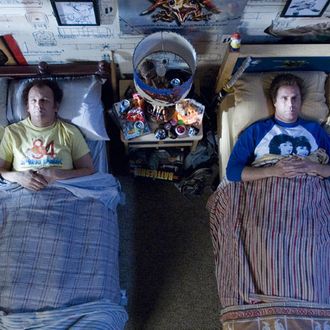 As it goes with Will Ferrell, it goes with us all.
What happens when a generation comes of age during the greatest economic downturn in a century while also becoming liberated of the notion that getting married was the most important thing you could do in life?
More of them live at home, fewer of them get married.
Those economic and cultural trends mixed to produce what is a consternating, if not surprising, finding from the Pew Research Center: "For First Time in Modern Era, Living With Parents Edges Out Other Living Arrangements for 18- to 34-Year-Olds."
All the way back to 1880, sharing a home with a partner was the most common living arrangement for young people. Not so anymore — just barely.
A hefty 32.1 percent of Americans in that age bracket — also known as millennials, as you may have heard — lived with a parent or parents in 2014, more than the 31.6 percent living with a spouse or cohabiting. Of the remainder, 22 percent lived with family other than their parents (like siblings or grandparents) or in "group quarters" like college dormitories. Meanwhile, 14 percent lived independently — as a single parent, with roommates, or in their own place.
But, as Pew demographer Richard Fry notes, this isn't even the peak of living at home: In 1940, 35 percent of 18- to 34-year-olds lived at home, putting to rest the notion that millennials are the laziest generation ever. Kidding (not really).
But marriage just isn't the default life decision it once was: In 1960, almost 60 percent of Americans aged 18 to 19 were hitched, and today it's 20 percent. Other Pew data suggests that a quarter of youngs today never plan on tying the knot.
As anyone who graduated in the time of the recession knows well, living situations are largely shaped by educational attainment and, by extension, employment. A full 46 percent of young college grads were living with their partners in 2014, and just 19 percent at home, while 27 percent of young people without bachelor's degrees were with partners and 26 percent were living at home.
You see the same thing in the European Union: a 2011 survey found that over 66 percent of unemployed young people lived at home, while 60 percent of the employed lived alone or with a partner.
Stanford University sociologist Michael Rosenfield tells the Washington Post that the main reason people lived away from family back in the Good Old Days was because they were wed — early — and women, stymied by the patriarchy, didn't have the opportunities to live on their own. In 1956, women were getting married at a median age of age 20 and men at age 22, and today it's 27 for ladies and 29 for guys. Young people are getting "more picky," he says, as everybody is having fewer kids and women can do their own earning.
So people that can afford to live on their own do that. And those that can't live with roommates. And sometimes they're called Mom or Dad.