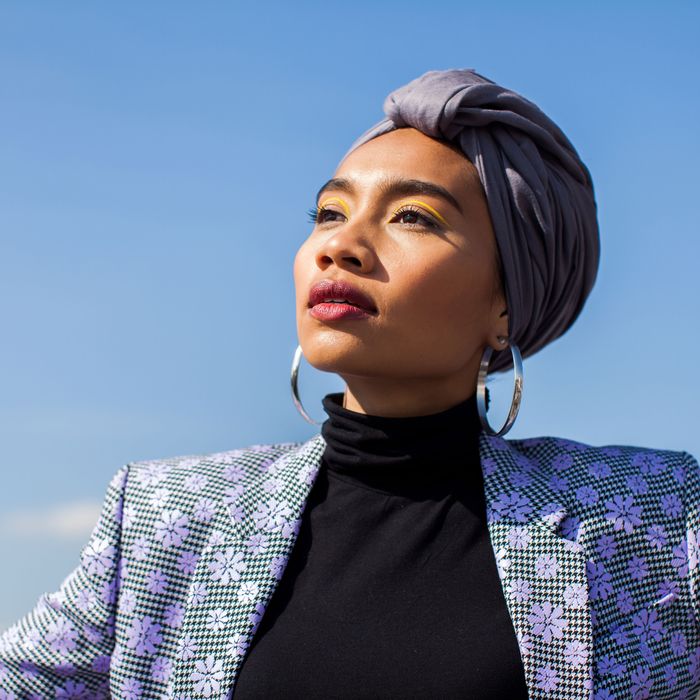 Singer-songwriter Yuna is not your average pop star. A devout Malaysia-born Muslim with impeccable personal style and a sound like Sade, she's reimagining what it means to be a music and fashion icon. Her new album Chapters — which includes her hit single, "Crush," featuring Usher — was made with a host of Hollywood superproducers and has been met with critical acclaim. And with a 30th birthday coming up this year, she's setting her sights even higher, aiming for a global audience and her own space in the fashion world.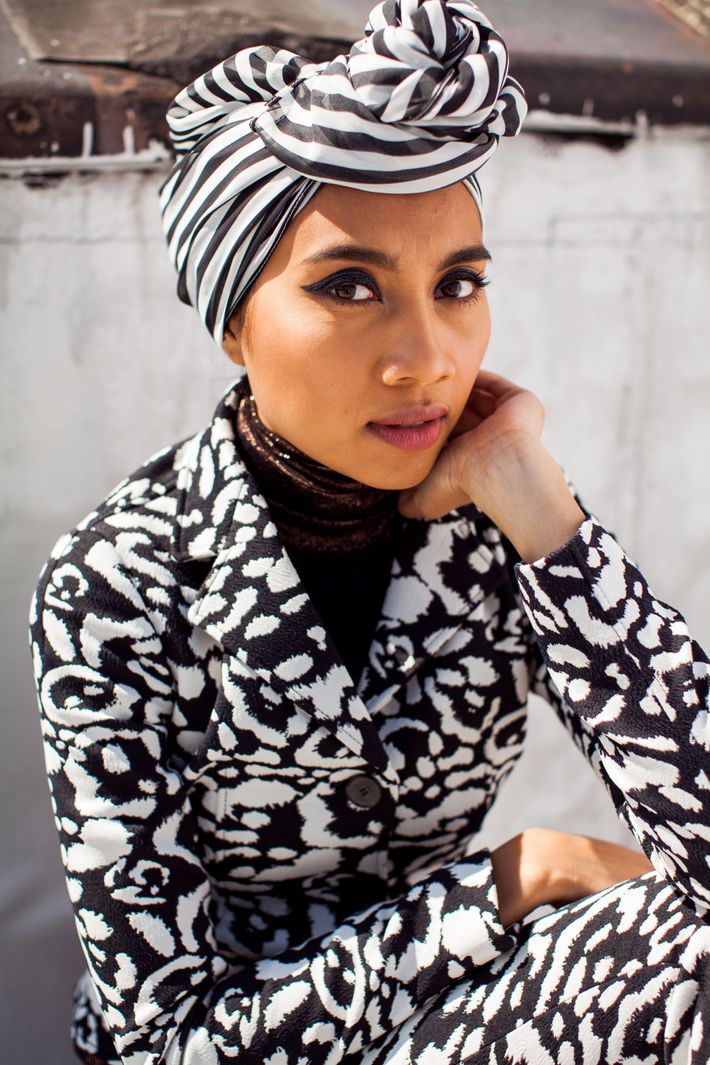 Dior stretch jacquard jacket, $3,100 and Dior stretch jacquard pants, $1,500 both available at Dior Boutiques Nationwide 
Yuna talks about her journey to becoming a pop and R&B sensation as if it were written in the stars. She's been singing since she was 7, but after one too many rejections, she enrolled in law school, though she didn't stop putting music on MySpace. "I started hanging out with a lot of musician friends and going to live shows in Kuala Lumpur. I saw all these kids that were performing their own songs and so I learned how to play guitar and started writing my own music."
Even then, she knew that she wanted to take her music international. At first it was just Australia, Singapore, and the United Kingdom — but she always had her eye on making it in the U.S. "Moving here wasn't hard for me because I was prepared. I wanted to be here so badly. When I got the offer to come here, I was 23 years old, and I didn't know anyone."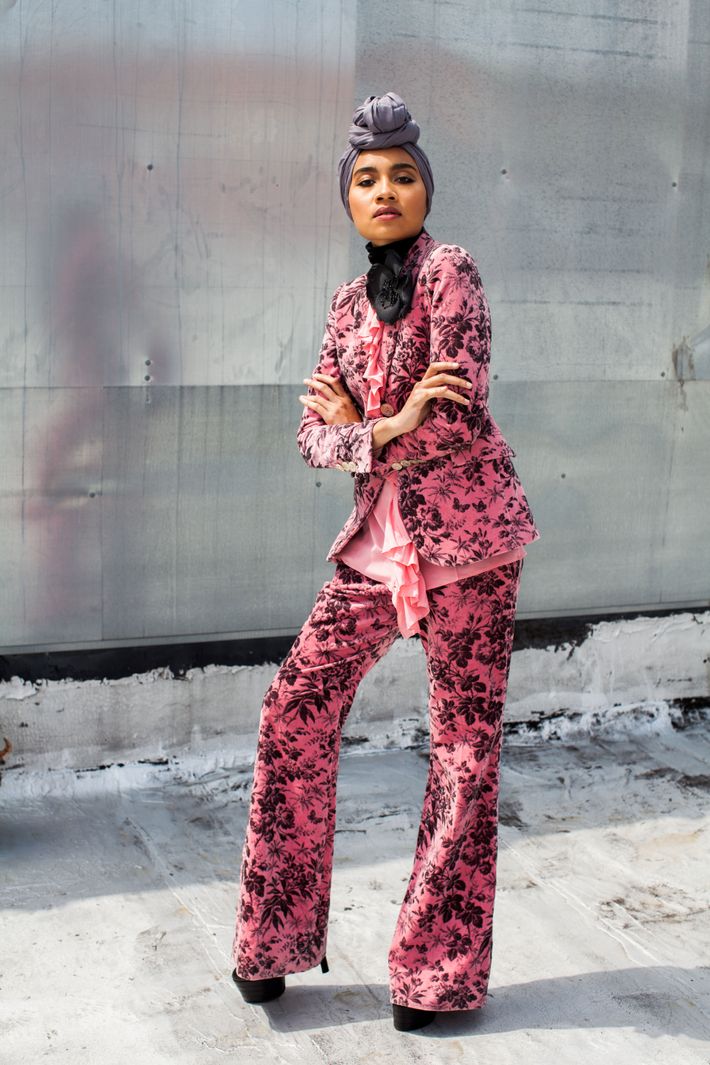 Gucci Rose Bloom Jacket, $2800, Gucci long-sleeve ruffle shirt, $1,300, Gucci Rose Bloom Pant, $1,400, Gucci platform pumps, $990, and Gucci brooch, $380 all available at gucci.com
After signing with Fader and moving to the Los Angeles, Yuna found herself collaborating with big names like Pharrell. "I was petrified! At the time I had never worked with anybody in the U.S., and it's Pharrell, and it was more of an urban contemporary sound that I didn't have much experience with. We were in the studio in Miami for a week, and it was such a cool experience that helped me get more comfortable in that kind of music."
In the beginning, Yuna's sound was more pop-rock — she describes it as "the girl version of Coldplay." Chapters, her third album, came about because, she says, "I really wanted to do something different; I was going through some rough times, and I wanted to be in a different space in life."

With the help of Fisticuffs producers (who work with Miguel and Jhené Aiko), she forged a smooth, neo-soul sound with hints of Janet Jackson and Aaliyah. "This time I decided to be more blunt in my lyrics. "Places to Go" is something that I would never normally write because I would usually be worried with what people would think about me. It talks about how this guy I like is probably out smoking weed and having fun while I'm home suffering and how I'm tired of my job, I'm tired of relationships, and that I would rather do for myself instead."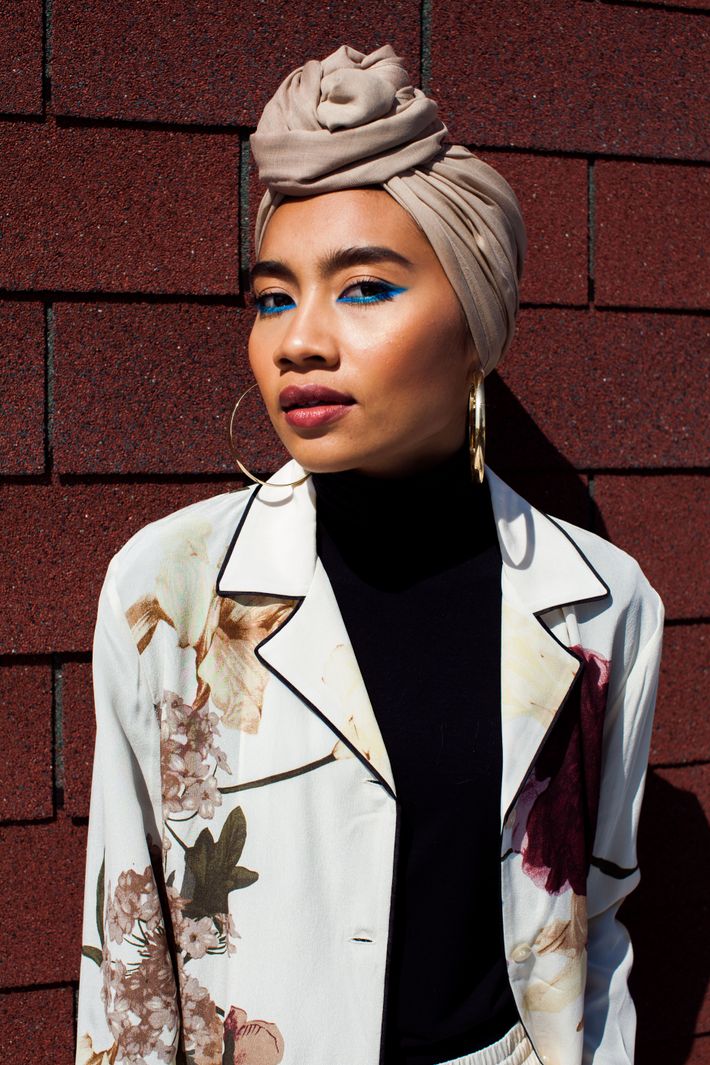 Valentino pajama shirt, $2,290, and Valentino pajama pants, $2,190 available at Valentino Fifth Avenue
Despite being a female pop star in the age of the couture body, Yuna's vocal about staying true to her Muslim faith, modesty expectations included. "I really like the idea of modesty. By the time I got into music, I was already wearing the scarf all the time, and it's really personal to me, my Muslim beliefs, so I decided to keep it and find a way to work around it. I don't see it as a restriction or limitation — I can still be me and get into music and be an entertainer."

When she first came to the U.S., she says, people were surprised that she was educated, could drive, and wore bright colors instead of all black. But she's bothered by the assumption that Muslim women don't have rights. "It's my personal choice — it's just kind of weird when people say 'take off your hijab and be you' because this is me, I'm being myself. I'm not oppressed. This is very liberating that I get to do this and be in the music industry. I like that I don't have to conform to the normal women-in-music-selling-sex-appeal thing."
Instead, she's using her platform to talk about biased beauty standards in Asia and make modest clothes more fashionable. "Racism is everywhere — the older generations in Malaysia still say things like 'She's darker-skinned; maybe don't marry her,' and it's very judgmental. A lot of girls do try to get fairness cream to lighten their skin and I'm against all of that. Embrace the color of your skin and your own beauty."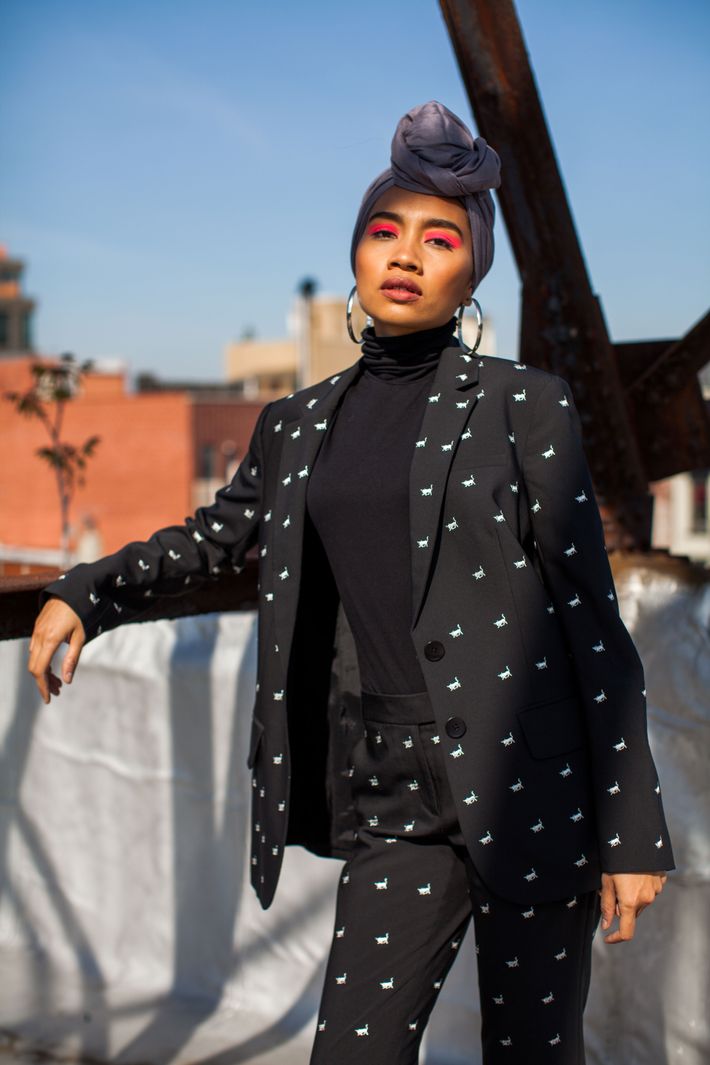 Tibi blazer, $995, and Tibi pants, $625 available at tibi.com
The next step in her world-domination plan: more clothes. She's already part of Uniqlo's Hana Tajima hijab capsule collection, and her e-commerce store November Culture that's growing faster than ever. Up next: "I'm working on a clothing line with a friend called Hatta x Yuna that will be out in August — it's going to be a lot of long, flowy skirts, floral prints, very beautiful and vibrant colors. We design a lot of clothes together that I perform in and people kept asking, so I want to make them accessible and fun."
 Image from above: Versace blazer, $2,250 and Versace pants, $995 available at select Versace boutiques .
Photos by Andre Wagner, Makeup by Samantha Lau, Styling by Lindsay Peoples