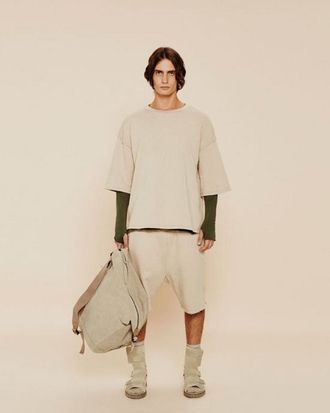 A Zara look that some are calling Yeezy-esque.
Photo: Courtesy of Twitter/MolestMeKardash
Who doesn't love a good post-apocalyptic neutral? Images from Zara's new collection have been floating around on Twitter, with some suggesting that the collection drew inspiration from Kanye West's Yeezy designs. Specifically, Yeezy Season 3. (West has been levied with charges of copying designers from Margiela to Helmut Lang, but turnabout is fair play.) We've reached out to a Zara rep for comment and will update this when we hear back.
Countdown to Kanye tweeting angrily, or excitedly, about these Zanye looks, depending on his ever-changing mood. Or, as one wag on Twitter suggested, recording a Zara diss track.
As of press time, Zara had yet to release a gospel-inspired album, a video game set in the afterlife, or a line of airbrushed T-shirts.