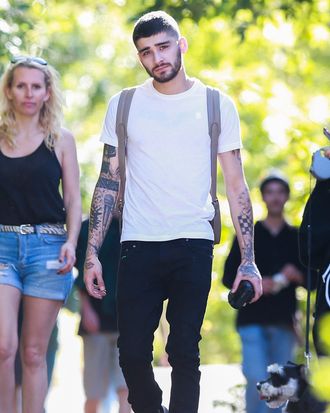 Ah, Zayn, you're always trying to keep us on our toes, whether that means forcing us to tYpE yOuR sOnG tItLeS lIkE tHiS, keep up with your latest hairstyle, or you know, reckon with the fact that you've started wearing two different shoes on your feet.
Last weekend, Zayn went on a hike in Malibu, where he was spotted sporting a black Yeezy boost on his right foot and a plain leather dress shoe on his left.
You might think, Well, maybe Zayn just had a crazy night and lost his respective shoes. But, no. This is apparently a thing. While waiting in line for a Yeezy pop-up store, menswear blogger Chris Black spotted a person who paired a Yeezy boost with a duck boot.
Perhaps these guys are just very devoted Kanye West fans who heard, "Some days I'm in my Yeezys/Some days I'm in my Vans," and thought, Why not on the same day? Men can have it all!