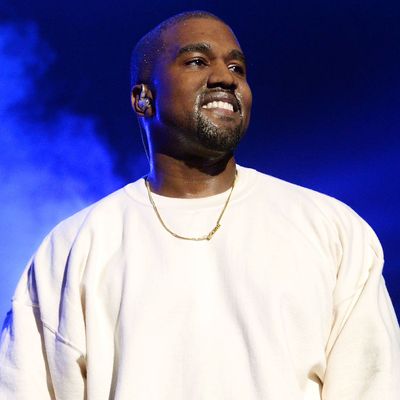 Photo: Scott Dudelson/Getty Images
In his ongoing quest to give us all Tidal FOMO, Kanye West has added a new track to his ever-expanding album The Life of Pablo. The new song is called "Saint Pablo," after his son, Saint West (don't worry, North West — we remembered your birthday even if dad didn't). Like many songs on the album, "Saint Pablo" dabbles in both the sacred and profane, the introspective and the wildly braggadocious, interspersing laments about his extensive personal debt and declarations of faith with lines like "generation's closest thing to Einstein" and "I've been waking the spirits of millions" and "the ultimate Gemini." Still, as Chance the Rapper recently said of Kanye: "If I was the greatest artist of this generation, and the few past generations, and a few generations going forward, I'd probably say it all the time." Let's examine:
After kicking off the song with a few lines about his money troubles, Kanye clarifies that we shouldn't worry about him. He's doing fine!
I know I'm the most influential / That TIME cover was just confirmation / This generation's closest thing to Einstein / So don't worry about me, I'm fine
Plus, he can literally see into the future:
I can see a thousand years from now in real life / Skate on the paradigm and shift it when I feel like / Grow conventional thought, don't need to question / I know it's antiquated so sometimes I get aggressive
He's better at having money than other people who have money (even if a lot of it probably belongs to Kris Jenner):
Most Blacks with money have been beaten to submission / Yeezy with the big house, did it way different
Astrology!
The ultimate Gemini has survived
Basically he's Jesus, just with more illegal downloads:
I've been waking the spirits of millions more to come / A million illegally downloaded my truth over the drums
He is one with the people, for real:
I am one with the people / I am one with the people, real
But he's also totally good at Instagram (even if he's not as good as Kim):
I've been working from enlightened man's dream / Checking Instagram comments to crowdsource my self-esteem
His life is basically one long cut scene from the movie Jobs:
When I was negotiating with Apple, it was Larry and me / Told Tim Cook to call me, I was scary to see
Yadda yadda, more stuff about him being a God:
I'm praying a out-of-body experience will happen / So the people can see my light, now it's not just rapping
But until he ascends to the skies like Donda on a flying horse, he'll just settle for being a modern-day Michael Jackson:
Modern day MJ with an off-the-wall flow
Happy birthday, North!