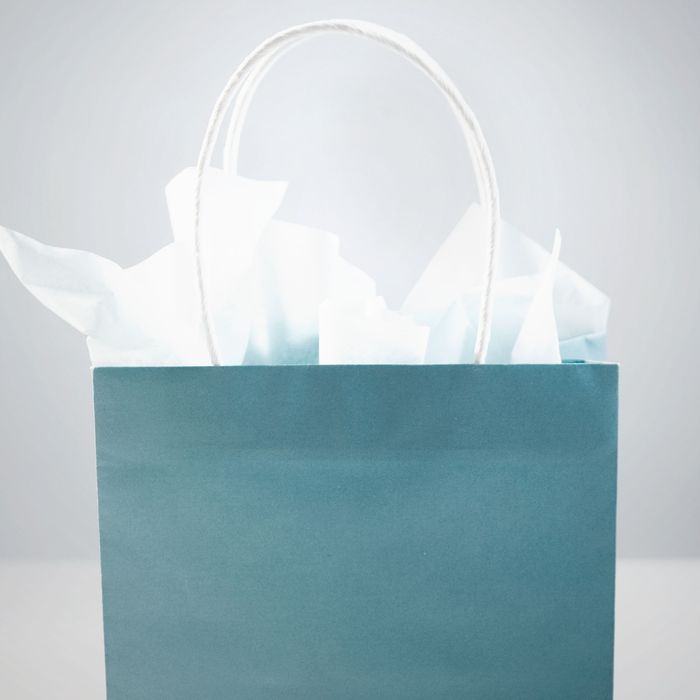 New York's Sex Diaries series asks anonymous city dwellers to record a week in their sex lives — with comic, tragic, often sexy, and always revealing results. This week, a 32-year-old project manager who keeps a butt plug in Bay Ridge. 32, straight, open relationship, Queens.
DAY ONE
Noon Leaving work early to fly to New Orleans tonight for my best friend's bachelorette weekend when I see a text from Dan, my boyfriend of nine months. I met him on Tinder. I was the first girl he met on the app after his divorce. I'd say he got pretty lucky — he had none of the crazy dates most of us have endured. The text says he's getting out of work early to take me to the airport and he'll meet me at home at 3:30.
3:00 p.m. I figure Dan will be at least an hour later than predicted getting home. I decide I have time for a blowout and style so I will be ready to party as soon as I touch down in Nola.
4:30 p.m. I get home, and Dan is there waiting for me—no mention of how long he's been waiting, but he wants to fuck before I leave. He notices my hair (good call) and asks me how I want to be fucked. We only have 30 minutes before we have to leave for the airport. He says he wants to get me off before I leave so I'm not horny all weekend. I tell him to accomplish that, he will have to go down on me. He gets to it without hesitation.
5:00 p.m. I still haven't come. I'm starting to feel sorry for Dan, who's working so hard he's started to pant. I don't know if it's the time constraint, but I can't relax. He asks if I want to smoke a bowl and try again, so I do—smoking is almost always guaranteed to help me get off. But the weed is old and we haven't bothered to buy more and I don't get very high. Dan gets back to going down on me, and I still can't come. We try a new vibrator I just bought, but that doesn't seem to work either. We're getting down to the wire here, so I tell him to just fuck me and forget it. I can tell he's disappointed, so I say, "Okay, fuck me with the butt plug in, that's for sure going to work." He seems excited; he gets the glass piece but then starts pussyfooting around putting it in. I say, "Just stick it in and fuck me already, we have to go!" He does, and I come hard and fast. He does too, not so many seconds later.
5:30 p.m. We jump up to clean off—we're a mess of come and lube, and now we're late. He asks me if I faked the orgasm to please him. I tell him I absolutely did not and that I would never do that, because it only promotes crappy sex. He agrees, and we rush to the airport via A train.
6:30 p.m. Halfway there, I get a text that my flight is delayed by 30 minutes. I heave a sigh of relief, thankful that my need to come didn't affect my girls' weekend. I can just picture me telling them why I missed the plane. I tell Dan that his beard smells like pussy, and he says, "Good, I like it that way," as we walk hand in hand into the airport.
DAY TWO
1:00 a.m. I arrive in New Orleans after midnight and meet the other girls for drinks. Half of them are ready to fall asleep, but the other half are ready to party. We head out on Bourbon Street looking for trouble.
2:00 a.m. We end up in a karaoke bar with overpriced beers and start talking to a bachelor party. One guy named Zach is pretty cute, and we talk for a while before he offers to buy me a drink. I tell him I have my own money and I don't want to feel like I owe him anything. He insists. He asks my name and I tell him but he doesn't believe me so I show him my ID. He looks at my birthday and remarks, "Whoa! You're 31? You're so old." I inform him actually I will be 32 in a few days and how the fuck old is he anyway? He's 26. Fabulous. There's no use fucking around with a guy who is 26. I say all this knowing full well that I'm not going to fuck him — and not just because of Dan. We have an open relationship. We decided on an open relationship because I have cheated on every person I've ever dated and I came to realize that monogamy is just not something I can commit to. Our rules are (1) only on vacations (check), (2) we have to discuss it before it happens, and (3) condoms are nonnegotiable. This guy is not worth No. 2, and he'll probably complain about No. 3.
3:00 a.m. One of Zach's bachelor-party buddies comes over. He's much cuter and definitely older. He says to me, "I love being dominant, I want to take you home and tie you down." I look at him blankly: He completely skipped hello and went straight to sex. I like this guy's style, so I say, "Okay, that sounds amazing." Zach, who hears every word of this says, "Holy shit, is that all you have to say? I've been talking to you for an hour!" Zach's hot friend and I laugh. I look at him and say, "You must be older than 26."
3:30 a.m. The girls are ready to leave and eat late-night-bad-idea pizza, so I bid Zach adieu. He takes a page from his hot friend's book and asks me to come back to his hotel room. I politely decline, and he looks affronted. I can tell he thinks he deserves this after all the clever chitchat we'd had until this moment. I look at him coyly and say, "It's been a pleasure, Zach. Next time you meet a woman in her 30s, try not to call her old."
11:00 a.m. The girls and I are nursing our hangovers and lounging by the pool. I'm having major stomach cramps and end up getting my period. Is there anything worse than the period hangover? I resolve that there won't be any sex with strangers tonight.
3:00 p.m. I talk to Dan on the phone and tell him about the adventures with the dumb 20-somethings. He laughs and says, "Bring that old pussy home to me!"
11:00 p.m. We get all get dressed up in black dresses and wear masks, which was a great idea until we realized how hot and humid it is underneath the masks. We run into drunken bachelor parties at every bar. No more incidents with 26-year-olds.
DAY THREE
11:00 a.m. Poolside and feeling bloated, not at all sexy. I'm basking in the sun until we have to fly home.
4:00 p.m. Flight time. I decide to wear my most comfortable pair of pants and a hoodie with my hair up in a knot — I can't muster anything more than that.
9:00 p.m. I make it home and manage a shower. Dan is antsy for me to come to bed. I am exhausted and not at all in the mood for sex. Besides that, I just wrestled the period cup back in and I don't feel like taking it out again. I lie down and we cuddle. "What's poking me?" I ask. "My dick," Dan replies. "It's been waiting for you to come home." I laugh, "Okay, do you think you can come from a hand job? I'm exhausted." He says maybe, and I know that won't happen. I haven't gotten a guy to come from a hand job since the eighth grade. I start rubbing my hand up and down on his dick and realize I'm definitely going to have to venture into blow-job territory or I'll never get any sleep. I start to go down on him as he holds my hair up. I laugh internally at a conversation the girls had this weekend about how no matter how big or small the guy is, you always get a cramp in your jaw like minute one of any blow job. I try to relax my jaw and tell him to let me know when he's close. He does, and when he comes, I swallow it easily—barely anything came out. "How many times did you masturbate today?" I ask. "Twice, why?" He responds.
DAY FOUR
7:30 a.m. It's my 32nd birthday. Dan wakes me with a kiss. "Happy, happy birthday!" he says and nuzzles my neck. I tell him I called in sick and he should, too, so we can spend all day doing nothing, lying in bed. He says he can't, things are too crazy at work right now. I join him in the shower just because I want to be naked with him before he leaves. We don't have time for sex, and he rushes out to work.
10:00 a.m. I go to yoga to sweat out all the alcohol I drank this weekend, but all I can think about is what kind of sex I want to have later. Since it's my birthday, I know he will let me choose my own adventure. Anal? Nah, that's for his birthday. Lingerie? Hmm, also may be more of a gift for him than for me. But what do I want?
Noon When I get home from yoga, I hop in the shower immediately, but not before grabbing the brand-new waterproof vibrator that I bought as a birthday gift to myself. I come easily. I'm not usually a big fan of vibrators, but I spent the extra money for the "premium" brand and it definitely paid off.
6:00 p.m. Dan comes home, and we're off to dinner. I don't know what to expect — this is the first birthday we've spent together as a couple. He's holding a gift bag. I'm very excited because I've always gotten crappy gifts from my exes: One year, I got pots and pans; another, a vacuum cleaner. This bag is pretty small, so I know it can't be kitchen items. And I'm in luck! It's a pair of beautiful gold earrings. They're just my style. He's a keeper, this one. When we get to the restaurant, he's arranged for them to put roses on the table. We have a fabulous three-hour meal, and I really want him to finger me under the table—until I suddenly remembered the period situation.
9:00 p.m. We're were both in a food coma when we get home, but I slip in the closet and grab a top that makes my tits look amazing, a sexy pair of panties that tie on both sides, a pair of lace-top thigh-highs, and a pair of heels that I haven't worn since my early 20s, when I apparently had no feeling in my feet. I come out to see Dan in bed but not yet asleep. He takes one look and gets back out of bed to kiss me, then pushes me backward over the end of the bed and starts untying the panties. My hips are tipped up over the footboard of the bed, and my feet are throbbing in the too-small heels, but I tried to ignore the feeling as he starts going down on me. Then I ask him to stand up and take me from behind. I'm bent over the end of the bed as he enters me — I love this position, and wearing the lingerie and heels made me feel sexy. We finish on the bed in another favorite position, with him on his side and me on my back so I can use my hand. We both come and fall promptly to sleep.
DAY FIVE
7:00 p.m. Nothing exciting happening today. I am home alone as Dan is hanging out with some friends. I decide to masturbate in the shower after my yoga class using the new vibrator. I really love this thing.
9:30 p.m. Dan comes home, and we go to bed early.
DAY SIX
6:00 p.m. We're brewing beer tonight, which takes about four hours, so it basically takes up the whole night. However, about halfway through, there's a brief period of time when we could slip off to the bedroom for sex. I wait patiently for this time to arrive …
8:30 p.m. The time comes, and we head into the bedroom. We have 20 minutes before we have to check on the beer. We get naked quickly, and I get him hard with my hand. He loves it when I tug gently on his balls while I do this. It never takes him very long to get hard. I am very thankful for this. We start fucking with me on my back and my legs up on his shoulders. This is one of the best positions for me to come because he hits my G-spot perfectly. He is hitting me so hard I know he is going to come soon and I don't have a lot of time to get myself there. I start thinking about things that tend to make me come quicker. I close my eyes. He tries to suck on my right big toe. This throws me off and out of the fantasy I have going in my head, so I just tell him not to do that. He's not that big into sucking on toes, but I know he was thinking it would help me come faster, because he wasn't going to last much longer. The sex itself feels so good that I come hard and fast with only a second to spare before he does. We wash up and return to beer-making just as the timer is going off.
9:00 p.m. He asks me, "Would you have been able to come harder if I could've lasted longer, or were you done?" I answer, "Nah, I was good," because I don't want to make him feel bad but also because I really was done.
DAY SEVEN
6:30 a.m. Our alarms go off, and he has morning wood, which was much more common early in the relationship but has recently become infrequent. I start stroking him with my hand. He is so hard it's almost throbbing. He fingers me as I stroke him. I turn over so we're cuddling; I'm still pretty sleepy. He enters me from behind and thrusts until he comes. I know I won't come in this position, so I just let him have this one. Afterward, I get up and get ready for work.
5:00 p.m. Work is over, and I'm headed for the airport again — I'm traveling for work this time. I tell Dan, "I can't wait to get back and I haven't even left."
Want to submit a sex diary? Email sexdiaries@nymag.com and tell us a little about yourself.