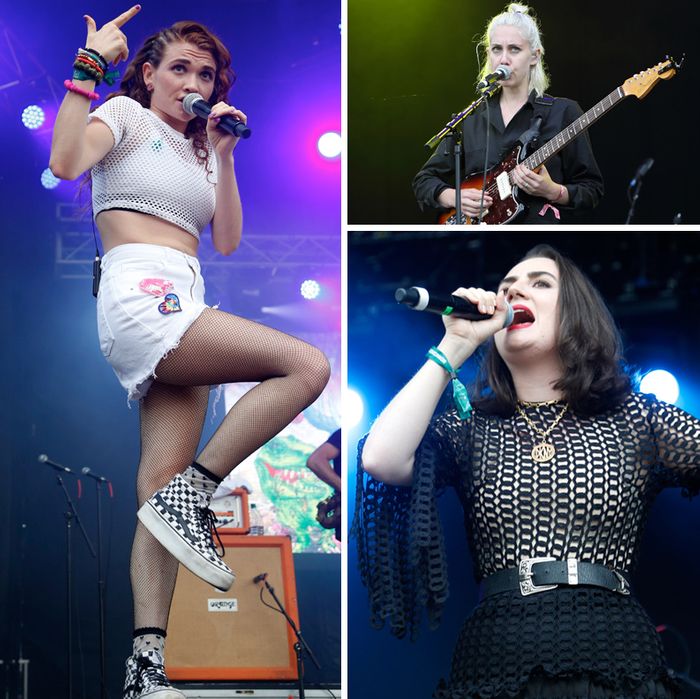 It's been a rough year for women at music festivals, but on the brighter side, this weekend Robyn headlined Governors Ball with support from an impressive list of ladies. Elle King and Christine and the Queens are probably on your radar already, but other acts — like Marian Hill and Holly Miranda — deserve a spot on your summer playlist, too. Get familiar with these up-and-comers with the five introductory tracks below.
Meg Mac
If you're a fan of Adele but you're sick of crying every time her music comes on, this Aussie is the pick-me-up you need. While her self-titled EP is full of piano-heavy tunes, "Grandma's Hands" might remind you of the sultry vibes you get from Banks.
Marian Hill
Sure, there's a lot of R&B-influenced swagger right now, but few people can transport you to a modern Gatsby speakeasy like Marian Hill's vocalist Samantha Gongol. The electronic production and twerk beats on "Got It" demonstrate exactly what makes this duo unique.
Holly Miranda
Detroit native Holly Miranda, who's toured with Tegan and Sara, is here to fill the Sheryl Crow hole on your summer mix with her hit "All I Want Is to Be Your Girl," where she proposes, "We could fuck in the sun and dance till dawn." Amen. And just when you thought there couldn't be another "Hold on, We're Going Home" cover out there, she serves up a minimal techno version that's worth adding to the list.
Torres
You won't mind hearing this dark folksy songwriter from Georgia sing about coffee and cigarettes in this distorted track reminiscent of early Fiona Apple. Speaking of the '90s, Torres earned her street cred opening for Garbage.
MistwerWives
Mandy Lee of New York City–based MistwerWives is making indie pop tolerable outside the confines of an Urban Outfitters dressing room. "Our Own House" is the wake-up song on the soundtrack of the Amy Schumer–starring rom-com version of your life.