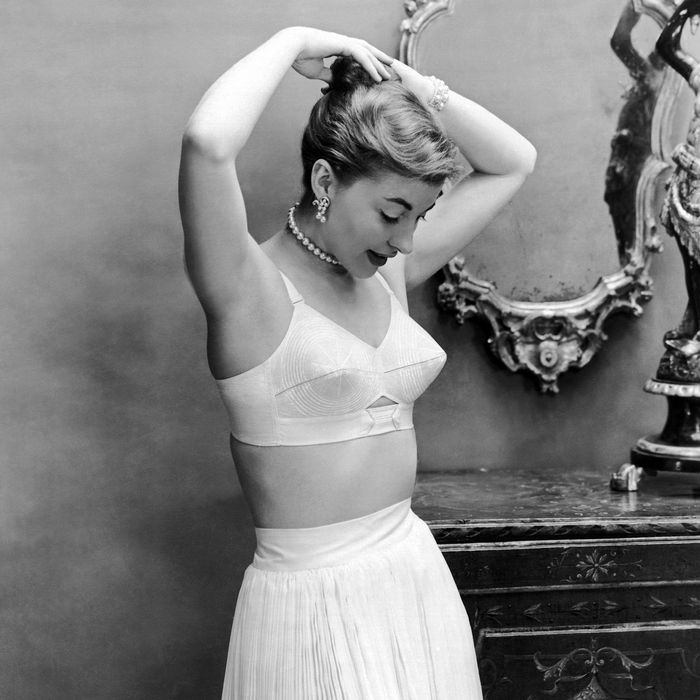 Fortunately bras no longer look like this.
Photo: Underwood Archives/Getty Images
Bras inspire a lot of mixed emotions. Some women hate them and can't wait to fling theirs across the room the second they get home. Others relish the thought of adding to their lingerie drawer. However you might feel, finding the one that lifts, supports, and happens to be tolerable enough to get through a full day takes a lot of work. Conventional wisdom recommends a proper fitting, but say you don't have the time or patience. What then?
Hit up Amazon and check out their extensive recommendations from real women. With reviews that are almost as brutally honest as YouTube comments, you know they don't hold back if something sucks. We scoured the site, finding the best reviews and highest ratings for your different needs. Scroll down to see our top eight picks.
With its light lining, just the right amount of coverage, and no VBL (visible bra line), this bra has a devoted following, with countless women raving about purchasing it in multiples. Whether it's a deep-V or fitted scoop-neck T-shirt, this is the bra you'll want underneath.
If "this is the most comfortable bra I've worn in the half century that I've lived" isn't enough to pique your interest, maybe "I even exercise in it" will. At $18, you get the quality and comfort of a bra three times the price. With just the right amount of lift to look natural on any shape or size, this sexy push-up does its job without being too over-the-top.
It's a rarity that a woman will claim the strapless style as her "favorite bra," but Maidenform seems to have broken the stereotype. The crowd favorite stands out from its competition with no-slip, extra-grip lining (no pancake, uniboob here) to assure you that it won't wind up around your ribs after ten minutes. Customers even wear this bra with sleeves — that's true strapless love.
With over 1,000 glowing reviews, readers can't stop raving about this bra. The material is ultra-soft and the underwire promises not to dig or poke into your body. Sizing goes up to a 40D, so it can provide adequate support for larger chests. Plus, sometimes, the price can dip to $20, making it very affordable to buy in multiples. The only downside? Some might find the cut a bit frumpy since it is a full-coverage bra.
If you have a smaller chest and you absolutely hate underwire, you can get away with less supportive bralettes. But what if you're a C cup and above? That's where this Bali bra comes in. Sizing begins at 34C and goes all the way to 42DD. It has enough lift that you have a natural shape without flattening. The stretchy band supports just as well as any underwire without any sagging. This is especially a favorite for women who are recovering from a mastectomy or in search of an inexpensive style during pregnancy, when your chest can drastically change sizes.
The Best Bra If You Want Something Pretty
Can a pretty bra also be comfortable, supportive and look amazing under clothes? Actually, yes. It's the unicorn of undergarments but reviewers can't stop raving about the appearance of this Natori style both with and without clothing. Colors range from sedate black and navy to pale pink, but if you're the type who needs a bold hue, there's plenty of electric shades too. The only caveat? Given the deep V, it's best on breasts that are shallower on the top and fuller on the bottom.
Sticky bras are a weird necessity now that the '90s-style slip dress is back with a vengeance. How else do you wear something held up by two thin straps if not for one of these contraptions? The best ones will remain stuck all day but won't remove a layer of skin upon removal. Reviewers deemed NuBra to be their top pick, lasting through even the sweatiest 90-plus-degree day. It gives great lift and support, and can be a good alternative to a strapless if you fear back rolls. Applying one can be tricky, even with the included instructions, but once you get the hang of it, some even use it as their everyday bra.
If you buy something through our links, New York may earn an affiliate commission.