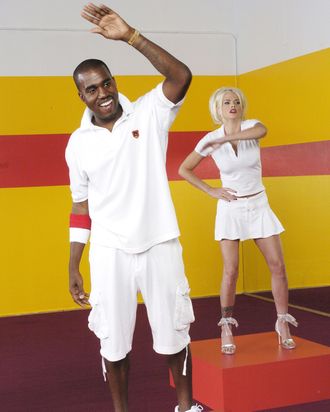 Yeezy Season 4?
Photo: L. Cohen/Getty Images
Adidas is betting big on Kanye. Thanks in large part to his must-have sneaker designs, the rapper has struck gold for the brand, with which he's been collaborating for two years. Now, in what Adidas is calling "the most significant partnership ever created between an athletic brand and a non-athlete," (LeBron James, you're on notice), the athletic-wear giant has inked a long-term deal with Kanye West, for a partnership it's calling Adidas + Kanye West.
In addition to an expanded line of merchandise from Yeezy — which will include workout gear, per a release from the company — Adidas will open stores that will "serve as distinct hubs for adidas and West developed Yeezy product" and is hiring a dedicated team to help West with his designs. Hopefully, they have plenty of Yeezy fabric on hand.