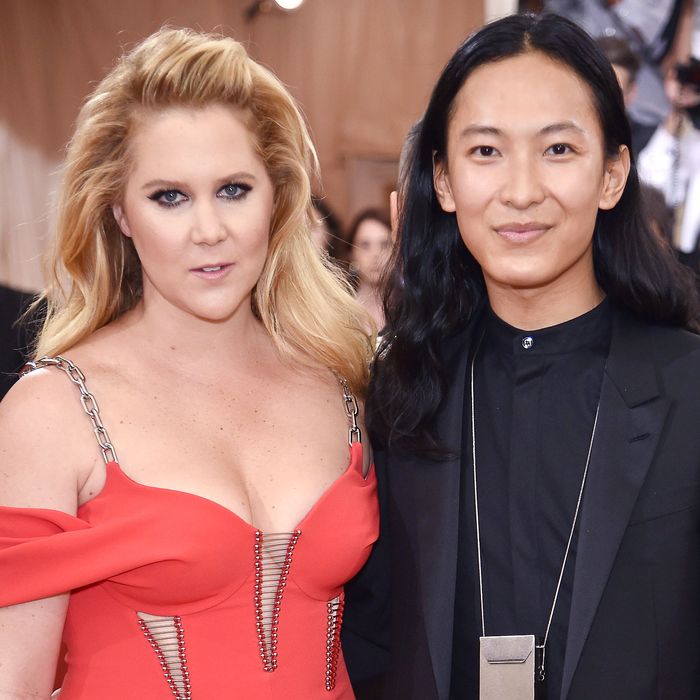 Amy Schumer and Alexander Wang.
Photo: Dimitrios Kambouris/Getty Images
Alexander Wang, who, like Choupette Lagerfeld, has better hair than you, has been known for his model-off-duty style and unpretentious ways. Following a collaboration with H&M, a stint at Balenciaga, and an upcoming collaboration with Apple Music, he talked at the Metropolitan Museum of Art's Atelier With Alina Cho about why he dropped out of school and what it's like to be Amy Schumer's date to Fashion Prom.
On his collaboration with Apple Music: "Apple has always been a brand that I've had humongous respect for. They are so much more than just their computers, they are a lifestyle brand. I was beyond excited by the opportunity when they contacted us and we were trying to figure out what it could be and what would be appealing to the fashion sector and create a seamless world and platform for people to go and see music and fashion. That's kind of how I see the world today: There aren't clean lines that segment a musician from a fashion designer. Everyone is their own brand."
On dropping out of Parsons at 19: "I took a leave of absence. I left the door open. And I thought the worst that could happen is that nothing comes of it and I go back to school … School kind of pumps you up to be, you know, super creative, really trying to show your craft, who you represent as a designer brand. And you do your senior thesis and you're out there to win the industry over. But it kind of puts you in a position where, you know, you design the line and then you have to do the runway show, and then what's next? You dress celebrities, and that can fade very quickly if you don't have solid infrastructure and platforming. So I took a different route."
On being tempted by a job offer from Diane Von Furstenberg: "It was very exciting. Like, wow, I had just started. But it was the same thing as me graduating school and getting a job. And I had already committed myself to this other opportunity and I felt I needed to see it through."
On staying focused: "When something doesn't go well or doesn't turn out like expected, I just say, okay, let's move on to the next thing. There's no time to dwell on it. Why did this happen? What did we learn from it? And move on."
On his heritage: "Everywhere I go, people ask, 'Is your mom Vera Wang?'"
On leaving Balenciaga: "I'm the kind of person where I never turn down an opportunity. I thought if I have this opportunity, I shouldn't listen to people saying, "Don't do it, don't do it." Year one was great, completely changed the lifestyle and pace of what I was used to in New York. I was going to Paris, staying in hotels, lot of quiet time to reflect. And year two was crazy and then with my own line, and by year three I was like, Okay, what am I doing? What's the end point? And it was my brand, it's who I am, it's my family. I'm not going to not put all the effort into something that's not my baby."
On being at the Met Gala with Beyoncé and Amy Schumer: "The Met Ball is a scary thing for me. There's a lot of people screaming at you, a lot of people saying, 'Get out of the way, we want her.' So I just want to go with someone that I'm going to have a great time with.
Amy was someone that I love and on my list of people that I wanted to go with this year. I had never met her until this opportunity came. My people reached out to her people. Meeting her at her apartment, she's one of those people that as soon as you meet her you feel completely at comfort. She's so down to earth, and so real — there's nothing pretentious. She's a breath of fresh air.
It's the one event where music, fashion, actors, artists all come together … I had a really good table. I was across from Beyoncé and I was like, "I don't care about anything anymore."
On his talents: "I have a very special gift, and it's that I don't get hung-over."
On throwing a good party: "As much as I work in fashion, and I love fashion, the two things about people in fashion sometimes is that there's too much ego and too much shame. And for me, I'm not perfect but I like to have fun, and if I'm going to throw a party, I want people to have fun, not sit around and drink champagne and say, 'Hiiiiii.' You've already seen me three times today — let's dance."