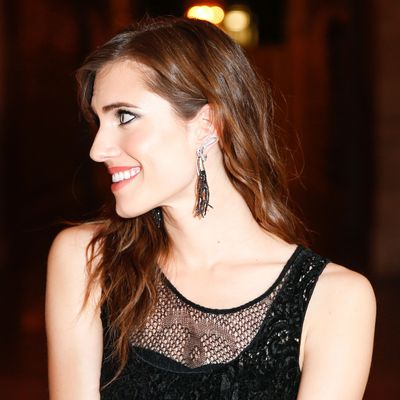 Allison Williams at the Chanel Fine Jewelry Dinner to Celebrate Treasures from the New York Public Library.
Photo: David X Prutting/BFA.com
"I put a real, non-sterilized safety pin in my ear once, just thinking it made me look edgier," Allison Williams told the Cut at Chanel Fine Jewelry's dinner for the New York Public Library on Thursday. The Girls star did it when she was a teenager. "Let me tell you, kids, do not do that. It's not a good idea."
More recently, she got a second piercing in one of her ears, which she also thought made her edgy. "I was so scared of it that it took me a year to work up the courage to get it," Williams said. "And I was very public about telling people that I was now an edgy person, and to adjust the way you thought of me previously accordingly, because I'm now a badass with not two, but three piercings," she laughed. Indeed, she has Instagram snaps to prove it:
She wasn't the only one at the party with a piercing horror story. One time during a photo shoot, the makeup artist Gucci Westman convinced Jennifer Aniston to get their upper ears pierced, right through the cartilage. "We had the piercing woman come, and I think that's a sign of a true midlife crisis, because we were, like, 'Oh, let's get our ears pierced!'" Westman said at the party. "I had this stupid idea, and so [we] did it." That was three years ago.
"It was a disaster," Westman laughed. The two kept their piercings going for eight months amid constant pain. "We both ripped them out of our ears basically a week apart. We weren't even discussing ripping them out, but it was so painful."
Westman says she thought it looked cool. "We were trying to be cool. It didn't last very long. I still think it looks really cute and cool, but that pain!"