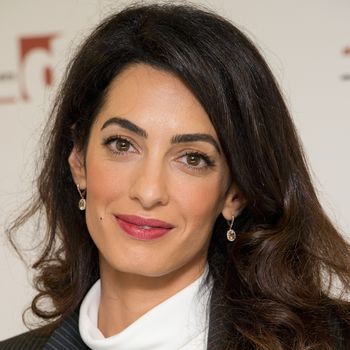 Amal Clooney will represent thousands of other victims of the Yazidi genocide, reports Women in the World. Lest we forget, Amal Clooney, human-rights lawyer extraordinaire, is doing her job.

The barrister, who specializes in human rights and international law, told the news site in a statement that it's beyond time to bring justice to these victims:
"The European Parliament, the Parliamentary Assembly of the Council of Europe, the U.S. government and the U.K. House of Commons have all recognized that there is a genocide being perpetrated by IS against the Yazidis in Iraq. "How can it be that the most serious crimes known to humanity are being carried out before our eyes but are not being prosecuted by the International Criminal Court in The Hague?"
She says she will pursue an International Criminal Court investigation against ISIS for these crimes. ISIS has continued violence against the Yazidi, community, abducting more than 5,000 Yazidis in 2014 — the majority of whom were women. And its August 2014 raids led to the enslavement of more than 200,000 women. Clooney is a representative of Yazda, a nonprofit helping the Yazidi communities since these raids began two years ago.
She's already been a direct advocate for ISIS survivor and Nobel Peace Prize nominee Murad. In an interview with Women in the World, Murad said that George and Amal invited her to their home, where Amal listened to her story with compassion.
"She did not talk to me as a well-known world figure that people would love to take a photo with, she talked to me as a sister and guardian," Murad said. "She has immense power that made me proud of being a woman."
Put in the simplest terms, do not cross Amal Clooney — she's working.