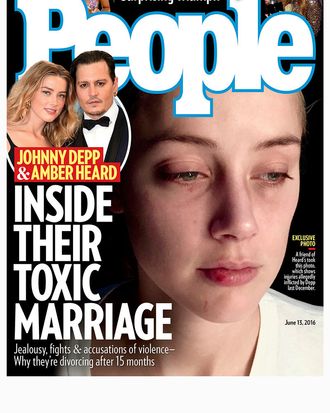 On the cover of People this week is Amber Heard, bruised and sporting a cut lip, in a photo that she says was taken in December 2015 after Johnny Depp abused her. Heard previously described this incident in a court filing last week, claiming, "There was one severe incident in December 2015 when I truly feared for my life." 
People has more photos of Heard with facial injuries here, which the actress says were taken by a friend after the incident.
Heard filed for divorce from Depp last Monday, after he allegedly threw an iPhone in her face during an argument last Saturday, May 21. Heard appeared in court on Friday with a bruised face to file abuse claims and take out a temporary restraining order against Depp.
Depp himself has yet to speak out about the allegations, but several of his friends have denied Heard's claims in the press. Because of this, Heard went to the LAPD Tuesday to file an official report about the May 21 incident. "Amber has suffered through years of physical and psychological abuse at the hands of Johnny," her lawyers said in a statement Tuesday.
Meanwhile, TMZ has "sources" who say that Heard did not show signs of injury immediately after the May 21 incident. Two officers responded to a domestic dispute call at Depp and Heard's house that night, and they allegedly told their superiors at the LAPD that "there were no marks, swelling or bruising on her face or other exposed parts of [Heard's] body." Depp had already fled the property when the cops arrived.