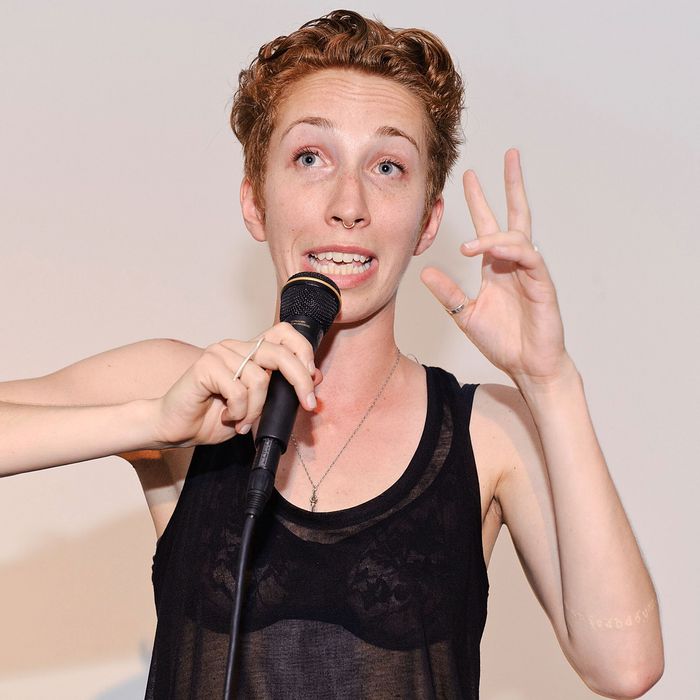 iO Tillett Wright.
Photo: Matthew Eisman/Getty Images
Amber Heard's friend defended the actress's claims of Johnny Depp's abuse on Twitter Monday night, following a TMZ exclusive that said two concierges "saw no bruising on her face, even noticing her flawless complexion."
Heard named iO Tillett Wright, a photographer and TV host, in her divorce filing and restraining-order application, saying Wright was on the phone with her when Depp allegedly threw an iPhone in her face. In a signed affidavit, Heard said Depp ordered her to call Wright to "prove his paranoid and irrational accusations about some delusional idea he was having" while screaming "profanities and insults at iO."
The TMZ story published Monday presented new evidence from two concierges in Heard and Depp's building who claimed Heard had no facial bruising days after the alleged incident. "I was about to compliment her on her complexion," one said.
"BULLS–T," Wright wrote. "I've had enough. I saw the bruises. Many times. And the fat lip. And the cut head." And she continued:
Depp's family and friends have claimed the actor has never been abusive toward them. In court documents, reports Us Weekly, his attorney Laura Wasser — whose clients have included Ryan Reynolds, Heidi Klum, and Ashton Kutcher — said Heard is "attempting to secure a premature financial resolution by alleging abuse."