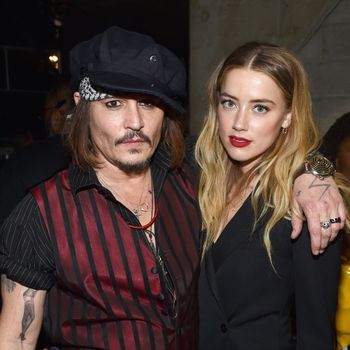 Johnny Depp and Amber Heard.
Photo: John Shearer/Getty Images
Newly discovered texts allegedly sent between Amber Heard and Johnny Depp's assistant show a history of abuse well before their marriage, according to Entertainment Tonight.
A source shared an alleged conversation from 2014 between Heard and Depp's assistant, Stephen Deuters. In the exchange, Deuters apologizes on Depp's behalf after the actor apparently kicked Heard. Heard acknowledges it's not the first time Depp has abused her. Here is an edited version of the exchange:
Stephen: "Think he's just texted you. He's incredibly apologetic and knows that he has done wrong. He wants to get better now. He's been very explicit about that this morning. Feel like we're at a critical juncture."

Amber: "Yes but I don't know how to be around him after what he did to me yesterday. I don't know if I can stay with him."

Stephen: "He wants to see you so much. He's distraught."

Amber: "… Look, He think 'he doesn't deserve this'. Obviously he has no idea what he did or to the extent that he did it. If someone was truly honest with him about how bad it really was, he'd be appalled … I'm sad that he doesn't have a better way to really know the severity of his actions yesterday. Unfortunately for me, I remember in full detail everything that happened."

Stephen: "He was appalled. When I told him he kicked you, he cried. It was disgusting. And he knows it. … He's a little lost boy. And needs all the help he can get. He is so very sorry, as he should be."

Amber: "He's done this many times before. Tokyo, the island, London (remember that?!), and I always stay. Always believe he's going to get better … And then every 3 or so month [sic], I'm in the exact same position."
The texts come a day after People revealed new photos showing Heard with bruises and a cut lip. The 30-year-old actress filed for divorce from Depp following 15 months of marriage last Monday, after he allegedly threw an iPhone in her face during an argument.