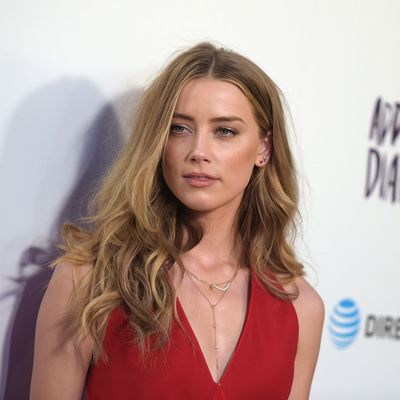 Amber Heard. Photo: Jason Kempin/Getty Images
The Heard-Depp news continues, this time with some information about Amber Heard's past. People confirmed reports Tuesday of Amber Heard's 2009 arrest for abuse of her then-girlfriend Tasya van Ree. Heard allegedly grabbed Ree's arm and struck her at the Seattle-Tacoma International Airport. She was arrested and appeared in court the next day.
She then appeared in front of a judge on September 15, 2009, for a "probable cause assault, domestic violence," a clerk from Seattle's King County court told People. TMZ has audio recordings of the hearing, in which Heard is referred to as "Amber van Ree" — her legal name at the time.
Now, in 2016, Amber's ex Johnny Depp is facing charges of abuse from Heard, while receiving support from friends and family in his defense. And Heard continues to present evidence to support these allegations, including text messages and photos. To say the least, this story appears far from over.