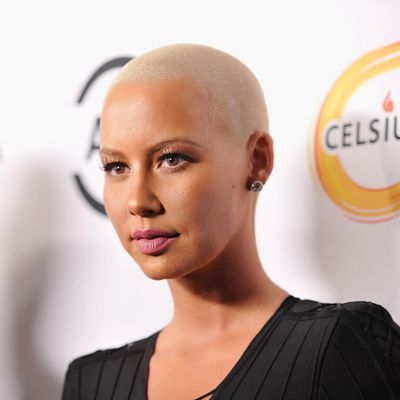 Amber Rose
Photo: Michael Tullberg/Getty Images
Starting in April, women began to accuse stylist Ian Connor — a close collaborator and friend of Kanye West and A$AP Mob — of rape. Seven women total came forward with rape allegations, but in a new interview with the Daily Beast, Amber Rose says that the number is more like 21.
When she was asked about Connor, Rose said the following:
Because I have my SlutWalk, all of the women [who've accused Ian Connor] have reached out to me as well. They want to come to my SlutWalk and tell their story on my stage. I have that platform for them to do so. I'm not a lawyer. I can't prosecute anyone or say, "What she's saying is exactly the truth." I wasn't there. Honestly, seven came out and I'm pretty sure 21 women have reached out to me so far. So I'm assuming there are more [stories] coming out. It's innocent until proven guilty, but when you have 21 women from all over the world that do not know each other but have similar stories, it gets to the point where it's like … enough.
Following the seven initial rape allegations, Connor's relationship with A$AP Mob began to deteriorate, with some calling him out publicly on Twitter. A fight also broke out in Paris last Thursday between Connor, Theophilus London, A$AP Bari, A$AP Rocky, and Virgil Abloh — though Kanye West has been notably silent on the matter.