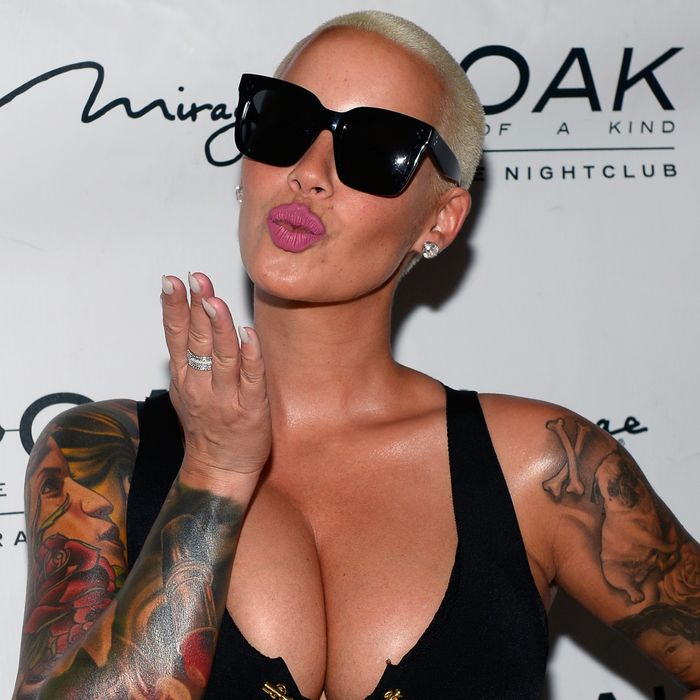 Listen to your Muva.
Photo: Bryan Steffy/2016 WireImage
Say what you will about Amber Rose — that she's gorgeous, that she has a perfectly shaped head for a buzz cut, that she is super patient with dummies who don't understand the concept of consent — but one thing is for sure: Muva Rosebud gives good quote.
Everyone has an opinion on Taylor Swift and Tom Hiddleston's hook-up, because it's not like the UK is in crisis or we're trying to avoid the impending doom that will befall a nation that elects a wall-obsessed Cheeto man. Naturally, Amber Rose has one, too. And why shouldn't she? Rose is an expert at navigating interpersonal drama in the public eye.
We're all up in arms that Swift hasn't taken long enough to publicly mourn her relationship with Calvin Harris — how dare she have a summer fling or whatever with one of the sexiest, most GIF-able dudes on Earth? Someone has to go to bat for her. Why not one of the most sex-positive stars out there? (Aside from that whole shamey #FingersInTheBootyAssBitch thing, that is.)
Rose, who noted that paps once managed to find and photograph her on a remote beach, doesn't know if the whole thing is staged and doesn't particularly care. Instead, she encouraged the young pop star to have fun, be free, and embrace her sexuality. Except not in those words exactly.
Amber Rose told The Daily Beast that everyone is freaking out "because it's unheard of, and she's acting very 'slutty' and for some reason needs time to 'let her pussy rest.' That's how people look at it, and it's just like, hell no! If I'm done, why do I have to sit in the house and be lonely?"
Truer words have never been spoken. Needless to say, I am already programming my DVR for her upcoming VH1 talk show, The Amber Rose Show. July 8 can't come soon enough.