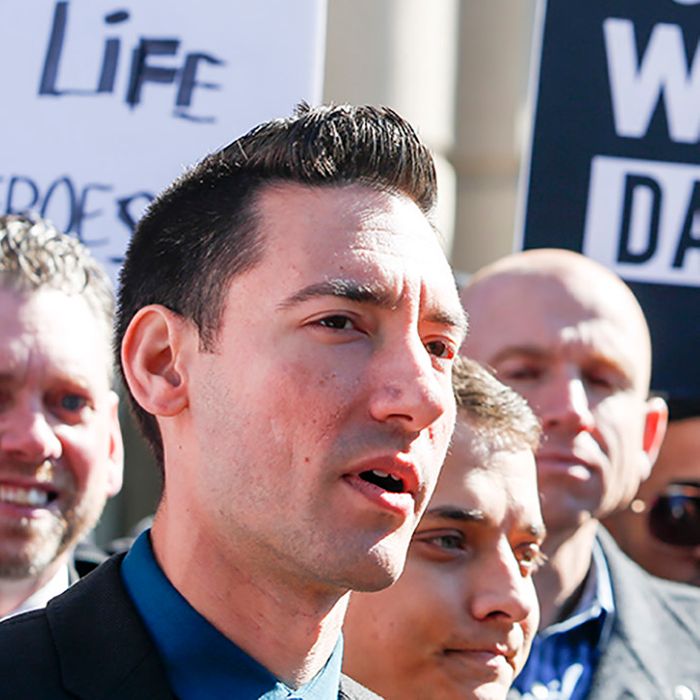 Photo: Eric Kayne/Getty Images
A Texas county judge threw out a misdemeanor charge against the anti-abortion activist who was accused of trying to purchase fetal tissue after secretly filming Planned Parenthood last year.
The judge's reasoning for dropping the misdemeanor charge was largely based on a technicality — and an ironic one at that.
The judge overseeing the case in Harris County, Texas, said prosecutors had failed to note exceptions to the law, which forbids the sale of human organs. Failure to "negate" such exceptions in the original indictment ultimately made the charge void, the Dallas Morning News reported.
Essentially, it's illegal to profit off the sale of human organs, but it's perfectly standard procedure to be compensated for the administrative and shipping costs associated with the donation of fetal tissue. Exceptions include accepting reimbursement for things like shipping or doctor's fees.
And, as the Houston Press noted, the rationale behind dropping the misdemeanor charge is ironic, given that it's the same defense Planned Parenthood used when the anti-abortion activists charged them with profiting off "baby parts."
The whole ordeal began last year when two anti-abortion activists, David Daleiden and Sandra Merritt, of a group called "Center for Medical Progress," hid their identities and secretly filmed interactions with Planned Parenthood staff.
They then produced a series of highly edited videos that purportedly showed Planned Parenthood employees offering to sell aborted fetal tissue. (Which, of course, is illegal and Planned Parenthood has not been found to do.)
But their plan to expose (or rather, failure to expose) wrongdoing at Planned Parenthood backfired in January. That's when a grand jury declined to indict Planned Parenthood and instead indicted the anti-abortion videographers.
The two were charged with a felony for tampering with government records when they used fake IDs; and Daleiden was specifically charged with a misdemeanor for trying to profit off of selling the same "baby parts" he claimed Planned Parenthood had been trying to sell.
Daleidon hasn't been let off scot-free, though. The misdemeanor was the lesser of the charges he faces, including a felony count for allegedly tampering with government records (re: the fake ID).
And let's not forget that Planned Parenthood also sued his group, the Center for Medical Progress.
So stay tuned.