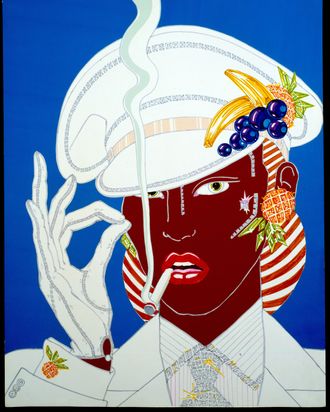 Antonio Lopez, a forgotten star of '60s, '70s, and '80s fashion illustration, is making a vivid comeback at El Museo del Barrio, where "Future Funk Fashion," an exhibit of over 400 works, from macho men with motorcycles, to fluid young break-dancers, is on display through November 26. Known during his lifetime for his deft renditions of female fashion models — not to mention his discovery of such celebrated names as Pat Cleveland and Grace Jones (who, like Lopez's long-time muse, Jerry Hall, were known as "Antonio's Girls") — the show explores the full extent of his talent. As co-curator Amelia Malagamba-Ansotegui puts it, Lopez used his "audacity of the soul" to create "a new concept of beauty."
At a time when the fashion world was primarily the domain of white women, Lopez dared to introduce the "other"; people of diverse color, ethnicity, and sexual orientation. His work was multicultural long before the word existed. "What is mind-blowing," says Malagamba, "is how subtle he was. He did it from his own localized experience and he did it with such love and such respect. So you have references to the colors of the tropics — those are cultural cues."
Born on a horse farm in Utuado, Puerto Rico, in 1943, Lopez moved with his family to East Harlem in 1950, attending P.S. 77. He was introduced to fashion as a child: Both parents worked in the garment industry, his father as a mannequin-maker and his mother as a seamstress. At 12, he won a scholarship to the Traphagen School of Fashion's Saturday children's program, and later attended the High School of Art and Design. In the early 1960s, he enrolled at Fashion Institute of Technology, where he met Juan Ramos, who would become his lover and then his lifelong creative partner, until Lopez's death in 1987 at age 44 from AIDS. The show makes the totally collaborative aspect of their work apparent — the artist publicly known as "Antonio" was really a team: Ramos inspired everything from subject matter — he would ply Lopez with reference books from Rizzoli — to actual palette and graphic design.
While it is never explicitly addressed in the show, sex was the primary fuel for the artist's creative engine. "The most important thing in his life was sex," says Paul Caranicas, the owner of the Antonio Lopez and Juan Ramos estate, who was Ramos's romantic partner until Ramos's death from AIDS in 1995. "It would make his dick hard to go out in the street and see guys and girls dressed the way they were and acting the way they did and photograph and draw them." Some, but not all, became his lovers. For many, he functioned as a kind of polyglot Pygmalion, refining and polishing diamonds-in-the-rough that he picked up and brought to his studio, which was always teeming with people, music, and dancing.
Lopez and Ramos got their first job while still at FIT, working for John Fairchild at WWD. By 1963, Antonio was doing illustrations for the New York Times, and soon became a high-profile regular in Vogue, French Elle, and Harper's Bazaar. In 1969, the duo moved to Paris, living for several years in an apartment rented by Karl Lagerfeld, a close friend and colleague. Their time there, which Caranicas, who lived with them, calls the "party years," is epitomized in a 1975 spread they did for Interview magazine, entitled "April in Paris."
That same year, Lopez, Ramos, and Caranicas returned to New York, eventually inhabiting a building on 16th Street, off Union Square, catty-corner to Warhol's Factory. Lopez knew Andy, drew him, and occasionally worked for Warhol's Interview magazine, which even devoted another special 1975 issue to Puerto Rican culture.
By default, most of Lopez's commercial work celebrates the beauty of women, rather than focusing on its central aspect, what Malagamba-Ansotegui calls an "aesthetic of queer desire," certainly apparent in his Urban Male Warrior series (which channels the iconic gay artist, Tom Finland), as well as his never-published motorcycle series, done for GQ in 1973, but not printed because the images were deemed too homoerotic. It can also be seen in his full-color portrait of graffiti-writer Doze, a different kind of urban warrior.
Lopez was also involved with photography, and his sophisticated use of the medium to create what are, in effect, precursors of Instagram (with a Puerto Rican spin) is striking. From the puzzlelike drawings of deconstructed male bodies created for Versace; to powerful portraits of Grace Jones and Patti LaBelle; to a trio of colorful divas — Maria Callas, Josephine Baker, and Carmen Miranda; to his exquisite drawings of shoes (rivaling another shoe fetishist, Warhol) the show captures Lopez's consummate craft, from his sinuous draftsmanship to his canny reflection of contemporary culture — including the Civil Rights Movement, the sexual revolution, and women's and gay liberation.
"I'm interested in knowing the figure better by taking it apart," Lopez said, referring to his recurrent fractured male bodies. "The more I break it up, the more I can look into it, the more I can understand what I've been doing all this time. For me it's an in-between stage; I don't know where it's going to lead to but I'm curious and I want to take it all the way."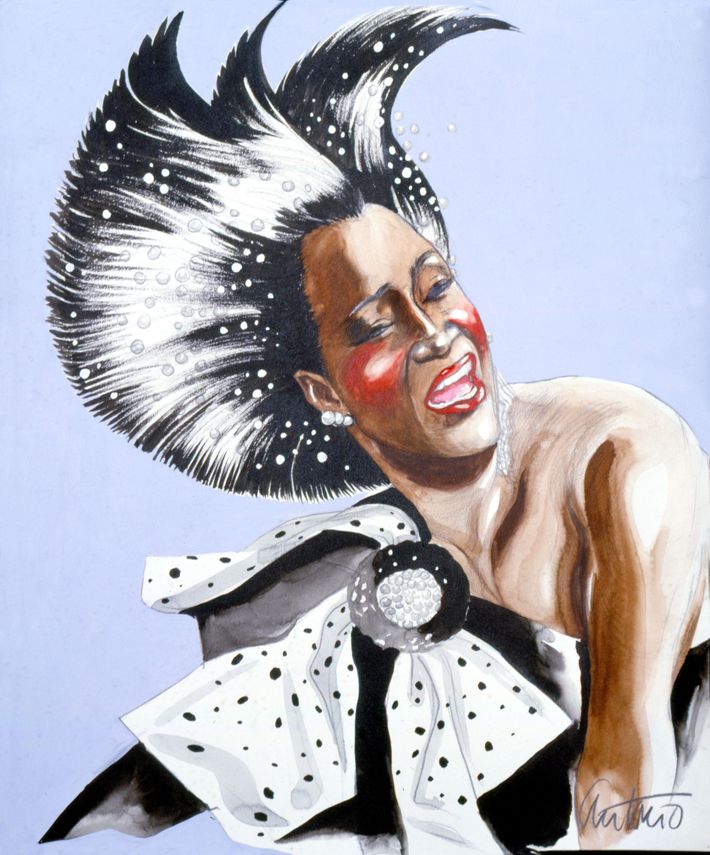 Antonio Lopez, Patti LaBelle, NYC, 1986, printed material, 12 x 9 in. courtesy of the Estate of Antonio Lopez & Juan Ramos.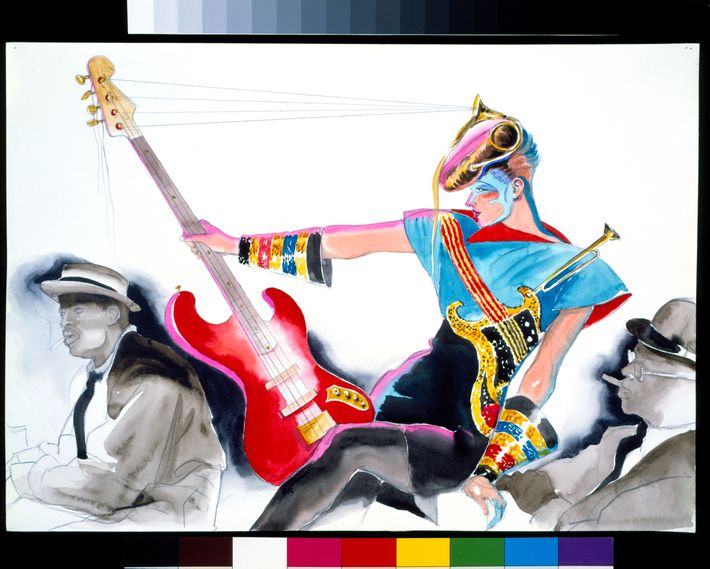 Antonio Lopez, Illustration for Karl Lagerfeld in Vanity Fair, Musical Dress, 1982, pencil and watercolor on paper, 13.88 x 19.63 in., courtesy of the Estate of Antonio Lopez & Juan Ramos.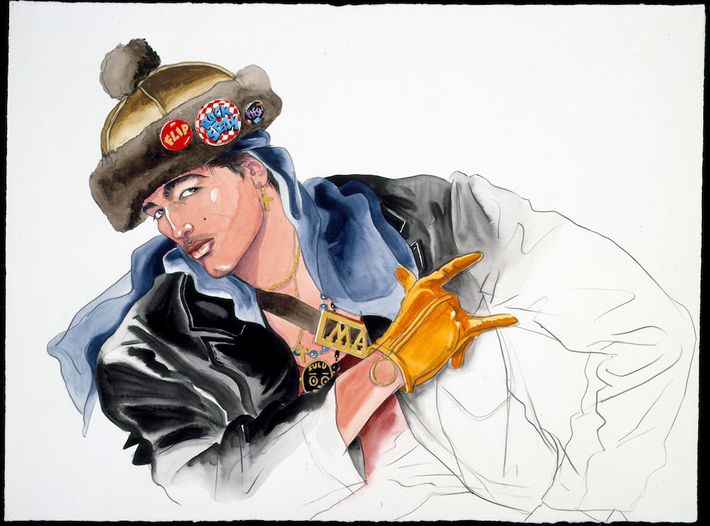 Antonio Lopez, Portrait: Doze, NYC, 1985, graphite and watercolor on paper, 25.5 x 30.5 in., collection of Narciso Rodriguez.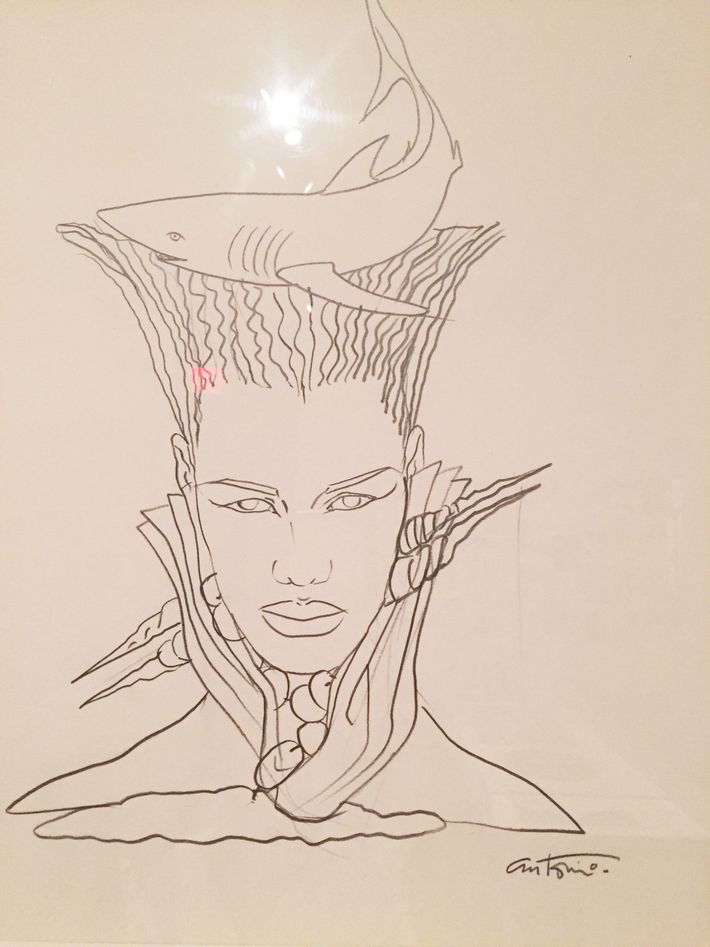 ANTONIO (Antonio Lopez + Juan Ramos): Grace Jones Shark Hat, 1983, pencil on paper 17 x 14 inches, private collection.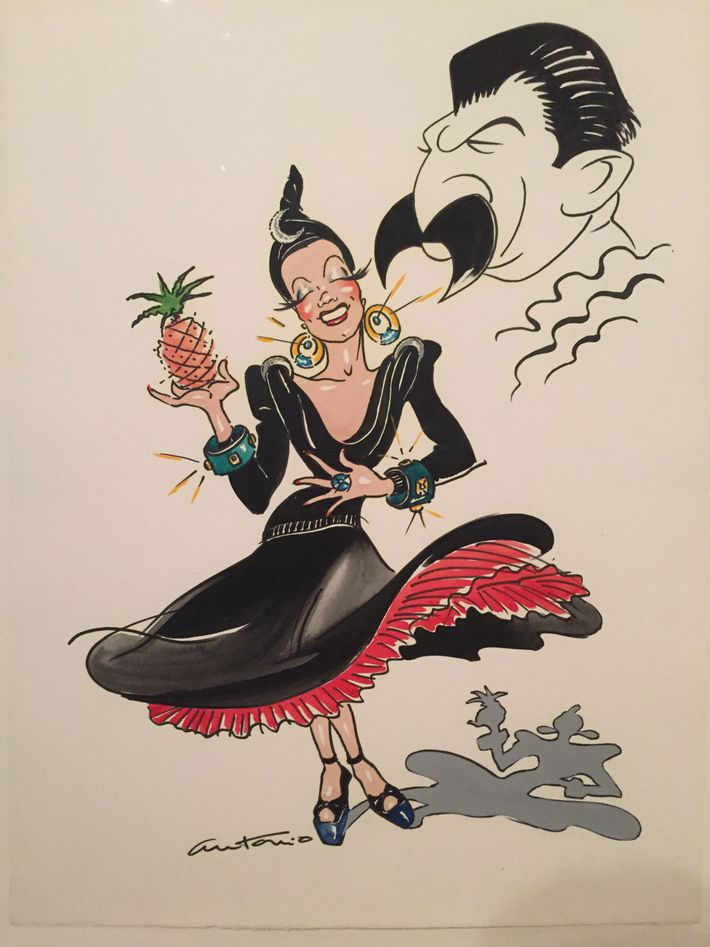 ANTONIO (Antonio Lopez + Juan Ramos), Carmen Miranda, Pencil and watercolor on paper, 27 5/8 x 19 3/4 inches; mounted on a mat board that measures 29- 3/4 x 20- 1/2 in., private collection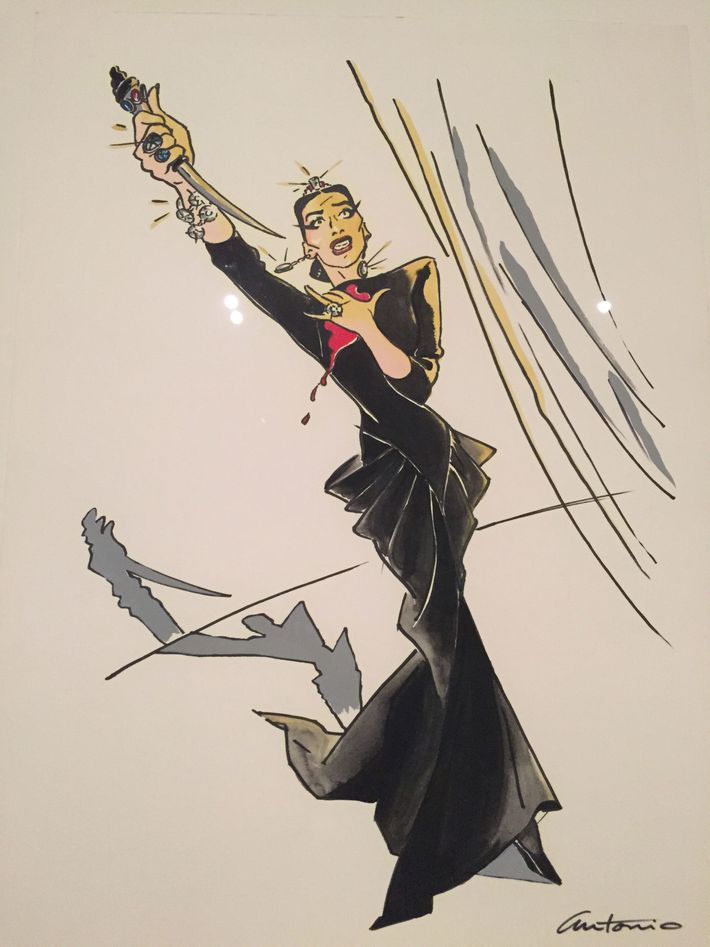 ANTONIO (Antonio Lopez + Juan Ramos), Maria Callas, pencil and watercolor on paper, 27- 5/8 x 19 3/4 in., private collection.