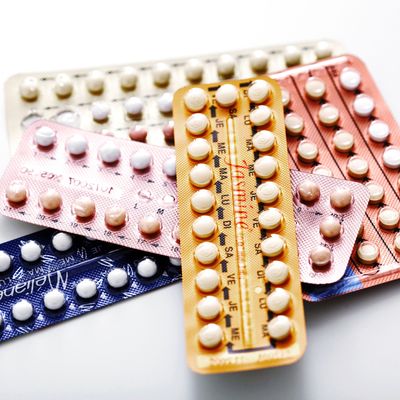 A few weeks ago, I went to pick up my birth-control prescription from my local pharmacy and was told my doctor needed renew it. I called my doctor's office, and they told me I needed to come in. I came in, and they insisted that I have a pelvic exam and a pap smear, tests that I had had last year and, according to the latest medical guidelines, did not need. I explained I was there for a time-sensitive prescription consultation and not for a well-woman exam. And they held my medication hostage: No pap, no pill.
I'm hardly the first to experience this kind of patient-doctor standoff or doctor-patient bullying. One recent study found that a third of OB/GYNs and family medicine practitioners always require a pelvic exam when prescribing the pill, with 44 percent "usually" requiring it — though there is no medical reason to do so, and many women find themselves compelled year after year to submit to uncomfortable, unnecessary examinations and tests.
It is an infuriating state of affairs, and one that a number of medical entrepreneurs have picked up on. Now some telemedicine start-ups are trying to make it as easy, painless, and quick as possible for women to get hormonal contraception. In the go-to Silicon Valley formulation: Think of it as Uber, but for the pill.
Here's the thing. In general, there is no clinical reason to tie pap smears and pelvic exams to referrals for hormonal contraception. This is not to say that pap smears aren't important; they are. It is also not to deny the convenience of getting necessary screenings when going in for a prescription. But pap smears and pelvic exams address different issues than do consultations for the pill — and still many doctors marry them, forcing excessive well-woman checks on patients coming in for the pill. Healthy women over 30 need pap smears only every three to five years, after all. And just this week, the U.S. Preventive Services Task Force questioned whether asymptomatic adult women need annual pelvic exams at all. (That's right: at all.)
Many doctors now argue against linking cancer screening and contraception. "The requirement for a pelvic examination for oral contraceptives imposes unnecessary delays to contraceptive delivery and pregnancy risks," concludes one often-cited study. "Despite the value of clinical preventive screening when it conforms to evidence-based guidelines, women seeking oral contraceptives do not need cancer or [sexually transmitted infection] screening to safely use the medication."
And so, rather than heading to another office or clinic after I fired my OB/GYN — shout out, Mitt Romney — I tried out two of the new services that promise to let you get birth control with nothing more than a few taps and swipes and clicks.
Nurx just launched out of Y Combinator's start-up accelerator this winter. It lets you submit your information and prescription request to a doctor. If approved, the business fills it and mails it to you in a matter of days — hours if you are in San Francisco and want to pay for Postmates' courier service. (It also offers the anti-HIV medication PrEP and contraceptive products like the NuvaRing.) I logged on and spent a few minutes giving it my details. I had a prescription in just a few hours.
"We refer to it as 'hostage care,'" Hans Gangeskar, one of the company's founders, tells me. "Medically, it makes absolutely no sense. You're saying, 'You have to get pregnant because you didn't have your cervical-cancer screening!' Personally, I take these logical analogies maybe way too far. A woman with cancer isn't better off having cancer and being pregnant."
The second app I tried, Lemonaid, was even quicker, promising a two-hour prescription turnaround. I answered a few prompts and sent in a laptop-camera photograph of myself. The service — which also offers consultations and medication for common conditions like acne, urinary-tract infections, and acid reflux — granted me a prescription in three minutes. Three minutes! I could have picked it up at the pharmacy around the corner from me in less time than it took for me to walk to my doctor's office.
But besides speed, the founders also say their apps are insurance-friendly and medically sound. "These are conditions where people oftentimes have an idea of what's wrong with them," Brendan Levy, a doctor who works at Lemonaid, tells me. "These are conditions the medical science shows we can diagnose reliably. With birth control, for instance, we can reliably name the reasons you shouldn't be on it, and identify them."
They are also cheap. In the case of Nurx, I paid nothing, not even shipping, for my prescription. In the case of Lemonaid, I paid $15 for the "visit." That is to say nothing of the value of my time, or my stress.
In true Silicon Valley fashion, both apps offer sleek, minimalist user interfaces and clear instructions. They let you ask a doctor any questions you might have. But they are built to get you in, get you out, and make you happy. "We want to make it a stressless experience," Gangeskar says. "My co-founder, Eddie" — A. Edvard Engesæth, who is a doctor — "always says that he'll get calls late on Friday nights from friends who need their prescriptions refilled. But who wants to call their friend the doctor on a Friday night to discuss an intimate health-care issue?"
There are other options than Nurx and Lemonaid, too. There's ProjktRuby. There's Maven. There's also ThePillClub and ScriptDash (though you need a preexisting prescription to use those services). And Planned Parenthood is now offering virtual consultations for the pill, too.
The Uber-for-X analogy is horribly overused by the tech-bubble media, I admit. But it does seem unusually apt in this case. These start-ups and services are taking on established, cartelized, and heavily regulated incumbents — much like Uber. They are taking on incumbents with no ability or incentive to compete on price and a long history of terrible customer service — much like Uber. And rather than offering add-on capabilities to those incumbents, they are often letting consumers vault over them entirely — much like Uber.
There are limitations to them. Neither Nurx nor Lemonaid can do much more than it is designed to do. If you have a weird infection, a strange bump, or one of any number of other medical issues, you need to seek an in-person provider. And they are geographically limited, too. Nurx is only available in California and New York at the moment, though it is planning to expand. And Lemonaid is available in California, Florida, Michigan, New York, Ohio, Pennsylvania, and Washington, and is also expanding soon.
The really good news is that these services are only one of many promising developments for women who want quick and easy access to hormonal contraception. California, Washington, and Oregon now allow pharmacists to prescribe birth-control pills, a policy a number of other states are considering. And there's a growing cry for the federal government to allow the pill to be sold over the counter, without a prescription, as it is — and safely — in countries from Korea to Mexico.
As handy as these new start-ups are, it might be even better if doctors and regulators quit standing between women and the pill entirely.