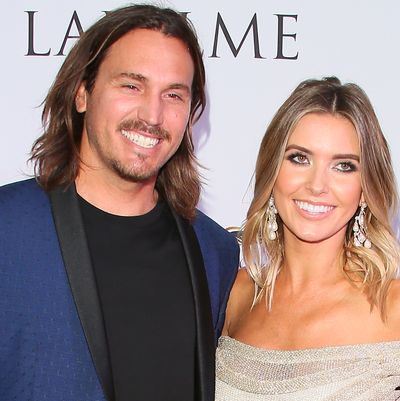 Photo: JB Lacroix/WireImage
Audrina Patridge gave birth to Kirra Max Bohan, her child with fiancé Corey Bohan, on Friday morning. The Hills co-star got engaged to the professional BMX bike rider in November and announced the pregnancy in December on Twitter in what doubled as an ad for Clearblue pregnancy tests. Synergy!
The two had their first date on an episode of The Hills way back in the day, and obviously there have been some ups and downs along the way, including the time she pretended to break up with him so he wouldn't have to be on the show any more. "So, I kind of told him, 'We're going to film one more time. I'm gonna kind of let you go, because I don't want to involve you in what's going on or about to happen.'"
We look forward to pictures of baby Kirra appearing on Instagram in the near future. Patridge is definitely ready; she posted a pic of baby goodies five days ago that included sponsored text for ViaCord. Mazel tov.