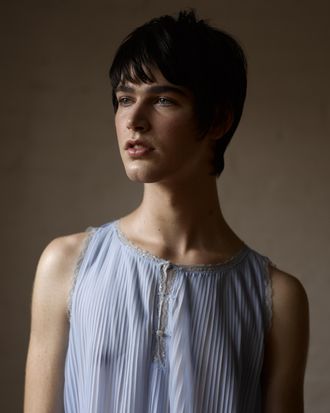 Avie Acosta
Photo: Tetsu Kubota
Before Avie Acosta moved from Edmond, Oklahoma, to New York City, she had already begun a very 2016 kind of metamorphosis: shedding Instagram followers from her past life. "I unfollowed the people I went to school with and started following people throughout the world that I thought I'd be friends with if I wasn't in Oklahoma," she says.
One of those people was Hari Nef, the first transgender model signed to super-agency IMG. "I randomly followed her during that spurt because I just liked her Instagram," she recalls. "Then she started getting publicity and, reading her words, I was like, wait. I identify with that." Acosta, who was born male, was then in the process of figuring out her gender identity — she had worn a skirt to a high-school winter formal, an experiment that went over without much comment from her classmates – and had started to feel that she needed to change her life in a big, still-undefinable way. And that change, she knew, had something to do with New York.
After racking up overtime shifts as a host at an Oklahoma City sports bar called Republic that she describes as having "like 30 TVs and 100 beers on tap," Acosta saved enough to move to New York at 19, with three suitcases and zero contacts. While working at Republic, she had changed her name to Avie and begun female hormone treatments, though "I still got called 'he' every day," she says ruefully.
Settling into her new identity, she was determined to befriend all the people she'd been following on a five-by-three-inch screen IRL. She DMed Gogo Graham, a designer who creates fashion specifically for the trans community, and landed a spot in Graham's New York Fashion Week show this past February, wearing an exaggerated Mohawk and a red bra. And she vaulted herself into the city's social life with the enthusiasm of a newcomer who's loath to make it another Netflix night.
At a Marc Jacobs party, she met Jake Greene from Paper magazine, who ended up introducing her to Kendall Werts, who became her agent at Wilhelmina Models. She went to Juliana Huxtable's #ShockValue party and finally met Nef in person. The model took Acosta under her Gucci-clad wing and brought her to a party for Diesel's flagship store on Madison Avenue, which led to an invite to a Ladyfag party held at a mansion. (In Acosta's telling, these evenings pile up like dominoes, some of them only vaguely recalled. Of the Marc Jacobs party, she says, "It was in like an old-school gym or something. It was for his sunglasses release. And so I guess I met Jake there, although I don't really remember …")
A friend of Nicola Formichetti's met Acosta at yet another party and sent the designer a screenshot of her Instagram; pretty soon, she had an invite to his Nicopanda show. Another night found her walking the red carpet at the Captain America premiere, wearing a unisex look from Baja East. "I just hear about stuff and I just end up there," she says nonchalantly of her social calendar.
It sounds like something that might happen in 1979, not 2016, but in a matter of months Acosta had an agent, runway jobs, and a circle of friends in the city — everything she'd envisioned back in Oklahoma. It was like a fashion version of The Secret. "I was really broke for a month," she says of her early days in the city. "I think I'm still broke, because this is New York."
Acosta is signed to the men's board at Wilhelmina. "With women's [boards], I know for a fact that there would be things about my body" that she'd be asked to change, she says, like losing inches on her waist. "I like to think of it as — you know when you were in middle school and there's that one girl who is on the football team? And that girl was the cool girl?" she says. "That's how I feel."
However, in keeping with fashion's increasingly genderless mood — as seen at Alessandro Michele's revamped Gucci and the unisex approach of New York lines like Hood by Air, Baja East, Eckhaus Latta, and 69 — Acosta has been doing go-sees for both men's and women's shows. Right now, she's learning a "men's walk" for the former, which she breaks down as "hunch, look down, look bored and annoyed." She hopes to walk the upcoming men's shows in Europe, which would mark her first time leaving the country (and would require getting her first-ever passport.) She's already booked editorials in Purple and in the Italian fashion magazine Lampoon that should get her noticed.
Her agent tells me she's been mistaken for a trans man on castings, which she takes as a compliment. The way she dresses off-duty, too, has a gender-eliding spin. She arrived on set at this shoot wearing light-wash jeans and a vintage baby-blue pleated negligee-style dress that could pass for Gucci. Both pieces, along with her underwear, were borrowed from one of her roommates. As far as she's concerned, she says, no item of clothing has an innate gender: "It's literally an inanimate object that's fabric and cloth."
When she first came to New York, she briefly went off hormones. Explaining that decision, she says, "Once I got here I was like, wait, I have a lot of this space to just exist." In Oklahoma, "I was very concerned with all the typical trans things like passing or like being misgendered at work. I would let that be this very draining thing for me. And I didn't want to do it anymore. I didn't want to be in the same position that I was in in Oklahoma, just in a different city. I wanted to change it all." She has since gone back on hormone treatments, but she speaks of those days as a charmed time when she didn't have to fit into one category or the other, but could float between them for a while.
Her family still doesn't really understand all of this. "Things have never been good with my parents or anything," she says. But they have begun to show a cautious interest in, if not endorsement of, her new, increasingly high-profile life. Her father, she says, "checks in. I send him links to the things that come out [about me]. They read them and they respond … I think that they're doing a lot better job with it." She told her 13-year-old brother "that when I get established, I'll let him come visit."
Does she miss anything at all about her old life? "Sometimes I miss driving. I miss being able to get in a car, put music on, and be in your own space," she says. "Not very often."
Photographs by Tetsu Kubota. Styling by Rebecca Ramsey. Hair by Nicolas Eldin. Makeup by Aya Komatsu. Fashion assistant: Indya Brown.