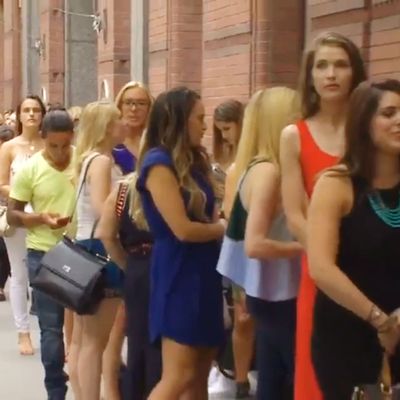 The ladies in line.
Photo: ABC
The line for The Bachelor open casting call at ABC Studios in Manhattan stretched the length of an entire city block (a long one). It was not single-file but, conservatively, quadruple-file; packs of wavy-haired gals clumped up against packs of straight-haired gals. Occasionally these Joie-clad configurations spilled out into the street to take photos of the looming sunset. It was as if all the ladies' restrooms on the Upper West Side had closed down except for one, and all the 20-something white women in the surrounding area had decided to pee at once.
When I arrived at 6:37 p.m. to join the group and observe its participants, I was prepared to wait 20, maybe 30 minutes to get into the casting. It took me two whole minutes just to walk to the end of the line, during which time I witnessed two brave hopefuls contemplate ordering a pizza and felt the unmistakable genesis of a blister on the outside of my pinky toe. I was wearing nude, high-heeled sandals to "blend in" — one decision of many that I have regretted in my lifetime, another being the decision to attend the open casting call for The Bachelor at ABC Studios in Manhattan.
The call was for the improbable 21st season of the reality show, though the eligible software salesman who will play the title role has not yet been announced. The 400-plus women who showed up were waiting in line to date a question mark. For three whole hours, I waited with them, and we never discussed men, except in passing. These women were interested in something else. Something worse, I think. What follows is a series of unfortunate events.
***
At 6:41 p.m., I take my place at the end of the line: No. 296.
No. 295, a tiny blonde with cartoonishly big, cobalt eyes, turns toward me with an empathetic shrug. She is wearing a round, solitaire diamond engagement ring, which she hastens to explain. "I'm just here for moral support," she giggles, gesturing with her right hand to her friend and thrusting her left hand toward my face so I can inspect the hardware. "Ooh," I offer. I'll call this lucky bitch Blair.
Blair has what everyone else is purportedly here for: a fiancé. She met him in her apartment building, not on a nationally televised reality show. Still, she's got advice for her friend, and now, me.
"I heard the producers might take your phones," she says conspiratorially, as several more high-heeled women join the line behind us. "Make sure you don't have any nudes on there."
"Actually," she reconsiders, "that might not be the worst thing."
Her friend, whom I'll call Hannah, rolls her eyes but clutches her phone tighter all the same. She is taller, with shoulder-length chestnut hair and bare, freckled shoulders. She never explains why, exactly, she wants to be on The Bachelor; it seems like it was Blair's idea.
The two friends have the easy, betchy rapport of old sorority sisters; they are both dressed in muted Theory outfits and delicate gold jewelry. Blair, in addition to her diamond, has a Cartier love bracelet. They live in Chelsea or Tribeca or maybe even Stuy Town, and together they are effortlessly mean.
A few minutes into our sojourn on 66th Street, an older Asian woman wearing a sunhat wanders over to us in line. She surveys the sea of beachy waves and off-the-shoulder blouses stretched as far as the eye can see and then, in a slight Chinese accent, asks us what we're all waiting for.
Blair and Hannah find this comical.
"It's a casting," Hannah answers, smirking.
"For what?" the woman asks.
"A show," Hannah sighs in mock exasperation, eyeing Blair like she is making a very good joke.
I explain that we're here for a reality show to meet a husband. The woman turns the phrase over in her mouth, bemused. "Meet a husband!"
"You should get in line!" Blair squeals.
Hannah grabs the woman's hand. "Maybe you'll meet an American man," she says.
I take a half step back and imagine falling through a trap door directly into the hot metal core of the Earth.
"Maybe he'll be Chinese," the woman counters, smiling brightly. "You never know."
The woman's name is Nina. We chat for several minutes while Blair takes Snapchats of us on her phone, an activity she makes roughly one percent effort to hide.
Nina wants to know why everybody here is white.
"I, uh, well, I guess the Bachelor is usually white," I say.
"They're catering to their audience," Nina responds, unbothered. "The majority of America is white."
Then she asks me about the premise of the show (There's only one man? The girls all have to compete? Does the winner have to say yes to the proposal?) and my own dating life. I begin to wonder if she is some sort of plant by producers, but then, why would she lead with the show's blatant and embarrassing diversity problem? When she leaves, she wishes me good luck, and I think, don't go.
Blair and Hannah, having grown bored of Nina and Snapchat, are discussing Blair's forthcoming bachelorette party. "I still think we should combine them," Hannah says, turning to me for my opinion.
"We have three bachelorette parties in our friend group in the next six months," she tells me. "We're gonna spend a G on each, right?"
"Sure," I say, unsure.
"So why not combine them and spend three G's to go somewhere amazing, like Ibiza?"
It's a rhetorical question.
Suddenly, a cloud of realization passes over Blair's face. "Did that woman leave?" she asks me, referring to Nina.
"Yeah," I say.
"Good," she says. "I didn't feel like talking to her."
***
A few spots behind us, there's a comedian. "Ladies, I just checked out the front of the line," a six-foot-tall brunette wearing inexpertly applied red lipstick tells the group surrounding her. "There's no one hotter than me!"
The ladies laugh and nod. I check my phone: It has been 37 minutes.
Suddenly, the woman directly behind me speaks for the first time.
"Are you alone, too?" she asks. I'm not sure if she means in line or in life, but I nod my head, yes.
(Blair and Hannah are each on separate phone calls now, determining which wet blankets will not be invited to Ibiza.)
The solo traveler sighs, relieved. "It's so boring alone," she trills. I'll call her Daisy.
Daisy, I soon learn, is from Canada. She came to this same casting last year but never heard anything. She hasn't told anyone except for her mom and like a couple of friends that she is here, because what if she doesn't hear anything this time? She is 24 and wearing a baby-pink tank top and (to my eye) mink eyelash extensions. I tell her this has got to be her year.
"It does drive me crazy, like, how do they pick?" she asks. "What do I have to do?" She knows friends of friends who have gotten on the show, and it's not like they're any prettier than anyone else here. It's a mystery and we hate it.
Well into the second hour of this punishment, I notice a woman in front of us wearing a white, cotton crop top and boyfriend-style jeans using two separate iPhones to do … something. She taps at both of the cracked screens, back and forth, back and forth. Minutes later, a black Escalade with an Uber sticker in the front window pulls right up to the line and she leaps in without a word to anyone.
"Someone just left," I tell Daisy.
"What?" she asks.
"I think someone just left the line," I repeat.
"Oh," she says.
She is eating a granola bar. She does not offer me any of it.
***
When we reach the door at the front of the line, it is 9:02 p.m. "I'm, like, not even nervous anymore," Daisy assures me. "I just wanna get in there!"
Hannah asks the security guard at the door how his night is going. "Seventeen dollars an hour to watch 400 beautiful women walk through a door," he says, proudly.
To pass the time, I attempt to calculate exactly how much he's earned so far.
I give up.
At 9:11 p.m., he opens the door. It is finally our turn. "Six of y'all can go," he says. I am No. 6. Daisy is No. 7.
I gesture for her to go ahead in front of me, and she does not hesitate. The door closes. I feel like I just gave her the bit of door at the end of Titanic.
I hobble inside 10 minutes later to discover it's just another line, one that wraps around the ABC Studios cafeteria and ends in five stations where producers are asking slightly bedraggled contenders questions on camera.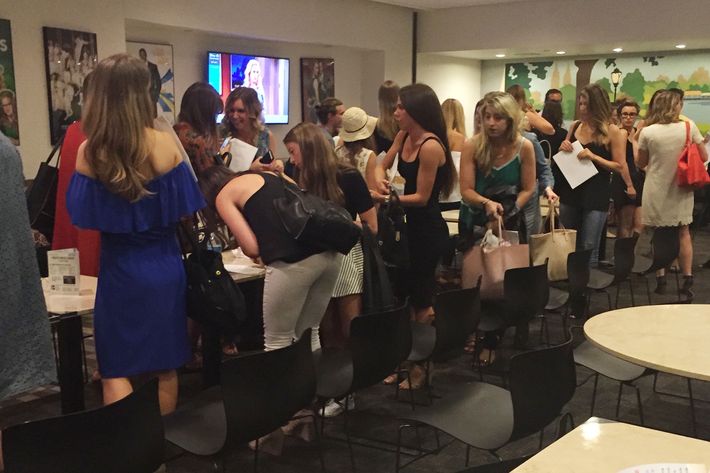 I write my name down on a clipboard at the front of the line, and an assistant hands me an official Bachelor application, which I am instructed to fill out while I wait. It is approximately 78 pages long and filled with questions like, "Do you get along with your parents?"
Exactly two hours and 58 minutes after I arrive, I sit down in front of a camera at the end of the line. Three minutes later, I get up and return a clip-on mic to a producer, having just told her, unconvincingly, why I think I could find love on a reality show.
Two cameras over, a tanned, petite blonde wearing a mauve party dress hands back her mic to a producer and asks, "What happens next?"
The producer directs all questions to the assistant with the clipboard at the front of the line.
"So that's it?" the blonde asks, a hint of panic rising in her voice.
That's it.