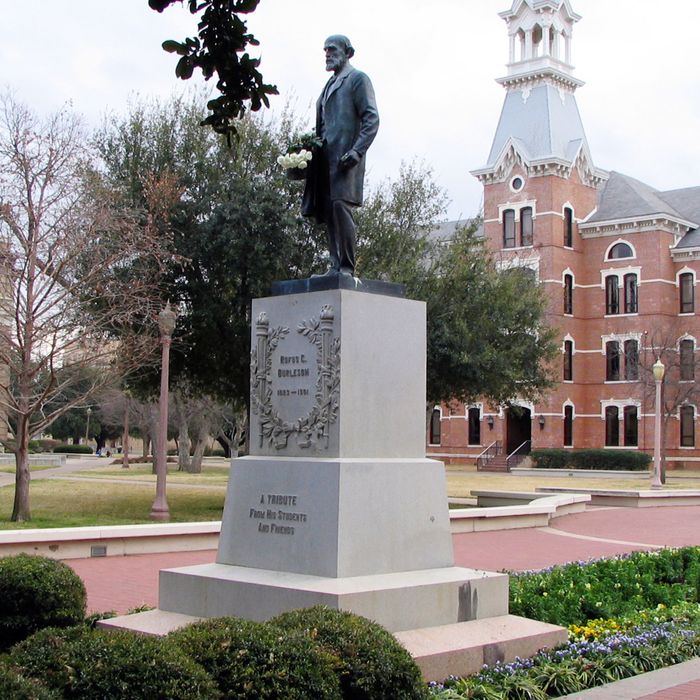 Baylor University
Photo: Allen Holder/Kansas City Star/MCT via Getty Images
Earlier this year, Baylor University in Texas was investigated after it was accused of mishandling sexual-assault claims against members of the school's football team. The findings were damning, and administrators and football coaches at the private Baptist university — including college president Ken Starr — were punished.
Now, a new lawsuit filed on Monday by a former Baylor student — the third of its kind — claims that Baylor "created a hunting ground for sexual predators to freely prey upon innocent, unsuspecting female students, with no concern of reprisal or consequences."
This specific suit involves a woman who says she was drugged and abducted in February 2015 at an off-campus residence called the Rugby House. (The alleged assailant was not a member of the rugby team.)
According to the Associated Press, "The lawsuit said Baylor officials indicated there were reports of as many as five previously reported assaults at the same residence." After five weeks of initial communication with the woman, the school allegedly stopped contacting her and neglected to schedule an administrative hearing for her. Her attorney, Paula Elliot, says that it was actually the alleged victim's mother who first contacted Baylor officials; the alleged victim was too embarrassed to file a police report.