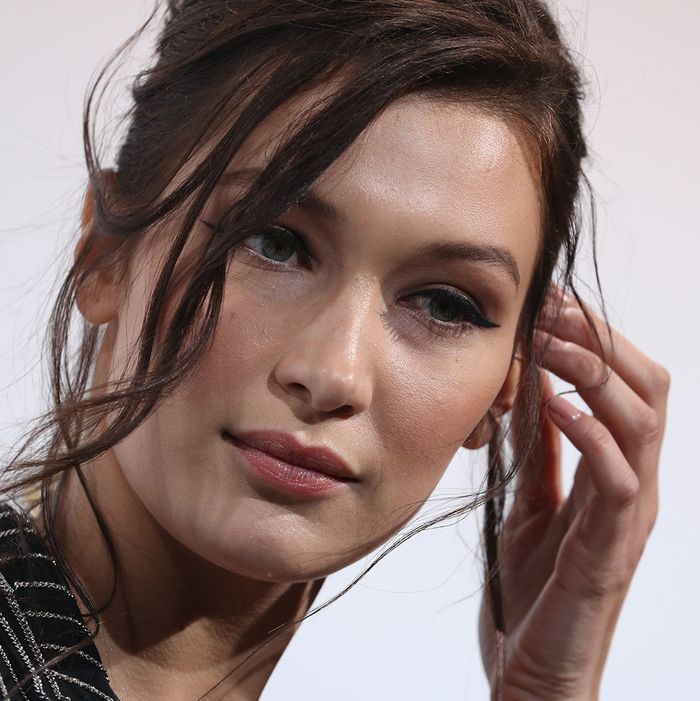 Photo: Andreas Rentz/Getty Images
Yes, every model is a chameleon of sorts, able to channel a different "look" for every runway or campaign (just take a look at Cara Delevingne in Marc Jacobs's latest campaign). That doesn't change the fact, though, that every model also has her signature "look."
But in an Instagram post on Monday, Hadid shared a picture of herself with a soft-pink hair color that's reminiscent of cotton candy.
The timing was also special: the beginning of the summer solstice and a "strawberry" full moon.
While her sister Gigi is known for her big smile and long blonde locks, Bella has kept a much more somber look. "I just have a darker personality," Hadid previously told Allure. "And my sister being blonde and me being brunette, it's a good separation." Blondes, Hadid told Allure, "are so angelic."
Pastel-colored hair has been trending for some time, and, like other hair colors, it's difficult to maintain. (Though we're sure Hadid has some good stylists on call and ready to help.)
Hadid's change in hair color also coincides with a particularly magical time in the universe: The summer solstice began Monday with a "strawberry" full moon.
Maybe Hadid had this all planned out as a special way to welcome the season?
Maybe, just maybe, if her brunette hair signaled a "darker" side of herself, this pink-haired version is a more fun-loving Hadid?
Or this might just be for a modeling shoot. There's always that.