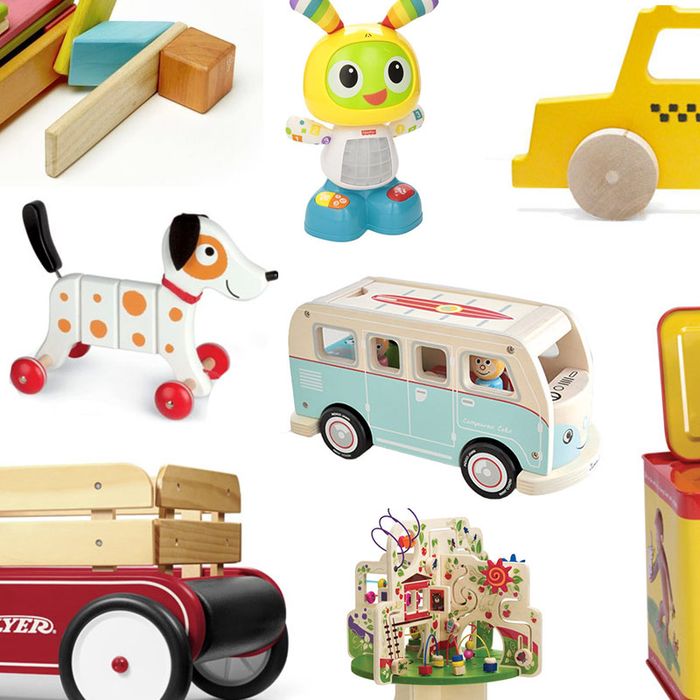 You have one week until the party of the season: Your first college friend to become a mom is throwing a 1st-birthday party for her first child. But you're at a loss. What do 1-year-olds even do these days? Can they talk yet? Do they walk? "You're looking for toys that'll help this particular child develop," says Dr. Sarah Roseberry Lytle, director of outreach and education at the Institute for Learning & Brain Sciences. "They're starting to explore complex concepts like gravity through trial-and-error and trying new things, oftentimes repetitively, just to figure out how the world works," so you want toys that allow for some experimentation. And though it might sound obvious, at this age "you'll really want to avoid things that might pose a choking hazard." But that's still pretty broad. So, to make sure you're first in line as the friend-aunt of choice, we've asked the parenting team over at POPSUGAR Moms to pick out the grooviest age-appropriate toys on the market, while having Dr. Lytle explain what makes them particularly 1-year-old-friendly.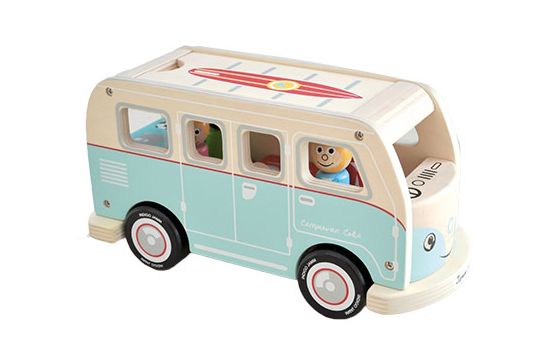 Indigo Jamm Colin's Camper Van Playset
A vintage-inspired, all-sustainable-wood camper playset that comes with four peg people and a pet dog ready to hit the road — or the front hall.
Doctor Lytle says: "One-year-olds are just figuring out how they can influence the world around them, so they love putting things into containers and taking them out. This really speaks to that urge. It's also nice that it's a bus because a child that young is more likely to have been in a car or bus than a boat or plane, so this is more relatable.
Buy it: $45 at Amazon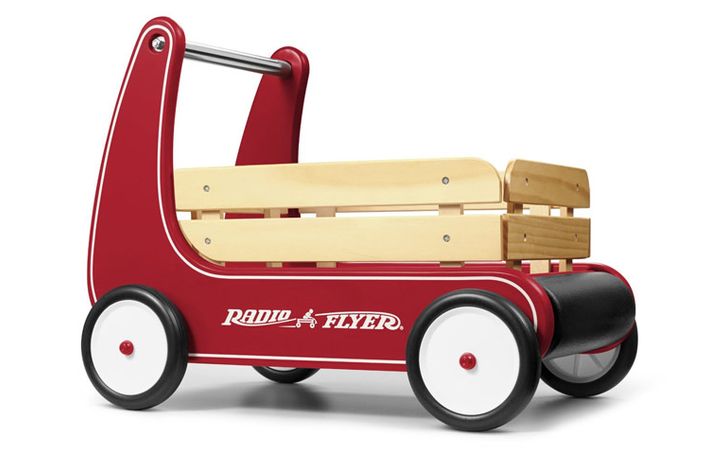 Radio Flyer Classic Wagon Walker
A classic toy that an early (or soon-to-be) walker can operate on their own, while toting around their most prized belongings-slash-some-Cheerios.
Dr. Lytle says: "At one, kids are probably starting to pull themselves up on furniture and maybe even take a couple of steps. When they're up and walking they're most interested in toys that might support them but can also be part of their playtime.
Buy it: $74 at Amazon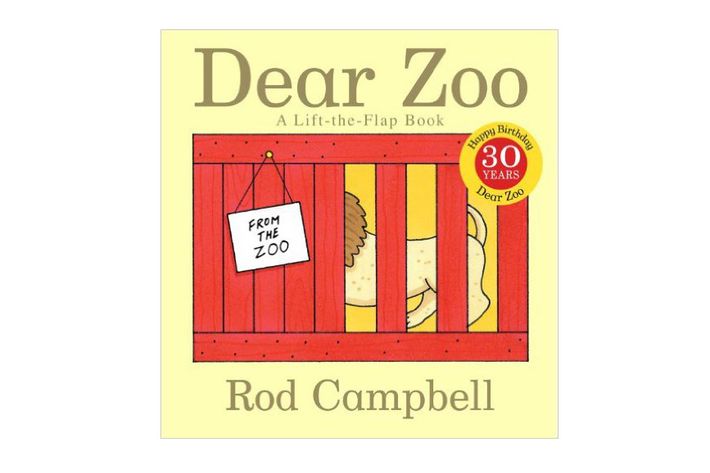 Dear Zoo by Rod Campbell
This classic board book—it was published in 1982—has lift-the-flap options on every page but it shows easy-to-digest animal images that kids can recognize.
Dr. Lytle says: "One of the things we know about 1-year-olds is that they really thrive on interacting with adults, so books that encourage that interaction and allow parents to give in to that moment beyond just reading the page are the best. Books that involve sounds the parent can make and children can imitate, or a book that has windows you can open and talk about or anything else to that effect are best.
Buy it: $6 at Amazon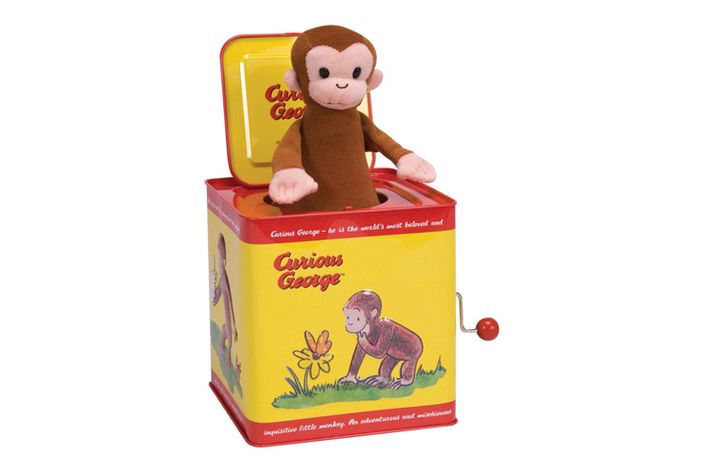 Curious George Jack in the Box
An old-fashioned jack-in-the-box, except instead of a creepy clown, it's an adorable Curious George! It also happens to play "Pop Goes the Weasel."
Dr. Lytle says: "This deals with the concept of object permanence meaning that even though you can't see the toy that's in the box, it still exists. Kids start picking up on this idea when they're one and they continue learning it throughout childhood. Toys that surprise children are interesting because they appeal to a 1-year-old's understanding of routine and patterns, and they're always fun and playful. But if you have a child that will have a very strong, scared reaction, this is perhaps not the best toy for them.
Buy it: From $20 at Amazon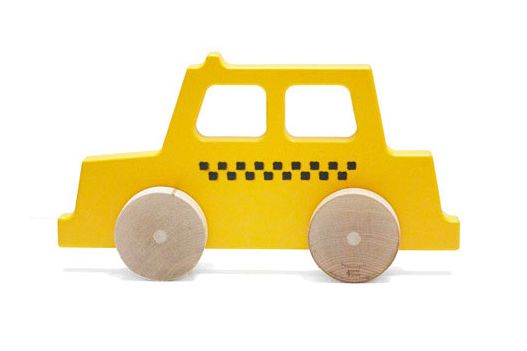 Manny and Simon Taxi Wooden Push Toy
Manny and Simon are known for their eco-conscious, American-made toys, and this Taxi Push Toy is perfect for city babies who'll learn how to hail a taxi before they can speak a full sentence.
Dr. Lytle says: "One-year-olds are starting to notice routines and patterns in the world around them, so to the extent a 1-year-old is getting into a car or taxi and going somewhere, that's a fairly basic routine that they might like to role-play with toys that reflect their experience."
Buy it: $36 at Bergdorf Goodman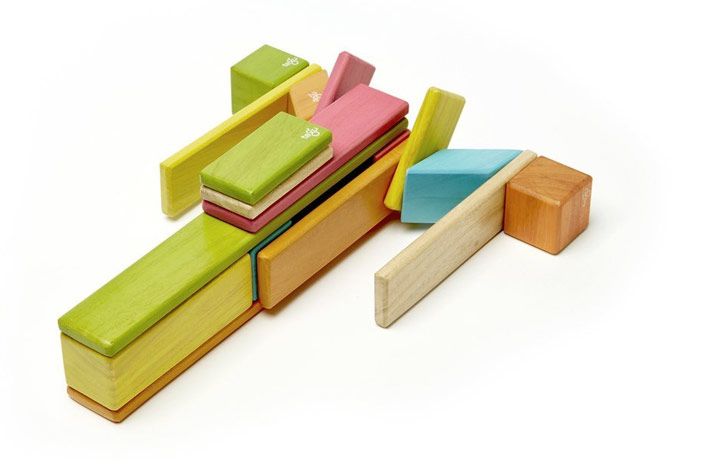 Tegu Magnetic Blocks
The pastel-hued wooden building blocks in this 24-piece set have built-in magnets so they won't fall down as easily as regular blocks. Plus, they're made in Honduras, with the goal of creating living-wage jobs for Tegucigalpa residents.
Dr. Lytle says: "There's actually been some research looking at kids using blocks with parents and it turns out that building blocks are a really good way to promote early STEM and math skills. Think about the language you're using when you're building blocks: bigger, smaller, shorter, taller. If you have kids and parents building bridges with blocks together you'll start talking about concepts like stability. Even if you don't actually use the word stability, you're still talking about complex engineering concepts."
Buy it: $65 at Amazon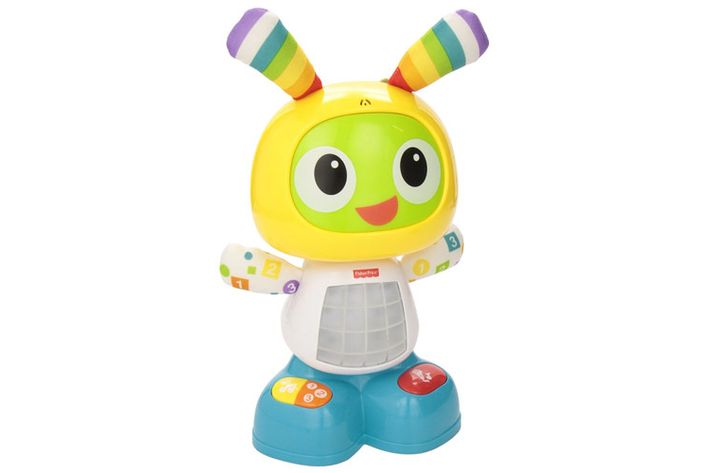 Fisher-Price Bright Beats Dance & Move BeatBo
Push the buttons on BeatBo's belly or feet to trigger a medley of toe-tapping songs. There's even a baby DJ option where you can record short phrases for BeatBo to remix into a dance tune.
Dr. Lytle says: "Young kids love to make music and noises and exploring things like, can I make it softer? Can I make it louder? What happens when I hit it harder? Does that make it louder? That's a really interesting learning process."
Buy it: $38 at Amazon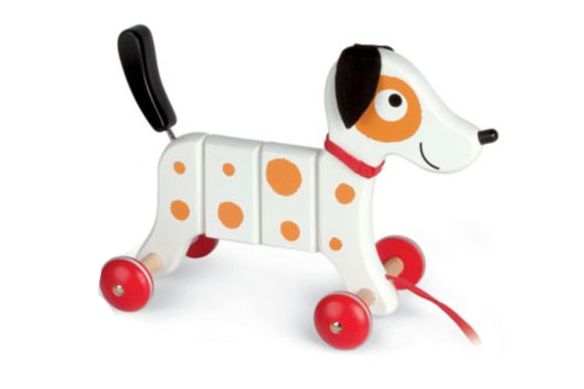 Janod Rocky The Dog Pull Toy
There's little that is cuter than watching a new walker pull their wobbly new best friend behind them. Janod's Rocky the Dog Pull Toy's tail wags as he moseys around the house.
Dr. Lytle says: "At one year, kids might just be starting to walk, so they're interested in toys that can walk with them and encourage them to keep going."
Buy it: $36 at Saks Fifth Avenue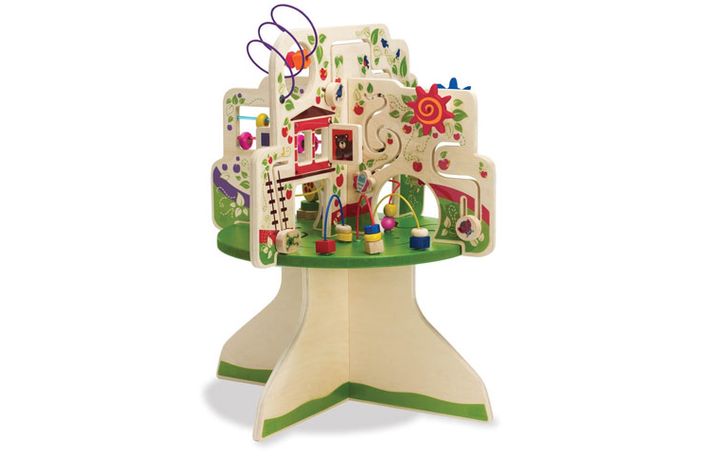 Manhattan Toy Tree Top Adventure Activity Center
Tracks for wooden beads and hidden animals will keep tots busy for hours.
Dr Lytle says: "One of the things I always like to look for in a toy is one that allows kids a lot of options not only in terms of things to do, but in ways to do it because at this age you want a child to learn by figuring out the pathway to using the toy and not necessarily direct them with a specific set of rules. A toy like this has a lot of different options, so they can do things like move the beads and just explore around the whole toy. They'll always find a new feature and something new to do."
Buy it: $70 at Amazon
All prices are subject to change.