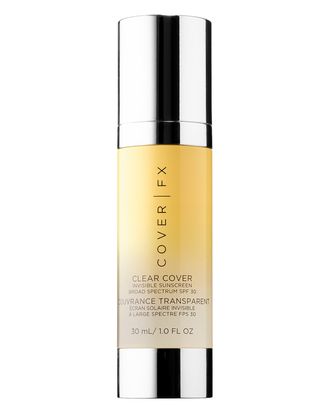 Cover FX Invisible Clear Cover
Every few years or so, sunscreens undergo tiny transformations that spring forth a huge impact. Before they were lightweight and non-greasy, they were oily and thick. A few years before that, practically every sunscreen clogged your pores — and dipping even further into the past, sunscreens of yore were made to fit just your body, and not your face. But that was then, and this is now. The latest sunscreen tweak is here, and Cover FX's version has cornered the market.
Clear Cover works exactly as described. The SPF 30 gel-like formula is completely untraceable on skin. In terms of color, it is quite literally clear, and the texture is a step up from weightless — it's like you're not wearing anything at all.
There are a few things responsible for its remarkable texture. First, the sunscreen is entirely composed of chemical UVA and UVB filters. Unlike so-called physical sunscreens, chemical sunscreens don't leave a chalky residue on skin. And contrary to fearmongering beliefs, a chemical sunscreen won't kill you either.
Silicones add to the "bouncy" feel of the sunscreen, and traces of acne-fighting salicylic acid and vitamin E help simultaneous soften skin without clogging pores. The sunscreen layered well over my daily moisturizer without pilling; but for very oily types, it may also be used alone.
Like any other sunscreen, Clear Cover must be reapplied every few hours to harness every ounce of sun protection. That's fine for now, as it melts into skin like a primer or an invisible finishing powder. And a sunscreen that doesn't requires reapplication is likely what's next on the grand trajectory of sunscreen evolution.
Cover FX Clear Cover Sunscreen, $45 at Sephora.