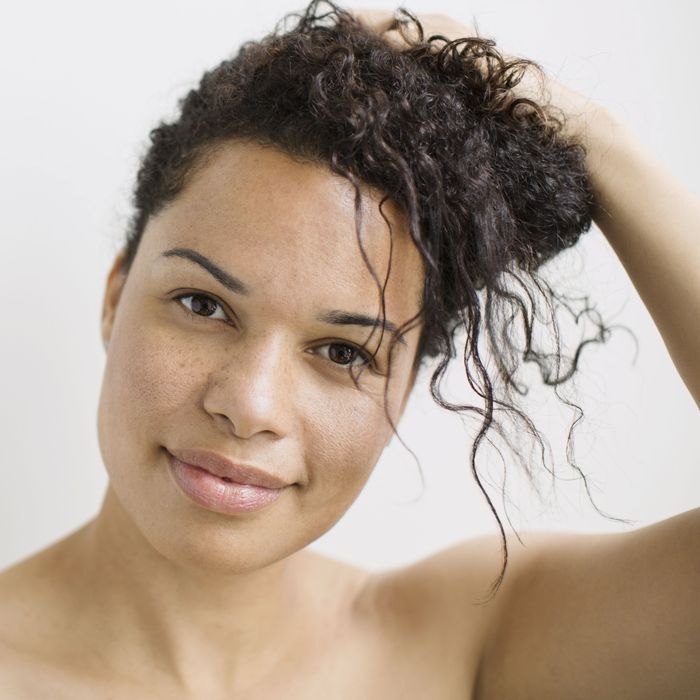 Photo: Hero Images Inc./Getty Images
One morning when I was 13, I awoke to a gnarly zit. It was huge, unforgiving, and the start of many more breakouts to come. For more than a decade, I fumbled through various methods to treat my acne. I would sap every ounce of oil from my skin with clay masks and rub my face with toners until it stung. Although some treatments granted a modicum of success initially, nothing really worked in the long term until the day I learned about cod-liver oil. Since then I've dosed myself with two gel caps of the supplement every day and, for the most part, remained breakout-free.
Cod-liver oil, though, doesn't work for everyone. To get a sense of the many fronts on the war on acne, the Cut talked to 12 women about how they fought their last breakout.
Emily Ferber, editor, Glossier:
I'm really bad about breakouts because I didn't get them for the longest time, and now I do. So my first instinct is to pop — I do this with moderate success, thanks to the Tweezerman No Slip Tool. More recently, the combination of Paula's Choice Salicylic Acid Toner, followed by Nelsons Acne Treatment Gel, knocks acne out in a much gentler way. Then I try to use Kiehl's Turmeric & Cranberry Seed Energizing Radiance Masque once a week to keep everything calm and de-puffed.
Kathleen Hou, senior beauty editor, the Cut:
My skin was perfect on the pill. But after I went off the pill, my skin and my body were furious. I had huge breakouts, which, after lots of Googling, I identified as "cysts." Mindy Kaling once described a pimple as being so big that it felt like it had roots growing into her brain. These felt like that and only occurred in the chin area around my monthly time. I tried giving up cheese, not touching my face, washing my phone and my sheets, getting facials more often, and every acne product on the market, but nothing worked long-term. I went to see a dermatologist, Dr. Anne Chapas, who put me on a combination of spironolactone (a blood-pressure pill also used to fight hormonal acne), clindamycin (topical anti-bacterial lotion), and Differin (a Retin-A). I think I only took the spironolactone for a few days (too many pills) when I started noticing results, so I just used clindamycin and Differin. I got the Retin-A flakies for a few weeks, but those went away. Now I just use the Differin. Differin forever!
Sarah Brovda, global communications, M.A.C:
I've never had crazy skin — just a few pimples here and there. My go-to trick for those juicy guys (you know, the ones that pop up before a special event or hot date) is to slather toothpaste on the pimple in question before bed and sleep like that. The mintier the better. It helps dry those suckers out and make them slightly more manageable the next day.
When I moved into the city after college, I suddenly started sprouting breakouts like a prepubescent teenager. Not cute. I blame the 6 train. That got me into the habit of having a M.A.C Prep + Prime Blemish Control Gel at my desk or in my bag at all times, just in case. It works like any spot treatment, but whipping out a sleek black tube is way chicer than something clinical looking from a drugstore. Also, you can rock it under concealer/foundation — unlike toothpaste.
The thing that has nearly eliminated my breakouts, though, was nixing face wash from my routine completely and starting to moisturize regularly. Instead of face wash, I use oils (I swear by M.A.C's Cleanse Off Oil and SK-II's Facial Oil) and micellar water to clean my face, followed by a moisturizer or serum. It seems counterintuitive, but think of this logic that I once read and am now paraphrasing: If your face isn't moisturized, it starts overproducing oil to compensate, therefore breeding a pimple colony.
Jenna Williams, actor:
I swear by toothpaste — I use it as a spot treatment at night. Only the white ones work, though — the other variations with blue don't seem to help. I also find that honey masks (and it doesn't matter what kind of honey you use) helps stop inflammation.
Taylor Bryant, beauty news editor, Refinery29:
So, I wouldn't say that I have a foolproof zit-zapping method perfected just yet, but here's what's been working for me: I use a mask of some kind two to three times a week. The days when I'm having a particularly bad breakout, I'll alternate between GlamGlow's Supermud Clearing Treatment and the Aztec Indian Healing Clay. Both work wonders at sucking out the dirt and oil that often clog up my skin.
Spot treatment wise, I've been trying the "kill it with kindness" method, a.k.a acne-fighting essential oils. Osmia Organics Spot Treatment includes evening primrose, lavender, rosemary, and other natural-friendly ingredients. It not only smells divine, but it's also effective and doesn't dry out my pimples like other treatments. It takes a teensy bit longer to see results, but this way I'm not left with hard-to-get-rid-of acne scars (a common, frustrating problem for those with darker complexions).
Lindsay Peoples, market editor, the Cut:
I use drying lotion literally every night so I don't have big pimples. I need something for scars now, but I don't get nearly as many pimples as I used to.
Courtney Gilliam, physician:
My last breakout was last week; I attributed it to stress of moving and travel. I usually use my Clarisonic three times a week and spot-treat with Origins Super Spot Remover acne treatment, and it clears it right up. Not skipping on washing my face at night also really helps.
Shauna Schord, physician:
I use my Proactive toner and spot treatment, along with my Proactive face brush. I may or may not start my new birth-control pack really early if it's really bad, ha!
Jenna Blackwell, teacher:
I swear by my Clarisonic brush. It clears my breakouts right away.
Felicia Walker Benson, editor-in-chief, ThisThatBeauty:
The one thing that's made the biggest difference in keeping my complexion clear and to help manage my breakouts has been steaming. Essentially doing a steam at-home facial once a week for 10 to 15 minutes. I like to use Huetiful's steamer. The great thing about that is you can use it for both hair and face. Now I'm super into Panasonic, which makes a handheld steamer that can only be used for your face. It holds less water, but it's perfect for a quick facial. On the areas on my face where I tend to break out more, I might use a sulfur-based mask, like Peter Thomas Roth's sulfur mask, or the Aztec clay mask, just on the area after I steam, because the steam opens everything up and preps the area for treatment.
Dayna Carney, freelance content producer:
I try to drink loads and loads of water. And lay off the booze, sweets, and carbs. I'm usually pretty good about staying away from bread and sweets, but they sometimes creep back into my life, because I am human and can't help myself. That's usually when I tend to break out — so signs of breaking out for me means it's time for me to reel it back in
Alex Covington, strategist, 360i:
The biggest thing that has improved my skin is Biologique Recherche's P50 lotion. I use it every day, and it stops blemishes from appearing or, when I forget to use it, dries the ones that are beginning to emerge.