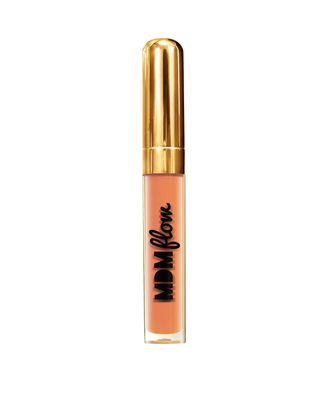 MDMFlow liquid lipstick in New Nude.
You know how liquid lipsticks are everywhere? Twenty-five-year-old beauty wunderkind Florence Adepoju noticed that too, but none of them felt young, fun, or very complimentary to brown skin. So she launched her own lipstick line from a shed outside her parent's house in Essex in the UK and named it MDMFlow, a nod to Madame and Adepoju's first name. Nasty Gal got wind of the line and Adepoju's on-brand grit, and the rest is history — or rather, the rest is now available online.
Among the bright, bubbly colors is New Nude, a lipstick Adepoju said she made specifically to flatter women of color. The photo on MDMFlow's website is slightly deceiving. In reality, New Nude is slightly darker than most other shades that go by the name "nude," and vastly more pigmented. With flecks of pink in the formula, it's warm and slightly rosy on lips. To me, it looks like my skin color if it were washed through VSCOCAM's darling pink filter.
The formula itself is light and slightly sticky. I appreciate this tinge of tackiness because it forces the color to stay on my lips longer, in spite of frequent trips to the refrigerator and the coffee counter. When I met with Adepoju, she told me that liquid lipsticks aren't nearly as popular in the UK as they are stateside. This worked to her benefit, as she could see what people didn't prefer in their lipstick formulas and adjust to meet consumer needs. The most common complaint? Dryness, of course, so Adepoju set out to make a cream that finished matte but didn't dry. She succeeded with a vitamin E–laced solution that never feels stiff.
Nude lipsticks are a particularly tricky buy for women of color. The ones that are too light make you look dead and the ones that are too dark aren't really nude at all. New Nude smacks the sweet spot with a wash of color that feels warm and easy. It makes you wonder what else Adepoju will come up with. At the age of 25, she's got plenty of time to grow.
New Nude liquid lipstick, $20 at Nasty Gal.